1) NON-ITEMIZED DEDUCTIONS
TAX LAW: There is now a $300 "above the line" deduction for cash gifts to charities.
BENEFIT: "Above the line" deductions lower a taxpayer's adjusted gross income and can result in a lower tax bracket, which can result in substantial savings.
2) ITEMIZED DEDUCTIONS
TAX LAW: Typically, deductions are limited to claiming gifts equal to only 60% of their gross adjusted income.
BENEFIT: A new one-time exception now allows up to 100% of a taxpayer's adjusted gross income. In prior years, a taxpayer with $100,000 in adjusted gross income could only deduct $60,000 of cash gifts to charity. In 2020, the same taxpayer can now deduct the full $100,000.
3) 5-YEAR CARRY OVER
TAX LAW: In addition to the increase allowance for deductions, any gifts that exceed a taxpayer's 100% adjusted gross income can be carried over for up to 5 years.
BENEFIT: Tax advantages for giving today can lower your tax bills in 2021, 2022, 2023, 2024 and 2025.
4) QUALIFIED CHARITIES ONLY – LIKE FIRST LIBERTY INSTITUTE
TAX LAW: An important limitation to the above rule is that the gifts must be made directly to qualified charities, like First Liberty Institute. They cannot be made to a donor advised fund. Cash contributions to a donor advised fund are still capped under the old rule.
BENEFIT: Your gift today helps maximize the immediate impact of First Liberty's legal efforts while delivering timely, financial benefits to you.
5) NON-CASH GIFTS: MANY CREATIVE WAYS TO BENEFIT
TAX LAW: If you have stock, real estate, business interests, or other non-cash assets, the CARES Act offers many benefits to charitable giving in 2020 and beyond.
BENEFIT: First Liberty is available to help discuss the right mix of gifts to help you maximize your tax benefits in 2020 and beyond.
---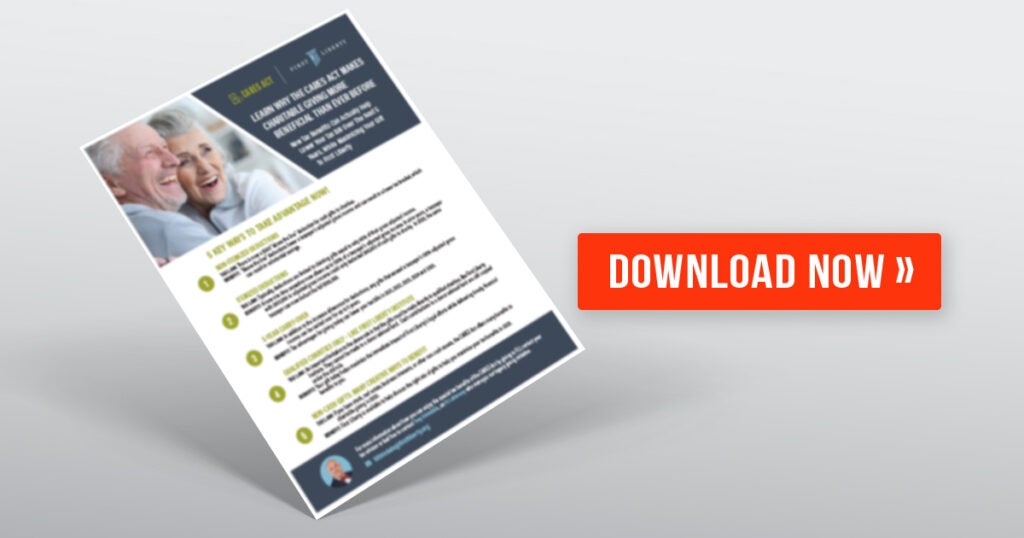 ---