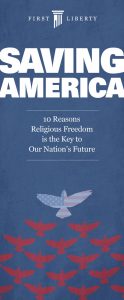 Did you know that religion saves America $2.67 trillion per year? That religion cuts down crime? Makes happier marriages? Increases job satisfaction and performance? And keeps us free?
But without religious freedom, all of these benefits and more could be lost.
Read why the answer to "Who needs religion?" is "America does!" And find out why saving religious freedom should be a priority for every American, whether they are religious or not.