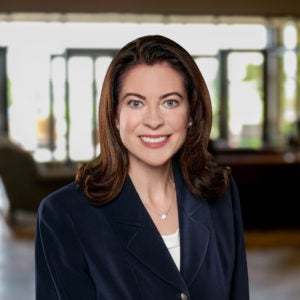 Back to
Heather A. Lachenauer serves as Of Counsel with First Liberty Institute. She joined First Liberty in 2019 after a fruitful and productive career in Intellectual Property litigation and prosecution. Heather is an experienced litigator, appellate advocate and educator who has successfully represented international companies, federal agencies, financial institutions, businesses and individuals. She has advocated on behalf of clients in a variety of pro bono matters involving asylum, the death penalty, and religious liberty, among others. Heather has taught Political Science, Rhetoric, and Poetics and Aesthetics as an adjunct professor and is a former member of the Board of Regents of St. John Paul the Great Catholic University. She is the co-founder of Epiphany Prep Charter School, a school dedicated to providing quality education to children living in low-income communities in San Diego.
Prior to practicing law, Heather spent ten years working in the field of international development and humanitarian aid, with a focus on legal reform and economic development in Central and Eastern Europe and West Africa and the development of sustainable education in Papua New Guinea.
Heather completed her undergraduate work at the College of William and Mary in Williamsburg, Virginia. She studied philosophy and theology at the Dominican School of Philosophy and Theology and obtained a Master's degree in Education and Human Development at The George Washington University. She earned her law degree from the University of Notre Dame School of Law.
A Virginia native, Heather is a member of the State Bar of California and the State Bar of Texas, and is admitted to practice before multiple federal courts, including the United States Supreme Court.
Publications
News
Representative Matters
Request Heather to Speak
Thank you! Our team will evaluate your request.
First in the fight for your religious liberty.
Religious liberty is our first liberty as Americans. At First Liberty Institute, we know that it can be confusing when you face a challenge to your religious liberty. No one should have to face it alone.
That's where First Liberty can help. We have decades of experience making sure people just like you get the help they deserve. We are a nationwide, religious liberty law firm with an unmatched record of defending religious liberty—in our schools, for our houses of worship, in the military, and throughout the public arena.
If you believe your religious liberty has been threatened or violated, please fill out the form below so we can evaluate your case.
Our legal intake team personally evaluates each request for legal help and may follow up with you over the phone for more information about your specific situation. We cannot guarantee that we will be able to take every case, but if we do, our legal services are provided at no charge to you (pro bono).
Thank you! Our legal team will evaluate your request.