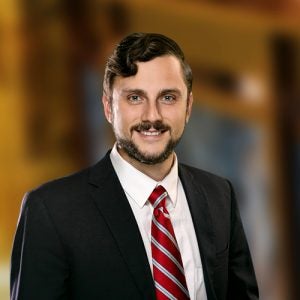 Back to
Jordan Pratt is senior counsel at First Liberty Institute and works in its Washington, DC office. Before joining FLI, Jordan served in various roles in state and federal government: as senior counsel in the U.S. Department of Justice, deputy general counsel in the U.S. Small Business Administration, and deputy solicitor general in the Florida Office of the Attorney General. At the Department of Justice, Jordan advised the White House on judicial nominations and worked to secure the confirmation of numerous federal judges. As a Florida deputy solicitor general, he defended Florida's most important policies at every level of the state and federal court systems, with successful arguments before the U.S. Court of Appeals for the Eleventh Circuit, the Florida Supreme Court, and Florida's First District Court of Appeal.
Jordan graduated as a co-valedictorian of his undergraduate class at the University of Florida. He then received his J.D., magna cum laude, from the University of Florida College of Law, where he was a law review editor and president of the school's Federalist Society and Christian Legal Society chapters. During law school, he interned for the Hon. Jeffrey S. Sutton on the U.S. Court of Appeals for the Sixth Circuit.
After law school, Jordan served as a law clerk to the Hon. Harvey E. Schlesinger on the U.S. District Court for the Middle District of Florida and the Hon. Jennifer W. Elrod on the U.S. Court of Appeals for the Fifth Circuit.
Jordan has held several fellowships, including an Olin–Searle Fellowship at Florida State University's College of Law, and has published scholarship in the Tennessee Law Review, the Nebraska Law Review, and the Mississippi Law Journal.
*Licensed to practice in Florida and the District of Columbia.
Download High Resolution Photo
Publications
News
April 2022
A Tale of Two Colleges: The Right Way (and the Wrong Way) to Handle the Gender Debate
It's a bedrock principle of our constitutional democracy that the government may not compel citizens to speak messages that violate their convictions. This principle applies with full force in our public schools, colleges and universities. As the Supreme Court famously put it 79 years ago when rejecting the compulsory Pledge of Allegiance, public institutions may not "prescribe what shall be orthodox in politics, nationalism, religion, or other matters of opinion or force citizens to confess by word or act their faith therein."
August 2021
City is punishing homeless ministry for helping during a crisis
As COVID ravaged the nation, far too many Americans became homeless. Statistically, there is little doubt homelessness increased last year. Some analysts believe it was even worse than the numbers show. The city of Tallahassee was no different, facing a pandemic-induced homelessness crisis during winter while many shelters closed their doors.
Representative Matters
Request Jordan to Speak
Thank you! Our team will evaluate your request.
First in the fight for your religious liberty.
Religious liberty is our first liberty as Americans. At First Liberty Institute, we know that it can be confusing when you face a challenge to your religious liberty. No one should have to face it alone.
That's where First Liberty can help. We have decades of experience making sure people just like you get the help they deserve. We are a nationwide, religious liberty law firm with an unmatched record of defending religious liberty—in our schools, for our houses of worship, in the military, and throughout the public arena.
If you believe your religious liberty has been threatened or violated, please fill out the form below so we can evaluate your case.
Our legal intake team personally evaluates each request for legal help and may follow up with you over the phone for more information about your specific situation. We cannot guarantee that we will be able to take every case, but if we do, our legal services are provided at no charge to you (pro bono).
Thank you! Our legal team will evaluate your request.