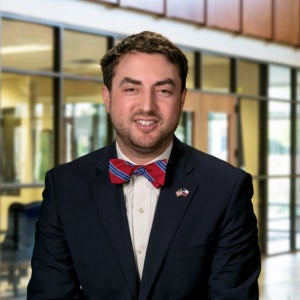 Back to
Josh Hammer is Of Counsel for First Liberty Institute, specializing in cases involving religious liberty matters and the First Amendment.
Prior to joining First Liberty Institute, Josh worked at Kirkland & Ellis LLP's Houston office and clerked for Judge Jim Ho of the U.S. Court of Appeals for the Fifth Circuit. Josh has also served as a John Marshall Fellow with the Claremont Institute, as a law clerk on the U.S. Senate Judiciary Committee staff of Sen. Mike Lee (R-UT), and as a religious liberty intern with the Ethics and Public Policy Center. In addition to the Daily Wire, Josh has also contributed to other political websites, including RedState and The Resurgent.
Josh graduated from Duke University cum laude, where he majored in economics, and from the University of Chicago Law School. At Chicago, he was a three-year board member of the Federalist Society, was a Chairman of the Edmund Burke Society, and was active with Law Students for Life.
Josh is now a Dallas local and a member of the Texas State Bar. Though not a native Texan, he can still usually be found in his cowboy boots.
Publications
News
Representative Matters
Request Josh Hammer to Speak
Thank you! Our team will evaluate your request.
First in the fight for your religious liberty.
Religious liberty is our first liberty as Americans. At First Liberty Institute, we know that it can be confusing when you face a challenge to your religious liberty. No one should have to face it alone.
That's where First Liberty can help. We have decades of experience making sure people just like you get the help they deserve. We are a nationwide, religious liberty law firm with an unmatched record of defending religious liberty—in our schools, for our houses of worship, in the military, and throughout the public arena.
If you believe your religious liberty has been threatened or violated, please fill out the form below so we can evaluate your case.
Our legal intake team personally evaluates each request for legal help and may follow up with you over the phone for more information about your specific situation. We cannot guarantee that we will be able to take every case, but if we do, our legal services are provided at no charge to you (pro bono).
Thank you! Our legal team will evaluate your request.