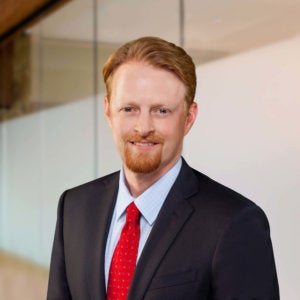 Back to
Lathan Watts is the Director of Public Affairs for First Liberty Institute, responsible for all efforts to increase First Liberty Institute's profile in local and national markets. His focus is on expanding public awareness of First Liberty's mission, legal matters, and educational projects by coordinating communication with community leaders, influencers, policy makers, and the public at large.
Prior to joining First Liberty Institute, Watts served in various campaign and official staff positions for U.S. Congressman Jeb Hensarling, U.S. Senator John Cornyn, and Texas Governor Rick Perry. His executive leadership roles in non-profit organizations specializing in political affairs and community outreach contributed to the election of numerous members of the U.S. Congress, multiple state legislators, and governors. His work in and around the political process served him well in the four years he spent as a City Councilman in Lewisville, TX.
Watts received his Juris Doctor from the University of Mississippi where he served two terms in the student senate one as President Pro Tempore. He received his Bachelor of Arts in History from Harding University, where he was a member of multiple honor societies and the University Concert Choir.
Publications
News
May 2018
Opinion: Democrats In Minnesota Fight God In Schools
By: Lathan Watts, First Liberty Institute's Director of Community Relations. Originally published in the Daily Caller on May 15, 2018. Earlier this week, Minnesota State Senator Dan Hall (R) introduced a bill that would allow privately funded posters displaying the national motto "In God We Trust" to be placed in all Minnesota public school classrooms.Read full article »
Representative Matters
Request Lathan Watts to Speak
Thank you! Our team will evaluate your request.
First in the fight for your religious liberty.
Religious liberty is our first liberty as Americans. At First Liberty Institute, we know that it can be confusing when you face a challenge to your religious liberty. No one should have to face it alone.
That's where First Liberty can help. We have decades of experience making sure people just like you get the help they deserve. We are a nationwide, religious liberty law firm with an unmatched record of defending religious liberty—in our schools, for our houses of worship, in the military, and throughout the public arena.
If you believe your religious liberty has been threatened or violated, please fill out the form below so we can evaluate your case.
Our legal intake team personally evaluates each request for legal help and may follow up with you over the phone for more information about your specific situation. We cannot guarantee that we will be able to take every case, but if we do, our legal services are provided at no charge to you (pro bono).
Thank you! Our legal team will evaluate your request.