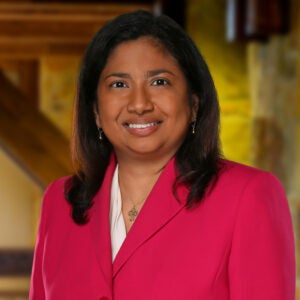 Back to
Maya M. Noronha is Special Counsel for External Affairs at First Liberty Institute's Washington, D.C. office. She focuses on developing, coordinating, and implementing First Liberty's strategic initiatives with external entities.
Prior to joining First Liberty, Ms. Noronha served from 2017 to 2021 at the U.S. Department of Health and Human Services (HHS) in multiple appointed roles, including acting chief of staff and principal policy advisor at the Administration for Children and Families, senior advisor to the Director of the Office for Civil Rights within the Office of the Secretary, and regulatory reform officer. She proposed and implemented new reforms to protect conscience and religious freedom rights across the Department's $1.7 trillion of federally funded programs and activities. Previous work in federal service has also included positions in the White House, U.S. Senate, and U.S. House of Representatives.
Outside government, Ms. Noronha practiced civil rights law at a major Washington, D.C. law firm, where she practiced trial and appellate litigation, served as outside counsel to federal and state government officials, and advised clients on legal compliance and federal policy. She also worked at several non-profit organizations focusing on civil justice reform.
Ms. Noronha was named one of Forbes' 30 under 30 in Law and Public Policy. Ms. Noronha graduated Phi Beta Kappa from Georgetown University, where she received both her Bachelor of Arts in Government and Juris Doctor. At Georgetown University Law Center, she was current development editor of The Georgetown Journal of Legal Ethics, and published a note entitled, "Removing Conscience from Medicine: Turning the Hippocratic Oath into a Hypocrite's Pledge."
Ms. Noronha is admitted to practice in the District of Columbia, Pennsylvania, U.S. Court of Appeals for the Fourth Circuit, U.S. Court of International Trade, and the U.S. Supreme Court.
Download High Resolution Photo
Publications
News
Representative Matters
Request Maya to Speak
Thank you! Our team will evaluate your request.
First in the fight for your religious liberty.
Religious liberty is our first liberty as Americans. At First Liberty Institute, we know that it can be confusing when you face a challenge to your religious liberty. No one should have to face it alone.
That's where First Liberty can help. We have decades of experience making sure people just like you get the help they deserve. We are a nationwide, religious liberty law firm with an unmatched record of defending religious liberty—in our schools, for our houses of worship, in the military, and throughout the public arena.
If you believe your religious liberty has been threatened or violated, please fill out the form below so we can evaluate your case.
Our legal intake team personally evaluates each request for legal help and may follow up with you over the phone for more information about your specific situation. We cannot guarantee that we will be able to take every case, but if we do, our legal services are provided at no charge to you (pro bono).
Thank you! Our legal team will evaluate your request.