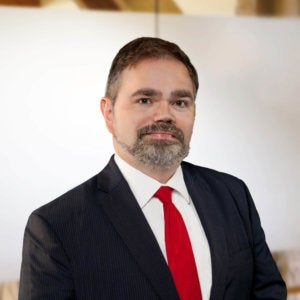 Back to
Reed Smith serves as Counsel for First Liberty Institute, focusing on religious liberty matters and First Amendment rights.
Prior to joining First Liberty Institute, Reed worked for a high-stakes litigation firm, where he both represented and opposed Fortune 500 companies in commercial and intellectual property matters nationwide at both the trial and appellate levels.
Before joining private practice, Reed clerked for Judge Catharina Haynes of the Fifth Circuit Court of Appeals, and Judge Paul Stickney of the Northern District of Texas. Reed also served as a clerk for the Office of the Solicitor General of Texas, helping the State successfully defend an Establishment Clause challenge to the Texas Pledge of Allegiance. Reed is licensed to practice in the State of Texas and numerous federal courts.
Reed is a proud graduate with honors of the University of Florida, where he received a bachelor's degree with honors in Philosophy. At Florida, Reed was also recognized as Dean's Scholar and a National Merit Scholar. Following mission work in Poland, Reed attended the University of Virginia School of Law and served as an editor of the Virginia Law Review. Reed also served an officer of the UVA Law Chapters of the Federalist Society and Law Christian Fellowship.
During law school, Reed interned for the United States Department of Justice's Special Counsel for Religious Discrimination.
Publications
News
October 2018
When the Government Sues your Client...and then Sues You!
When Americans find themselves in need of an attorney—whether purchasing a new home, fighting a traffic ticket, or starting a new small business—they want one who will zealously fight for them. Navigating the foreign world of judges, juries, and administrative agencies can be daunting. The right to legal counsel is a hallmark of our republic. And, within the legal profession, the duty to be an advocate for one's client is sacrosanct. In fact, legal ethics require attorneys to be zealous advocates. And, they should not fear reprisal for statements made in connection with ongoing legal proceedings.
August 2018
New HHS Rule Expands Options to Protect Conscience
By Reed Smith, Counsel of First Liberty Institute Department of Health and Human Services Secretary Alex Azar is moving to fix a huge problem with Obamacare Obamacare — also known as the Patient Protection and Affordable Care Act — forced many Americans, from nuns to your neighbors, to choose between their faith or having healthRead full article »
Representative Matters
Request Reed Smith to Speak
Thank you! Our team will evaluate your request.
First in the fight for your religious liberty.
Religious liberty is our first liberty as Americans. At First Liberty Institute, we know that it can be confusing when you face a challenge to your religious liberty. No one should have to face it alone.
That's where First Liberty can help. We have decades of experience making sure people just like you get the help they deserve. We are a nationwide, religious liberty law firm with an unmatched record of defending religious liberty—in our schools, for our houses of worship, in the military, and throughout the public arena.
If you believe your religious liberty has been threatened or violated, please fill out the form below so we can evaluate your case.
Our legal intake team personally evaluates each request for legal help and may follow up with you over the phone for more information about your specific situation. We cannot guarantee that we will be able to take every case, but if we do, our legal services are provided at no charge to you (pro bono).
Thank you! Our legal team will evaluate your request.