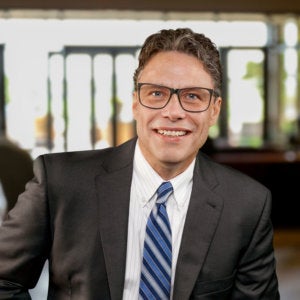 Back to Management Team
Todd currently serves as Chief Marketing Officer at First Liberty Institute, the nation's largest non-profit legal firm and thinktank solely dedicated to defending and protecting religious liberty in America.
After joining the firm as Creative Director in late 2017, Todd was promoted to Sr. Marketing Director the following June. In February 2020, he was promoted to Chief Marketing Officer, and now oversees all of the firms integrated marketing channels. His team has won 2 national awards during his tenure: "Best Digital Marketing Campaign" from the National Religious Broadcasters Association (NRB), and the 2020 Apex Grand Award for Publication Excellence.
Previously, Todd served as Promotions Director at Moody Bible Institute, where he developed on-air, online and on-premise promotions and events to drive awareness and tune-in for Moody Bible Radio in core target markets.
Todd spent the prior decades establishing his name as an advertising and marketing industry veteran, directing numerous award-winning national campaigns and leading globally recognized creative teams at some of the foremost agencies in the industry: The Radiate Group/Omnicom, Entertainment Marketing Inc. (EMI), UPSHOT, Einson Freeman, Golin/Harris and Edelman Worldwide.
Career highlights include leading EMI to its first Top 20 ranking in PROMO Magazine's HOT 100, including a #4 national creative team ranking; leading his team to industry Ex, Reggie and Globe Awards for Kodak's sponsorship of the House of Blues 10th Anniversary campaign "Celebrate the Blues in Kodak Black & White"; winning Agency of the Year honors directing national music, sports and lifestyle entertainment promotions for Coca-Cola, Anheuser-Busch and Sony Music as VP of Creative at UPSHOT; and winning a Silver Trumpet Award for the 26th McDonald's All-American Band campaign in partnership with the Grammy Awards.
Throughout his career, Todd has been a featured guest speaker on innovation and creativity at a variety of national and international marketing industry events, including Promotional Marketing Association (PMA), Event Marketer and Encuentro Creativo – La Pasion de Crear.
He received his Bachelor of Journalism degree from the University of Missouri-Columbia, is a graduate of Chicago's renowned Second City School of Improv, and is certified in Digital Marketing Strategies by Northwestern University Kellogg School of Management.
Publications
News
Representative Matters
Request Todd to Speak
Thank you! Our team will evaluate your request.
First in the fight for your religious liberty.
Religious liberty is our first liberty as Americans. At First Liberty Institute, we know that it can be confusing when you face a challenge to your religious liberty. No one should have to face it alone.
That's where First Liberty can help. We have decades of experience making sure people just like you get the help they deserve. We are a nationwide, religious liberty law firm with an unmatched record of defending religious liberty—in our schools, for our houses of worship, in the military, and throughout the public arena.
If you believe your religious liberty has been threatened or violated, please fill out the form below so we can evaluate your case.
Our legal intake team personally evaluates each request for legal help and may follow up with you over the phone for more information about your specific situation. We cannot guarantee that we will be able to take every case, but if we do, our legal services are provided at no charge to you (pro bono).
Thank you! Our legal team will evaluate your request.