Trump's pick for Attorney General is official. What's his record on religious freedom? A brief profile on William P. Barr, below »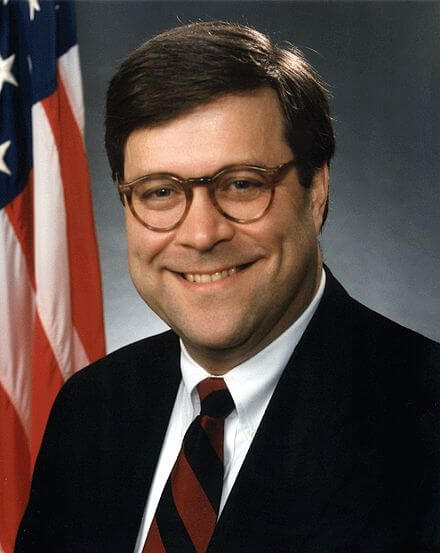 Quick Facts:
– Barr's hearing before the Senate Judiciary Committee will be taking place on Jan. 15 & 16, 2019.
– First Liberty's President and CEO, Kelly Shackelford, & Mike Berry, Deputy Gen. Counsel, will be present at this week's confirmation hearings in Washington, D.C.
Who is William P. Barr?
Barr, 68, is President Trump's pick for U.S. Attorney General, nominated to fill the vacant cabinet post left vacant after Jeff Session's departure last year.
He is an experienced corporate lawyer and a committed Catholic who served from 1991 – 1993 as U.S. Attorney General under President George H.W. Bush.
Presently, Barr serves as Of Counsel for Kirkland & Ellis, LLP, one of America's elite law firms.

Kirkland & Ellis, LLP is a network attorney firm with which First Liberty often partners to litigate religious freedom cases (Coach Kennedy, Oscar Rodriguez, for example).
Barr on Religious Freedom:
As head of the D.O.J, Barr filed suit against the village of Airmont in 1991 for religious discrimination of Orthodox Jewish community.
In 1992, Barr issued a statement regarding rights of religious minorities, specifically the Orthodox Jewish community:

"…I believe that the freest possible exercise of religion is essential to the continued success of our great nation.
"Freedom of religion requires not only freeing religion from undue government regulation and interference. It also requires freeing religion from discrimination and from vile acts of hatred and persecution."
Regarding "the Airmont case…The manipulation of zoning laws to keep Orthodox Jews out of a community strikes at the very heart of what this country stands for."
Barr praised A.G. Jeff Sessions' leadership and guidance in protecting religious expression throughout all executive departments.
Barr has openly commended the current D.O.J for participating in cases defending the First Amendment rights of vendors and business owners, especially so they won't have to participate in activities that would violate their religious beliefs.
Hearing Coverage:
https://www.judiciary.senate.gov/meetings/nomination-of-the-honorable-william-pelham-barr-to-be-attorney-general-of-the-united-states
or live stream on C-SPAN.