Helping People of Faith, Religious Leaders & Churches Vote Their Values
Election season is well underway and Election Day—Tuesday, Nov. 8th—is quickly approaching.
There are a lot of misconceptions about what rights and freedoms pastors and houses of worship have on political matters.
Opponents of religious freedom often manipulate information to make you believe that politics and the pulpit may never converge, making faith-based organizations, churches, synagogues and everyday religious Americans fear legal ramifications if they mention or participate in politics.
But the truth is, that fear isn't based on the law. It's a scare tactic by those who want to silence and suppress people of faith, and keep them from voicing their opinions and voting their values.
President, CEO and Chief Counsel Kelly Shackelford explains some critical facts that you and your religious community need to know this election season:

hr>
Click below to download a FREE, one-page resource from our experts: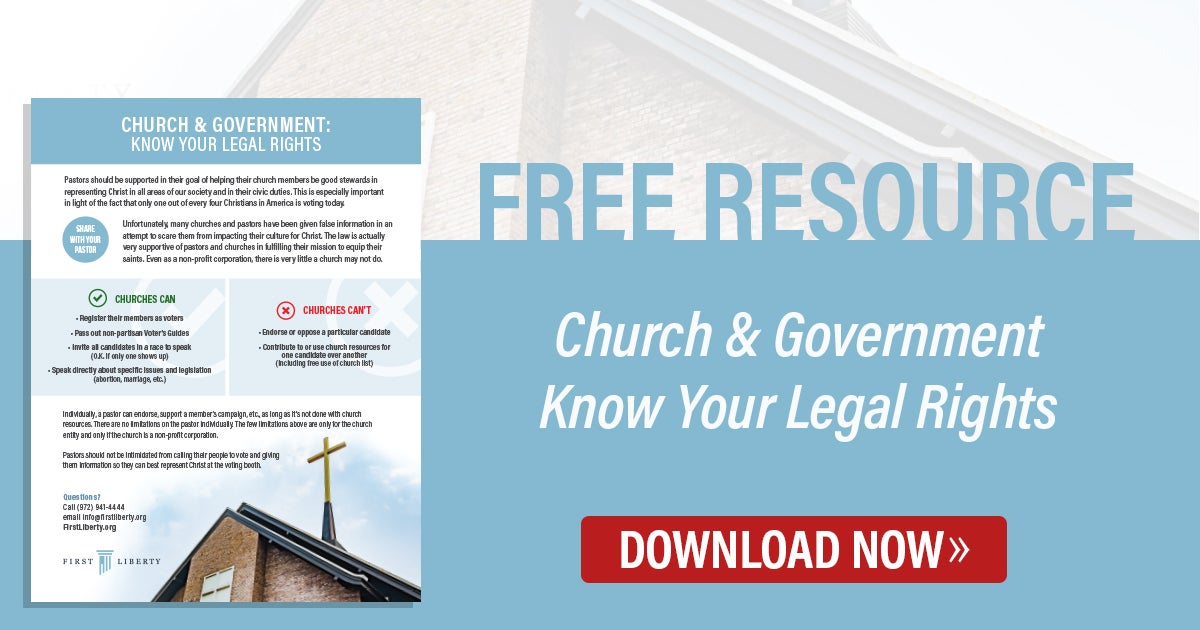 Americans—including people of faith—have a responsibility to be good citizens, active and engaged in our political process. We recognize that religious freedom is indeed one of the greatest blessings bestowed to our country and the first freedom from which all other liberties flow. At the same time, however, we cannot ignore how important other civil rights—such as the right to vote—are to the flourishing and the betterment of our country.
This election season, we encourage every religious American to vote according to their conscience and their values. Every person of faith should know this: protecting religious freedom and all our God-given liberties isn't just a battle that we're fighting in the courtroom. It's a fight that we can also win if we show up to the ballot box.
Here are some other helpful resources to guide religious American seeking to vote in accordance with their values:
Where the Parties Stand on Religious Freedom
iVoter Guide publishes a comparison of the two major parties and their respective positions on religious liberty. Their website also explains biblical foundations of religious liberty and the responsibility people of faith have to show respect for government and authority, which includes being an active part of the process and voting.
Compare the two parties' positions here.
Biblical Principles for Political Engagement: Worldview, Issues, and Voting
Our friends at Family Research Council offer a publication that examines God's Word and explores the divinely-instituted role of government. This booklet explains why Christians ought to be politically engaged and how to do so in a manner consistent with a biblical worldview. You'll also find advice for religious leaders on navigating sensitive moral questions and shepherding their congregations well.
Download the free e-booklet here.
Party Platform Comparison
Family Research Council also offers a resource to help you make sense of each party's platforms, which are the guiding documents for what policies they plan to advance. Studies have shown that parties vote in line with their platforms over 80% of the time. Learn more about where the parties stand on fundamental issues like life, family and religious freedom.
Get the party platform comparison by clicking here.