by Liberty McArtor • 7 min read
The Supreme Court's most recent term provided several reasons to feel positive about the future of religious freedom. From major victories to the margins of the victories themselves, Americans can be confident that the nation's highest court prioritizes our First Freedom—even as we stay vigilant of threats against it.
1. Emergency Appeals with Positive Impact
The Supreme Court sometimes hands down quick decisions when there is an urgent issue and no time for oral arguments. These types of emergency appeals appear on what's called the "shadow docket." In the most recent term, several of these emergency appeals and decisions offered opportunities for justices to quickly strike down unconstitutional restrictions amid the COVID-19 pandemic—for instance, unfair restrictions on houses of worship.
Because shadow docket decisions don't follow usual court proceedings, they don't set official precedent—but that doesn't mean they can't have an impact. As Professor Adam Carrington of Hillsdale College recently noted, the shadow docket outcomes from the latest term are already being cited in other cases as a defense of religious freedom.
2. Big Wins on Major Cases
There were also several big wins for religious freedom stemming from the "official" docket—wins that set important precedent for cases in the future. Here are a couple:
Fulton v. Philadelphia
In a unanimous decision (9-0), the Supreme Court issued a big win for Catholic Social Services, a faith-based foster care agency in Philadelphia. The agency places children exclusively with a married mother and father, in accordance with Catholic beliefs about family structure. The City of Philadelphia refused to partner with the agency since it did not consider same-sex couples for adoption. When Catholic Social Services asked for a religious exemption, the City still refused. In its decision, the Supreme Court said that government cannot discriminate by refusing religious accommodations when it offers other accommodations.
Now Catholic Social Services will be able to work with the City Philadelphia to help local foster kids while staying true its religious beliefs.
Uzuegbunam v. Preczewski
In this case, the Supreme Court decided 8-1 in favor of a college student bringing religious freedom and free speech violation claims.
The case began years ago when Chike Uzuegbunam was stopped from sharing his Christian faith on his college campus, and filed a lawsuit. His college eventually adopted a new policy that allowed students to share their faith openly and wanted the lawsuit dropped. But the student wanted to keep the lawsuit going even though he wasn't seeking monetary damages. In their decision, the Supreme Court decided that lawsuits can keep going even when plaintiffs are only seeking "nominal" damages.
Essentially, this means when entities—like colleges—violate someone's First Amendment rights, courts can compel them to acknowledge their error.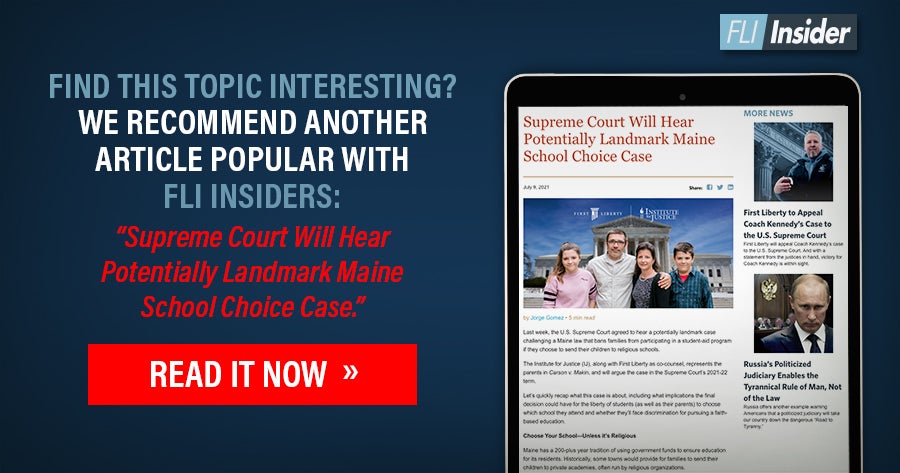 3. Encouraging Margins
Did you catch that in Fulton v. Philadelphia, the decision in favor of Catholic Social Services was unanimous? Also, did you catch that in Uzuegbunam v. Preczewski, the favorable decision was nearly unanimous at 8-1? These are not anomalies.
Religious freedom cases have had an eighty-one percent (81%) win rate in the last sixteen years according to recent research. And in a majority of those wins studied, liberal justices joined conservative justices for 7-2 or even unanimous decisions. These statistics reveal that the justices aren't as divided as many Leftist activists commonly argue.
There is never a guarantee of how the Court will decide a religious liberty case. But judging from the fact that religious organizations have won at the Supreme Court in recent years more frequently than at any time since 1953, there is reason to be confident that the First Freedom will be protected going forward.
Potential Wins in the Pipeline
Speaking of future cases, here's a look at a few important battles First Liberty will be fighting at the Supreme Court in the coming term:
The Supreme Court has already accepted this case and we'll be delivering oral argument before the Court in the fall. Together with the Institute for Justice, we'll be defending a family in Maine that wants to send their children to a private school using the state's tuition assistance program. Maine denied that family's request because the school they chose is religious. This is clear anti-faith discrimination, and we plan to have it overturned.
We're appealing Coach Kennedy's case to the Supreme Court again, and this time, we're hopeful the Court will hear it. In fact, back in 2019 the Court indicated a willingness to re-examine the case.
It's hard to overstate the significance of Coach Kennedy's case. If we win, it will greatly increase the right of free religious expression for all Americans, not just school employees like Coach Joe. If we lose, it could mean that any government employee could be fired for even the slightest public expression of their faith.
Recent years have accentuated how vital the Supreme Court is in upholding our First Freedom. And with the opportunities First Liberty has to present and argue these potentially landmark cases, we need your support right now in order to continue winning for your religious freedom.
Will you join us today by making a gift that will help deliver more precedent-setting victories at the nation's highest court?