The results of the election are now known: Donald Trump won the presidency. The Senate and House will tilt conservative.
"But what does this mean for religious freedom?" I've been asked.
GOOD NEWS, BUT . . .
The good news is that a difficult legal environment will likely give way to opportunities due to federal judicial appointments more friendly to religious liberty. This will include the U.S. Supreme Court and 13 federal circuit courts (each with multiple judges) and 94 federal district courts.
Likewise, there is the potential for a better environment for religious freedom in our numerous federal agencies and within the military, not to mention better laws and policies coming from Congress to protect religious freedom.
The bad news is that federal judicial appointments do not happen quickly. President Obama has appointed many judges and seats are filled only as they become vacant. And the opposition, such as the ACLU, will pour funding into expanded resistance. Shannon Bream of Fox News recently wrote:
The president has successfully seated a total of 329 federal judges during his two terms – all of them lifetime appointments. When Obama took office, only three appellate courts had more Democrat-appointed judges than Republican-appointed judges. Now, nine of the 13 circuits do. 
So after 8 years of President Obama selecting judges, the battle for religious freedom (and the work of First Liberty) will remain, for the moment, a fight on largely difficult terrain.
GAME PLAN FOR A NEW ERA
Yet we have a blueprint for victory. For several months, First Liberty has been constructing a game plan in the event of the election results that, this week, have now occurred.
First, we will aggressively move to win major cases in the 13 federal appeals courts and the U.S. Supreme Court. These can achieve sweeping precedents to restore and protect religious freedom.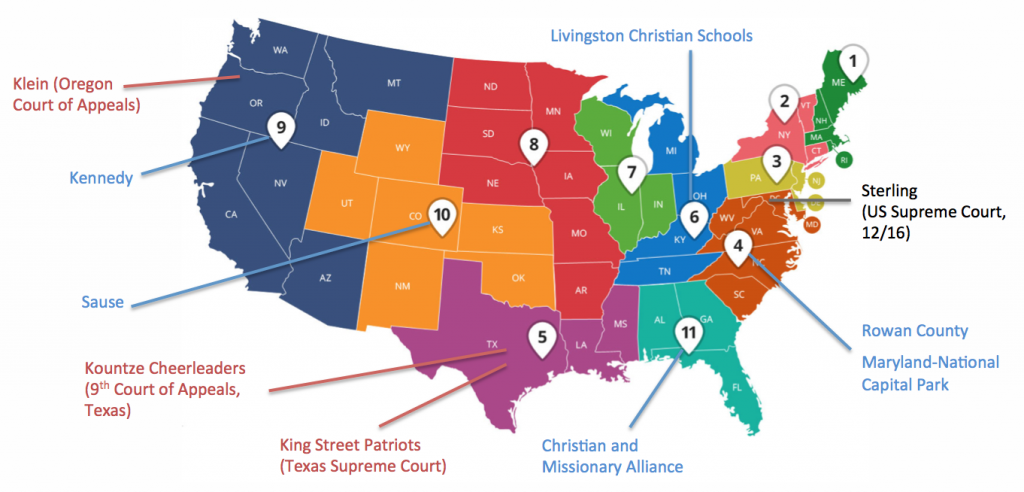 Opportunities include:
Permanently protecting public prayer in schools and public meetings, currently at great risk. We have 2 active cases in federal courts at high levels and more in the pipeline.
Permanently protecting veterans memorials with religious expression, currently at great risk. We have 1 active case in high federal courts and more potential cases.
Permanently protecting religious freedom in the military. We have 1 case potentially going before the U.S. Supreme Court.
Permanently protecting people of faith in business and the workforce. We have 2 cases with great U.S. Supreme Court potential.
Second, as the foremost experts on religious freedom in America, First Liberty will be able to influence the new administration and Congress with advice and research that will shape the future of religious freedom. Opportunities for input include:
Judicial nominees for the Supreme Court and dozens of judges on federal appeals courts who will shape religious liberty for decades.
Federal personnel in positions to protect religious liberty rather than attacking it.
Federal laws that could establish new vanguards for people of faith currently at great risk of losing their religious freedom.
AN IMMEDIATE OPPORTUNITY TO CREATE DECADES OF FREEDOM
 It is urgent that First Liberty find the resources needed to seize the window of opportunity we have been granted, including these three initiatives:
#1  Adding top expert attorneys and supporting legal researchers to provide the new government with immediate and ongoing expert input and guidance on judges, courts, agencies, and policies.
#2  Establishing an office in Washington, DC to offer immediate access to the government in our elevated role in providing advice and research.
#3  Adding staff litigation attorneys to rapidly expand our capacity to pursue cases in the federal courts—U.S. Supreme Court, appeals courts, and district courts—that will set sweeping precedents for a generation.
Now, as a door opens, we intend to step boldly through to win sweeping victories and restore religious liberty for a generation.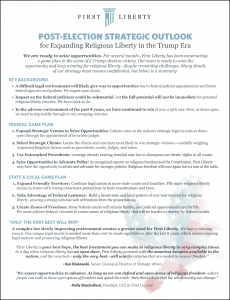 Read our First Liberty Post-Election Strategic Outlook,
our game plan for dealing with the results of the election. 
Our elite volunteer litigators plan to defend more Americans under attack at no charge to victims of religious discrimination. This unique legal strategy—made possible by support from Americans like you—is needed more than ever to even the playing field after the last 8 years, which means winning legal matters and preserving religious liberty.
This is a unique opportunity. First Liberty is your best hope, the best investment you can make in religious liberty in very pivotal times. In a day when religious liberty will be won or lost for a generation, First Liberty partners with the smartest lawyers available in the nation. I'm convinced that the very best—and only the very best—will win.
I'll be updating you again on the coming challenges. In the meantime, we are moving forward to continue winning legal victories and expanding and restoring religious freedom in this pivotal time of opportunity.

Kelly Shackelford is President, CEO & Chief Counsel of First Liberty.