A weekly roundup of important headlines and exciting things happening at First Liberty.
---
First Liberty Live! Episode Featuring Dr. Varkey Goes Viral: 270,000+ Views!
We're happy to report that our First Liberty Live! episode featuring our client Dr. Johnson Varkey went viral. It has received more than 270,000 views on YouTube. Watch below, and be sure to share the video with your friends and family:
First Liberty sent a letter to St. Philip's College and the Alamo Colleges District in San Antonio, Texas informing them of their unlawful actions against Dr. Varkey. The college fired him for teaching in an anatomy and physiology class that sex is determined by X and Y chromosomes, consistent with his study of human biology and his religious beliefs. We're asking the college to immediately reinstate Varkey to his position and clear his record of any wrongdoing.
---
Chief Legal Officer Jeff Mateer Leads Legal Foundations Workshop
First Liberty Executive Vice President and Chief Legal Officer Jeff Mateer participated as the featured speaker at a training event with the Herzog Foundation, a charitable organization dedicated to the development of quality Christian education.
In this Legal Foundations Workshop, Jeff had an opportunity to discuss key Supreme Court decisions and the current legal landscape for religious liberty. The lecture helped inform education leaders about important legal topics impacting religious schools, including:
Church Autonomy Doctrine & Ministerial Exception Defense
School Choice & Government Neutrality
LGBT Issues
Title IX & The Equality Act
Practical Steps to Guard Your Christian School
Walking in Freedom Today
---
Is Biden's Hostility to Religion Tanking Military Recruitment?
First Liberty Senior Counsel Danielle Runyan wrote an op-ed for The Daily Caller. She discusses the Biden administration's punitive approach toward religious service members and the adverse effect it's having on our nation's military:
"Perhaps young Americans are reluctant to answer our nation's call because they are witness to our Executive Branch's failure to account for the religious in its concept of Diversity, Equity, and Inclusion. While adequate pay and healthcare and properly maintained base housing are reasonable considerations when deciding whether to join the military, how our Executive Branch demonstrates respect for religious liberty must certainly be added to the list."
---
Biden's Extreme Judicial Nominee Cannot Reach the Bench
First Liberty Executive General Counsel Hiram Sasser wrote an op-ed for Fox News. He discusses the nomination of Loren AliKhan to be a federal judge:
"To protect the civil rights of all Americans, the U.S. Senate should oppose the nomination of judicial nominee Loren L. AliKhan to the U.S. District Court for the District of Columbia. Her record of repeatedly making extreme arguments and losing in court raises doubts about her qualifications, fairness, and legal judgment."
---
Not Just for Christians: How Religious Liberty Protections Benefit Religious Minorities
Trey Dimsdale, Executive Director of the Center for Religion, Culture & Democracy, and CRCD Fellow Dr. Mark David Hall wrote an op-ed for Real Clear Religion. They discuss the results of the 2023 Religious Liberty in the States Index, which scores and ranks religious liberty protections across all 50:

"Illinois does the best job of protecting religious freedom according to RLS 2023, having adopted 85% of the possible protections identified. West Virginia, on the other hand, has the most room for improvement, having adopted just 14% of potential safeguards. Most states are doing less than half of what they could be doing to protect religious freedom for their residents."
---
JURISPRUNEJUICE: Cartoon of the Week  
Senior Director of Creative Strategy Howard Goldthwaite is the bright spark behind our new cartoon series, creatively titled "JURISPRUNEJUICE."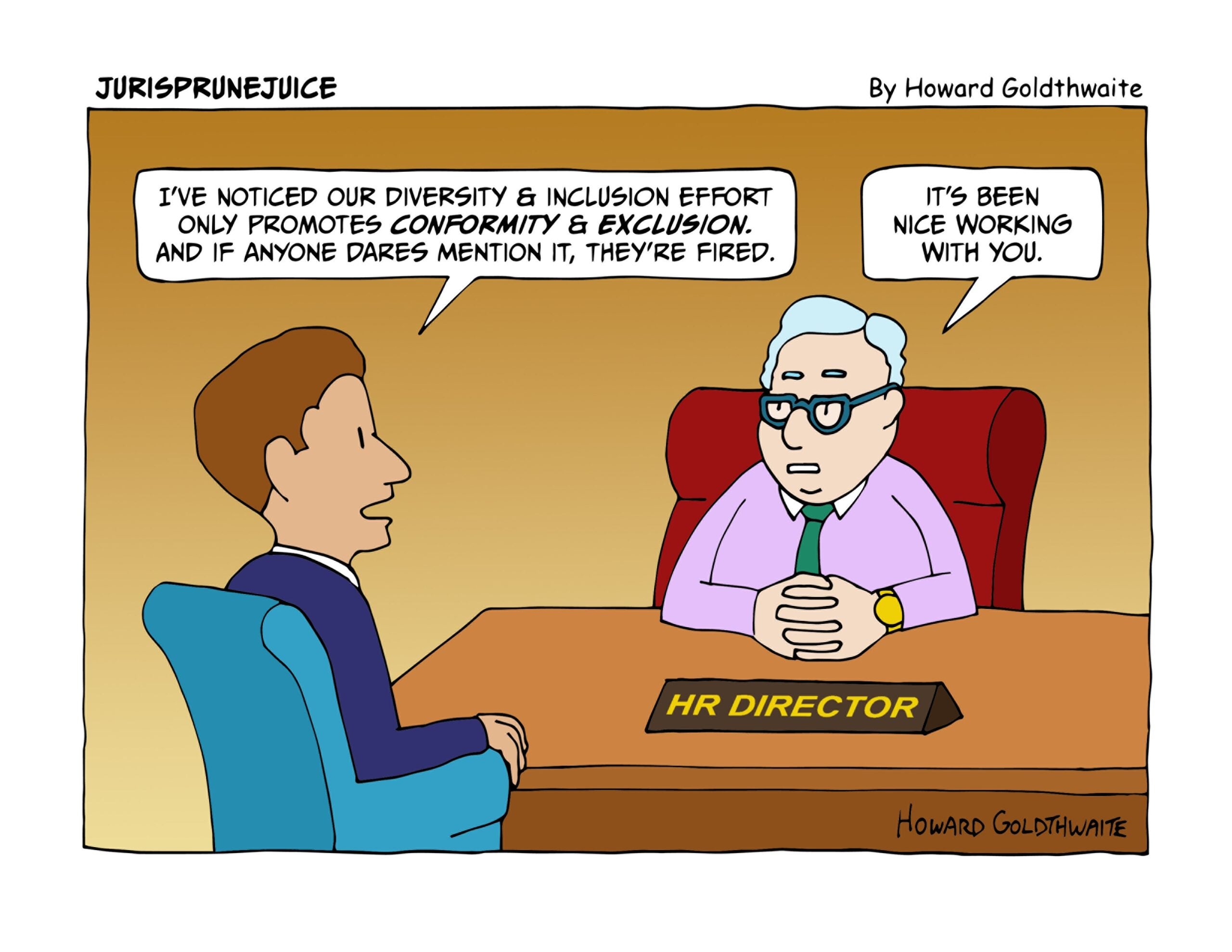 ---