A weekly roundup of important headlines and exciting things happening at First Liberty.
---
Mike Berry on the Glenn Beck Show: Did High School Retaliate Against Coach Kennedy?
Vice President of External Affairs Mike Berry and Coach Joe Kennedy appeared on Glenn Beck's radio program. They discussed why Coach made the difficult decision to resign his position on the Bremerton High School football team:
---
Coach Kennedy Faced Retaliation from School District
Executive General Counsel Hiram Sasser published an op-ed for The Washington Times this week. He discussed the retaliation and mistreatment Coach Joe Kennedy faced when he returned to his job at Bremerton High School:
"Coach Kennedy was ostracized and treated as a pariah. Unlike the other coaches in the football program, Bremerton School District never issued him a coach's locker, never issued him official apparel, and never listed him on the athletic department website. Prior to Friday's first game of the season, he was not provided a roster for the first game, not given a "play card," and not given an assignment for the game…First Liberty Institute is investigating Bremerton School District's actions to determine whether further legal action is necessary."
---
First Liberty Attorney Participates in Public Policy Forum
Associate Counsel Holly Randall is participating in the Texas Faith, Family & Freedom Policy Forum in Austin, Texas this week. The event is hosted by our friends at Texas Values, a nonprofit organization committed to preserve and advance biblical values in the Lone Star State.
This forum is the largest event of its kind in the state, running six years in a row. It offers an opportunity to hear from leaders from across the state and nation discussing family values in public policy—including life, marriage and religious freedom.
Holly joins a prestigious lineup of speakers and experts, including:
Sam Brownback, Former U.S. Ambassador for International Religious Freedom
Abby Johnson, Former Planned Parenthood Director, now a Pro-Life Leader
Riley Gaines, NCAA Swimming Champion & "Save Women's Sports" Leader
Roger Severino, Heritage Foundation VP of Domestic Policy
---
Advocating for Religious Freedom with Key Allies and Partners in Our Nation's Capital
First Liberty is at the Pray Vote Stand Summit in Washington, D.C. this week, an event sponsored by our friends at Family Research Council. The annual gathering brings together spiritually active and civically conscious Americans from all over the country who want to make a difference for religious freedom and other foundational American values.
Our team will be coming to you live with regular updates throughout the event, so make sure to keep an eye out on our social media channels:
Facebook     Twitter     Instagram    LinkedIn
---
Jurisprunejuice: Cartoon of the Week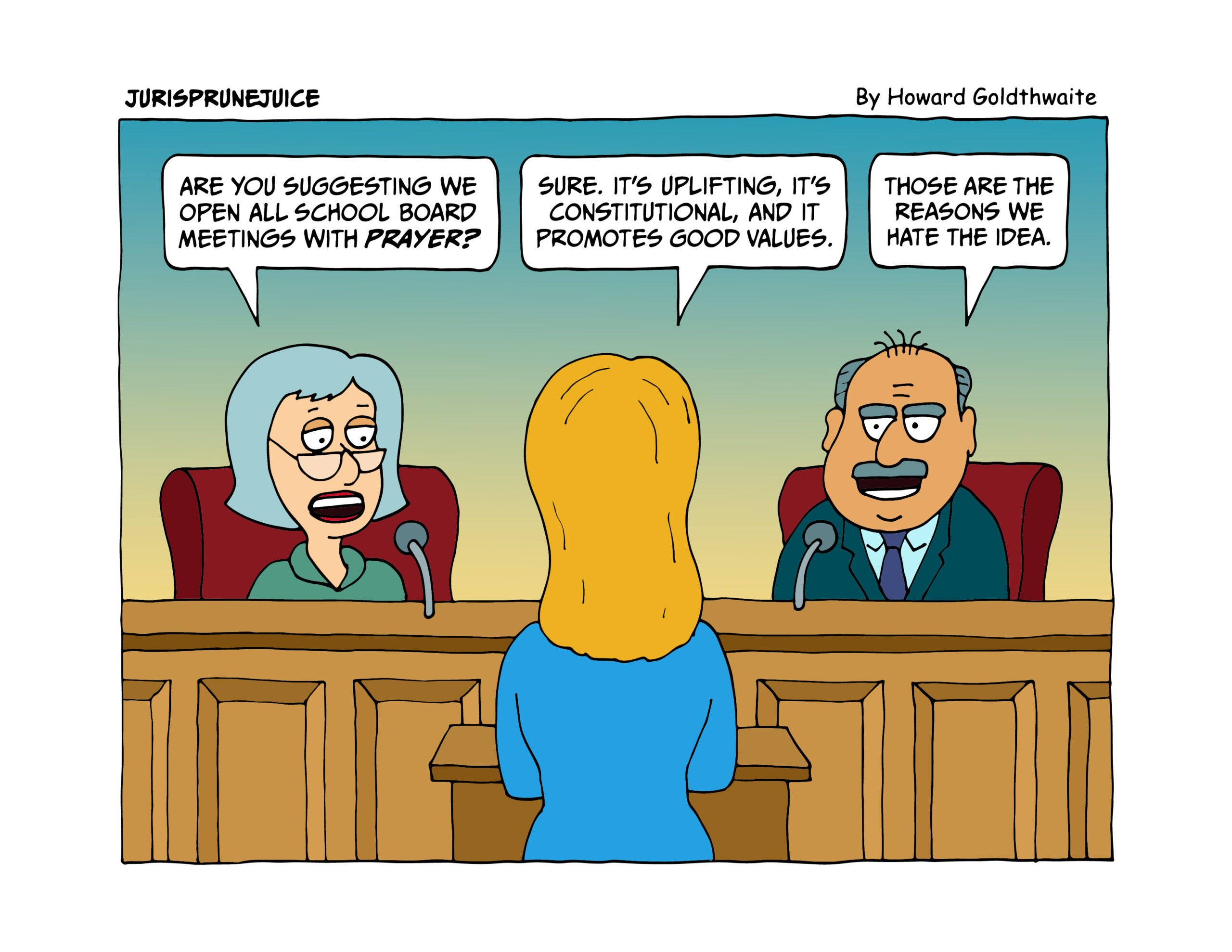 ---