by Jorge Gomez • 4 min read
Students, coaches, teachers and administrators are heading back to school, and this will be a year when they will enjoy more religious freedom than ever before. Thanks to landmark Supreme Court victories in our Coach Joe Kennedy and Treat Children Fairly cases, we're witnessing a huge resurgence of religious expression in America's schools.
Florida Rep. Matt Gaetz recently introduced the "National Prayer in School Act." The legislation would allow students and school employees to pray in school without fear of any negative consequences. He originally announced the proposed legislation at Turning Point Action's 2023 Action Conference in July, according to The Daily Caller.
"My legislation unlocks religious freedom once again so that in every classroom in America there will be time for students to pray if they choose," Gaetz said.
The bill would make use of the 2022 Supreme Court ruling in Kennedy v. Bremerton School District, which held that personal expression of faith cannot be censored. This historic case reversed decades of bad law and hostility to religious expression. It set a precedent protecting the right of public employees and all Americans to live out their faith inside the schoolhouse gates.
The impact of the Supreme Court's protection of religious liberty is being felt across the country. Just this week, the New Jersey Supreme Court ruled unanimously in favor of St. Theresa School, a Catholic elementary in the Archdiocese of Newark. The Court determined that religious schools are allowed to screen their employees based on their adherence to the institution's faith.
New Jersey law states that religious institutions are allowed to establish employment criteria based on their faith, Justice Lee Solomon explained in his opinion, and that it is "an affirmative defense available to a religious entity when confronted with a claim of employment discrimination."
This spring, the Washington Elementary School District canceled a student teaching contract with Arizona Christian University because of the university's religious beliefs. It ended an 11-year relationship. After facing intense pressure, district officials reversed their decision. They reached a new five-year agreement that will allow student teachers to continue serving.
States are also taking action. Indiana Attorney General Todd Rokita announced a fourth edition of the "Indiana Parents' Bill of Rights" that explains protections for religious liberty in public schools. "Many think our elementary and secondary schools are 'religion-free' zones, but religious freedom does not end at the school doors," the document states.
The updated version includes an entire section on children's right to live out their faith at school. It cites our Kennedy decision to clarify what activities are allowed under the law. The document answers frequently asked questions about distributing religious materials at school, wearing religious clothing, studying the Bible or other religious texts in the classroom and even the involvement of teachers in student-led religious groups.
Earlier this year, Kentucky Gov. Andy Beshear signed a law that helps protect the rights of public employees. House Bill 547 states that school districts "shall not punish or prohibit an employee from, or punish an employee for, engaging in private religious expression otherwise protected by the First Amendment to the United States Constitution."
A new law allows Louisiana public schools to display the national motto, "In God We Trust," in each classroom. Arkansas Gov. Sarah Huckabee Sanders signed a law that protects religious freedom for teachers, students and administrators. Under the "Given Name Act," schools cannot force public employees to affirm a student's belief that he or she has changed gender, either by preferred pronouns or name.
Ohio lawmakers also introduced legislation that would give public schools the choice to employ chaplains to provide support services. Rep. Reggie Stoltzfus, the bill's primary sponsor, said he felt Ohio students and staff needed more community-based support in times of adversity. Texas Gov. Greg Abbot signed a similar bill into law in June.
These are just a few recent examples and only scratch the surface. Our legal experts discussed in a previous article the wave of positive changes occurring in schools and communities all across America, which include the Ten Commandments being put back in classrooms, school boards designating sacred spaces for students and staff to pray, and even the approval of the nation's first religious charter school.
There's no denying that we're witnessing tremendous momentum for religious freedom in our nation's schools. After decades of hostility, religious expression is being put back where it rightfully and legally belongs. God is opening new doors for faith to be restored in every community across America—and this is still only the beginning.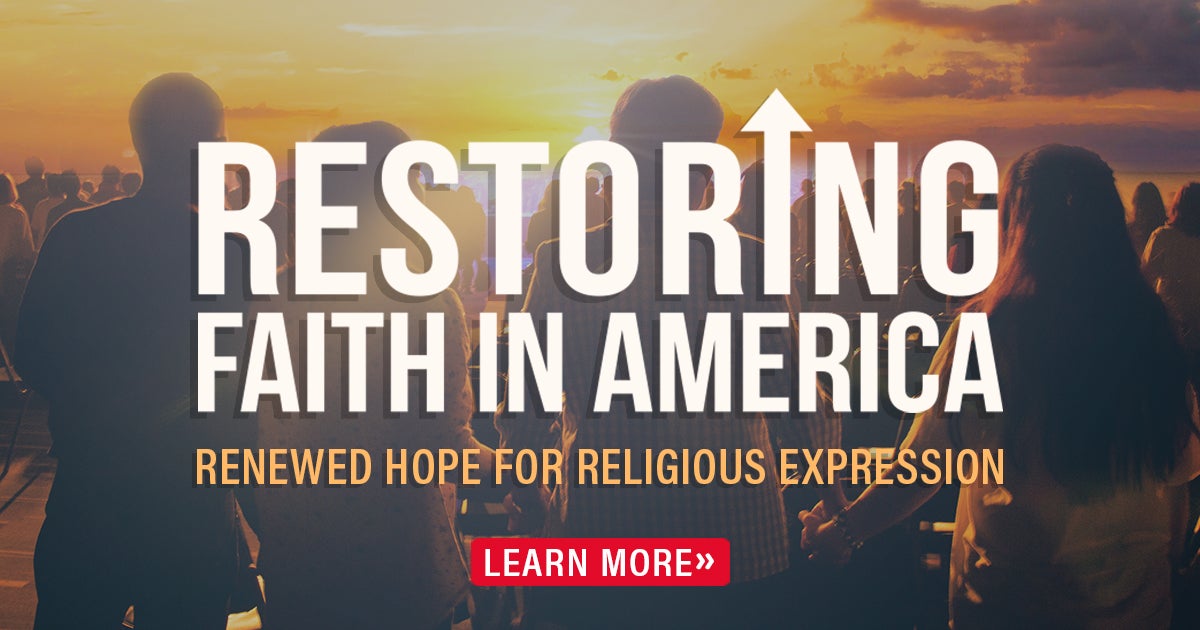 ---
Jurisprunejuice: A Cartoon About the Legal World with The Maximum Humor Allowed by Law
Sometimes a healthy dose of humor can help us make sense of the chaos that fills our world.