Religious liberty in America is not a lost cause. Far from it.
Opponents often create an uproar about the separation of church and state, harassing and intimidating people of faith for exercising their First Amendment rights. In many cases, the opposition flagrantly violates the religious freedom of Americans and looks to crush their rights through intimidation and exhausting legal battles.
But in reality, their assaults often hit a wall.
Time after time, First Liberty attorneys have defeated the opposition and halted their bullying tactics. Over the years, First Liberty's legal team emerged victorious in some of the most difficult cases in our field, setting precedents that restore and reaffirm religious liberty for millions of Americans. When First Liberty is called into action, Americans are given more than a fighting chance. They have a pathway to victory.
The numbers speak for themselves. First Liberty maintains a 90 percent win rate across all the legal matters it handles – at no charge to our clients. From sending initial demand letters to arguing before the nation's highest courts, First Liberty attorneys have proven that they win consistently.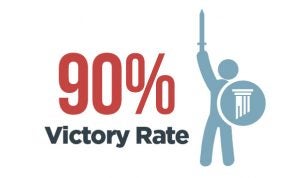 A POWERHOUSE TEAM
What many people do not know is this: Underneath our victories is a unique and innovative model of representation that sets First Liberty apart.
Our success rate comes from carefully selecting the best in their trade. First Liberty's in-house attorneys are graduates from the most prestigious law schools in the country, including Harvard, George Mason, the University of Virginia, and the University of Chicago. Some are published authors of books on law and policy, featured writers in respected law reviews and frequent contributors in media outlets.
First Liberty staff attorneys are seasoned experts in various fields of law including First Amendment law, religious freedom law, military law, corporate law, and more. They are proficient and proven litigators with victories at the highest federal courts.
But there is more. First Liberty's distinguished team of staff attorneys lead a brilliant set of network attorneys, equipping them with the subject-matter expertise that will take a case to victory.
First Liberty's attorney network has hundreds of accomplished and savvy attorneys, including:
A former U.S. Solicitor General, with more than 85 U.S. Supreme Court arguments
A former White House Counsel and U.S. Ambassador
A former state supreme court justice
A number of former state solicitors general
Former U.S. Supreme Court law clerks now working for the most respected firms in America
First Liberty intentionally searches and evaluates those who will be on its roster because a championship team needs star players. The fight for religious liberty has dramatically intensified in recent years, requiring that the most outstanding and finest lawyers take the lead to preserve America's first freedom.
A WINNING GAME PLAN
First Liberty's success comes from implementing an effective strategy. We take the experience and skills of our staff attorneys and combine it with the home-field advantage offered by network attorneys.
Our in-house team coordinates with local network attorneys and firms who know the nuances of their communities. They know the judges and the unique practice of law in their city, county, and state. And that gives First Liberty a substantial lead.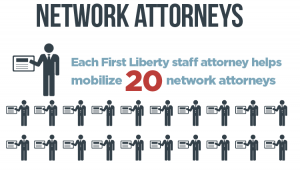 Throughout the course of a case, First Liberty staff attorneys communicate to the network lawyers about what actions to take and which legal arguments to make – or which ones to avoid. As experts in religious freedom, First Liberty attorneys offer direction to their volunteer counterparts on how to advance and influence the body of American law toward religious liberty.
The combination of all these elements exponentially multiplies First Liberty's impact. Every one dollar spent on a case usually translates to six times the amount of pro bono legal time by our elite volunteer attorneys. And that means both quality and quantity for Americans who wish to see religious freedom thrive.
THE BEST LEGAL DEFENSE FOR RELIGIOUS LIBERTY
First Liberty has an exclusive and concentrated focus on religious liberty, unlike other similar organizations in the country. On a daily basis, First Liberty attorneys and support staff passionately pour themselves into their work because they know that this is a crucial time for religious freedom in America.
Assembling a gifted, impassioned, and qualified team is the first step in defending the treasured rights guaranteed by the First Amendment. Coupled with a time-tested and proven strategy, there is hope – real and tangible confidence – that more victories will come in the future.
News and Commentary is brought to you by First Liberty's team of writers and legal experts.