by Dave Holmes • 5 min read
Imagine facing a fresh canvas, anxiously holding a brush in one hand and a palette in the other. Rembrandt must surely have had many such moments as he contemplated a very first stroke. What developed into the The Storm on the Sea of Galilee and many other masterpieces was sheer genius and created timeless pieces of art, loved by billions.
The process of crafting such a work is not too dissimilar from pondering your own life's canvas, your own Rembrandt moment. If painting a master plan for your heirs' lifetime welfare, including religious liberty, is your goal, what first strokes would you take?
People of faith from across America increasingly comprehend the importance of such planning and the role religious liberty plays in it. Consequently, they are motivated more than ever to join the fight for the long run!
The opportunities in the last year to expand our legal impact and public outreach campaigns could not have happened without the faithful support of so many patriotic Americans like you. Such citizens cherish the Constitution and want to see our freedoms protected. Two Supreme Court wins (six days apart), two more cases in the pipeline and other promising precedent-setting cases underway highlight the enormous return on donation (ROD) experienced this past year by those who invest in us.
If you worked for a living, you no doubt have labored to steward God's blessings in ways pleasing to Him. You may have built a company, managed a ranch, delivered healthcare, or harvested another of the numerous ways this land of opportunity made available. You provided home and hearth, educated loved ones and structured retirement plans. That's fantastic and is one part of your own Rembrandt, but there's another dimension to the painting—how do you ensure your faith still makes an impact on America years later?
Imagine a country devoid of churches or a landscape where crosses or other religious symbols are absent. Unfortunately, that is what has happened in many parts of the world. We can't let that happen here. Or, as one Harvard professor put it, "you can't hire enough police" if religion is driven from America.
Sustaining the ability of believers to practice their faith is not guaranteed; it must be protected. One way of insulating your constitutional religious rights so that they exist in 50 years is to ensure that organizations like First Liberty are still vibrant then and working hard to defend them. That's sustainability. Winning cases now is important, but simultaneously ensuring that we confront attacks in the future is equally critical. That's called building and sustaining a timeless financial legacy for religious liberty.
If you are considering a donation to First Liberty or have already given contributions, I want to thank you for your gracious gift. You know, I never thought I would praise both the IRS and Congress, but, here goes!
As of now, they have provided tax policies through which you can create a financial legacy that protects religious liberty, and concurrently works to mitigate the erosion of wealth caused by generation-to-generation taxation of your assets. Proper estate planning can simultaneously enhance wealth preservation and satisfy charitable intent. The tax-efficient use of charitable trusts and foundations, insurance policies and retirement assets allows one to leverage the pent-up value of your company, efficiently donate low-cost basis holdings like stock or maximize the residual value of other assets. Thus, tax and investment optimization strategies can preserve more for heirs and simultaneously defend their right to worship God freely. Leave more for your heirs and satisfy your God-honoring philanthropic intent? That's a Rembrandt masterpiece in my book.
If you do not have a financial legacy plan, we can chat with you, and possibly refer you to a third-party attorney or financial planner. Also, visit the legacy planning site at https://firstlibertylegacy.org/ for more information.
Rembrandt was a master artist, but did he safe harbor some of his priceless paintings to provide a legacy for his heirs and preserve the creative rights he must have cherished? I don't think so, but you can.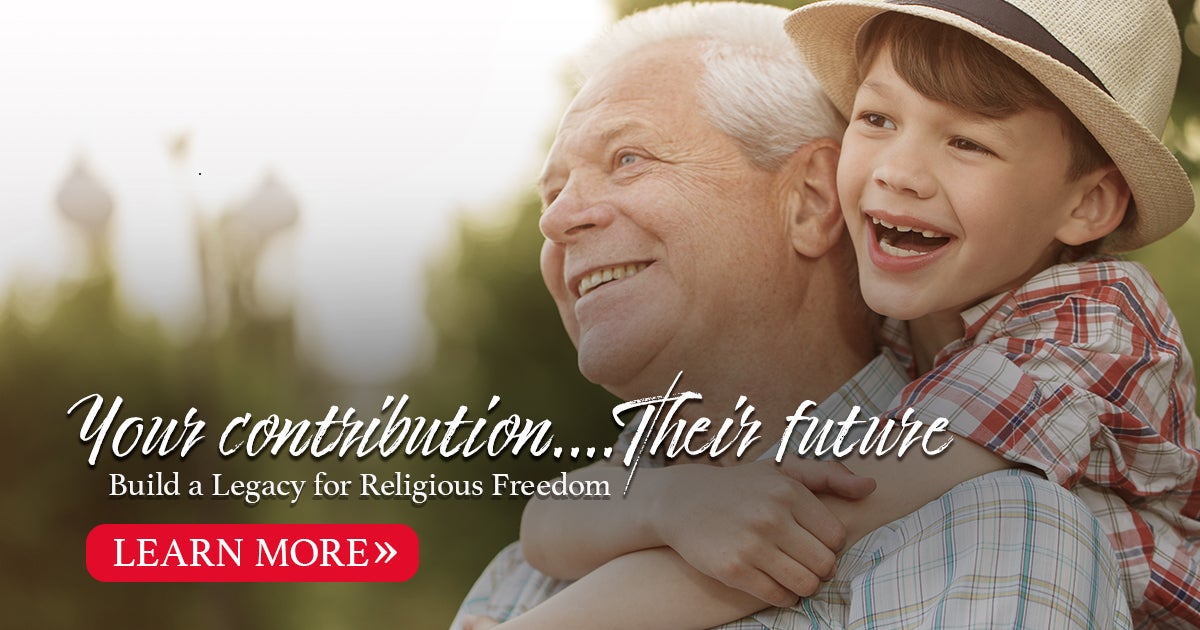 Disclosure:
Tax laws are complex and are subject to change. This information is based upon current tax rules in effect at the time this was written. First Liberty Institute does not provide tax or legal advice. Individuals should always check with their tax or legal advisor before engaging in any transaction involving tax-advantaged planning strategies or investments. Comments herein are for educational purposes only.