by Jorge Gomez & Sydney Swift, Contributing Writers • 4 min read
During the first wave of CV19 attacks on religious freedom, houses of worship became the primary target as local officials deemed them 'non-essential' and forced them to shut down their worship services.
Now, as millions of schools seek to reopen safely, government officials are targeting private religious schools, putting them in the crosshairs of unconstitutional orders to keep them locked down.
As this newest battleground for our First Freedom emerges, First Liberty is once again leading the frontlines effort to ensure these private religious schools remain free to make their own decisions without the restrictive intervention of government officials.
---
Now, more than ever, we need YOU to go All In with First Liberty to stop to the All Out assault on faith and religious freedom.
Will YOU join our growing army in this critical fight for our First Freedom?
---
Defending Religious School in America's Hotspot of Hostility: California
Last week, First Liberty sent a letter to Santa Cruz County, California health officials urging them to allow our client, St. Abraham's Classical Christian Academy, to safely reopen. St. Abraham's is a small, Christian school located in the city of Aptos.
California permits schools to open in counties that have been off the COVID monitoring list for 14 days. Santa Cruz will meet this goal in time, but the county has threatened to refuse to allow schools to open, even if guidelines are met.
In the letter, FLI Senior Counsel Stephanie Taub makes it clear that the County's actions are illegal and discriminatory:
"If Santa Cruz refuses to follow state guidance, refusing to allow even small, private schools to open, this decision will not withstand strict scrutiny if a legal action is brought against the county. Allowing schools to open as childcare centers with identical class sizes and structures undermines any interest the county has in preventing adults from teaching students in person while they are safely on the school's campuses."
Additionally, our attorneys are also leading the charge in Texas, where two private Christian schools have had their reopening plans blocked by the unlawful order of a county judge.
Reclaiming Freedom for Religious Schools in Southern Texas
First Liberty recently sent a letter to officials in Cameron County, TX, informing them that our client, Laguna Madre Christian Academy (LMCA), would reopen on Aug. 31 in accordance with Texas Attorney General Ken Paxton's guidance regarding religious schools and their rights during the COVID-19 pandemic. Local officials previously told LMCA that it would not be allowed to reopen, despite Governor Greg Abbott's executive order and AG Ken Paxton's guidance on the issue.
AG Paxton expressed his criticism toward the county after First Liberty sent its letters, stating:
"As I previously stated in my legal guidance in July, there is no current statewide order prohibiting any school from opening in the Fall Semester…The decision to open or close schools, both public and private, rightfully remains in the hands of school's system leaders, not county judges. The judge's order is unlawful, and constitutes an attack on our religious freedom."
Today we're happy to report that thanks to First Liberty's letter—as well as the support of AG Paxton—our legal team secured a victory for LMCA. The county did not stop the school from reopening as planned.
Additionally, we scored a second triumph for another one of our clients, Calvary Christian School of Excellence (CCSE), also located in Cameron County. First Liberty recently sent a letter explaining that the county's previous order prohibiting CCSE from reopening was inconsistent with the Constitution, federal, and state law. Officials announced earlier this week that they approved CCSE's plan for reopening next week.
Both Laguna Madre Christian Academy and Calvary Christian School have implemented extensive health and safety measures to protect their teachers and students.
Still on the Frontlines…Thanks to You
Governors and state officials' attacks on the constitutional rights of our houses of worship and schools are increasingly more brazen, more personal and more dangerous.
But thanks to our growing army of supporters like YOU, First Liberty continues to lead—and win—the national fight to reclaim our God-given right to freely live out our faith. And our legal team will keep fighting to ensure religious freedom thrives in our nation's schools.
Will you continue to be a Force Multiplier with First Liberty by supporting us with a donation today?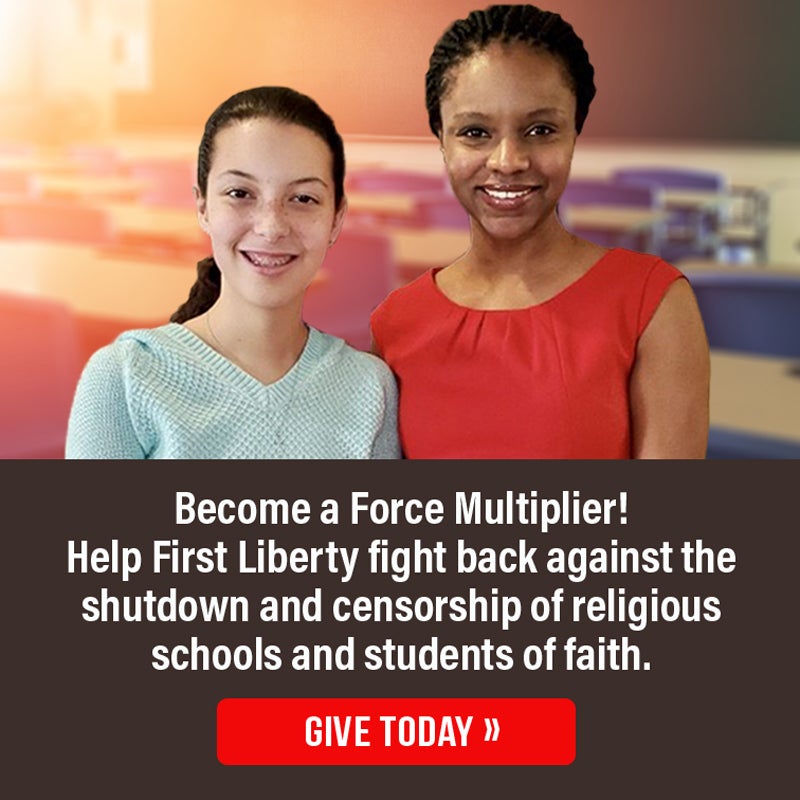 * Updates to the original version of this article were made on September 4, 2020.