100 years ago, in the waning days of World War I, nearly 1.2 million Americans were involved in one of the most critical military operations in history.
On September 26, 1918, the Allied forces launched the Meuse-Argonne Offensive to defeat the German Empire, a campaign that lasted 47 days and claimed the lives of over 26,000 American soldiers. And because of that unprecedented number, it is still registered as the single deadliest military campaign in American history.
Indeed, the price paid by American forces was high, but in the end, Meuse-Argonne was the turning point of the Great War, which ended on November 11 with the signing of the Armistice.
In this special Liberty Watch series, we remember the fallen heroes from Prince George's County, MD who valiantly sacrificed their lives during the Meuse-Argonne Offensive, and whose names are inscribed on the Bladensburg WWI Veterans Memorial.
---
Your gift can save history — and make history.
Help us win the Bladensburg Memorial case at U.S. Supreme Court.
---
HOWARD MORROW: AN EXTRAORDINARY HERO

Howard Morrow enlisted as a Private First Class in the U.S. Army's 115th Infantry Regiment at only 17 years old. Less than a year into his enlistment, he sailed aboard the USS George Washington, embarking to fight in France in June of 1918.
But what Howard lacked in age and experience, he made up for it with extraordinary heroism. On October 8, 1918, in action with the enemy near Bois-de-Consenvoye, France, Private Morrow charged forward from his own lines through terrific machine-gun and artillery fire, rescuing and bringing back to safety a wounded comrade.
As the fighting raged over the next few days, Howard suffered severe wounds, which ultimately led to his death on October 27, 1918.
But Howard's unparalleled bravery would not go unrecognized. He was awarded the Distinguished Service Cross two weeks before his death, and the medal was presented to his mother – Grace – in May 1919.
A year after his death, his mother and siblings published a poetic remembrance in the Washington, DC Sunday Star:
Our thoughts are always wandering
To the grave so far away
Where our dear son and brother is lying
In his peaceful and lonely grave
Oh for the sound of a silent voice
And the touch of the hands that are still.
Howard's body had been buried in a French cemetery under a headstone in the shape of a cross. But today, the legacy of his courageous service is on display, as his name is engraved on the base of the Bladensburg WWI Veterans Memorial.
JOHN SEABURN: WE STILL REMEMBER THEE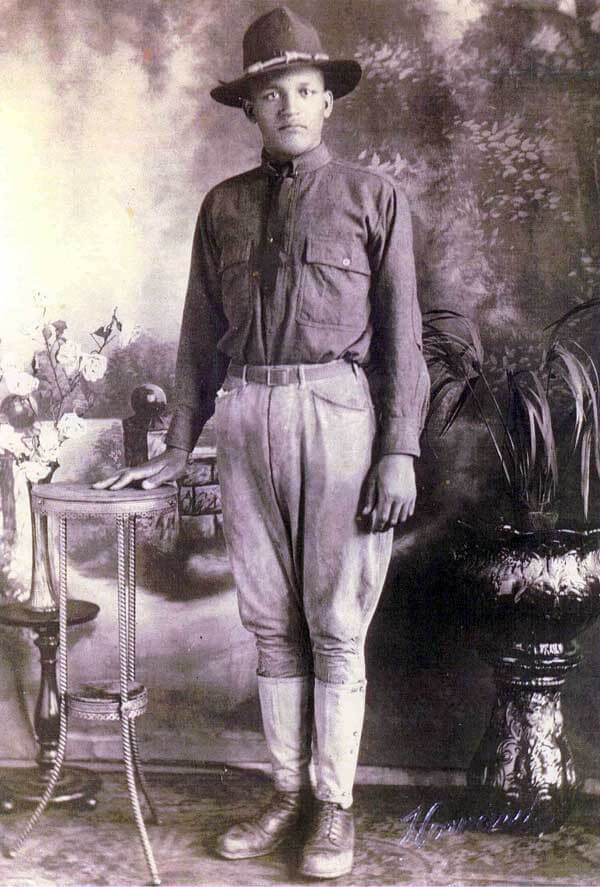 At the young age of 20, John Henry Seaburn, Jr. was a Private when he was sent off to France in the USS Sesquehana in March 1918. Seaburn served as part of the 372nd U.S. Infantry, 93rd Division, a segregated unit historically referred to as the "Red Hand" Division.
At that time, United States military commanders did not yet allow black and white Americans to fight side by side. However, the French forces had no such objection. Thus, upon their arrival in France, the members of the 372nd Infantry Regiment were assigned to the 157th Infantry of the French Army – the renowned Red Hand Division – joining them to fight in the Meuse-Argonne offensive.
Wounded while engaged in action with the enemy, John Jr. died on October 4, 1918. He was buried in the French Military Cemetery in Auve, Marne, France, where his grave was marked with a cross-shaped tombstone.
Six years after his passing, John Jr.'s family wrote these heartfelt verses, published in a 1924 edition of the Washington, D.C. Evening Star:
Though each day we miss you sadly,
Still, wherever we may look,
We may see some sweet remembrance,
Most of all your kind, sweet look.
We cannot hear your loving voice,
Your smiles we cannot see;
But let this little toke show
We still remember thee.
Forget you? No, we never will.
We loved you then, we love you still.
Your memory is as sweet today
As in the hour you passed away.
Today, the plaque of the Bladensburg WWI Veterans Memorial bears John Jr.'s name, a commemorative reminder of his distinguished service during the final days of the "Great War to End All Wars."
If history teaches us a great lesson, it is this: we forget what we do not see.
Monuments like the Bladensburg WWI Veterans Memorial are living reminders of our country's history and the cost of war, especially the high price often paid with the lives of young service members like Howard Morrow and John Seaburn.
The words of Judge J. Harvie Wilkinson, U.S. Court of Appeals for the Fourth Circuit, aptly describe what the Bladensburg WWI Veterans Memorial symbolizes – not only to us, but to the families of the sons and husbands who gave their all during the war:
Each name marks the tragedy of a life lost before its time.
Each death marks a worthy sacrifice.