by Jorge Gomez • 5 min read
The Florida Department of Education recently filed a brief supporting First Liberty's client, Cambridge Christian School.
The case involves two private Christian schools that competed for a state championship in 2015. In a brazen attack on religious freedom, the Florida High School Athletic Association (FHSAA) prohibited them from using the city-owned microphone to offer a prayer before kickoff. The FHSAA argues that the prayer might be viewed as an "endorsement" of religion since the students would be praying on government property. It claims that all speech over the louder speaker is government speech.
In its brief, the Florida Department of Education argues that the FHSAA "completely disregarded core First Amendment principles…solely because of the religious message of the prayer, even though secular, non-governmental messages were allowed."
This echoes the arguments made by First Liberty's attorneys. In our recently submitted brief to the U.S. Court of Appeals for the Eleventh Circuit, we argue that the FHSAA is blatantly violating the school's constitutional rights. The "Prayer Ban" constitutes illegal viewpoint discrimination because it censors religious expression while allowing other speech. Our brief states:
"The record shows that FHSAA permits schools and other private actors to deliver a variety of messages over the loudspeaker: welcoming remarks, promotions, music, and even prayers (at all games except the championship)…Moreover, FHSAA uses the loudspeaker to call for moments of silence, deliver ethical messages, promote sportsmanship, and honor persons and events. But it will not allow these same themes to be expressed under a religious banner."
With the Florida Education Department weighing in, it becomes even clearer that this case is of critical importance to religious liberty. It is one of the first significant tests of the impact of the U.S. Supreme Court's landmark decision in Kennedy v. Bremerton. The outcome could affect the freedoms and rights of students and religious schools not just in Florida, but also across the country.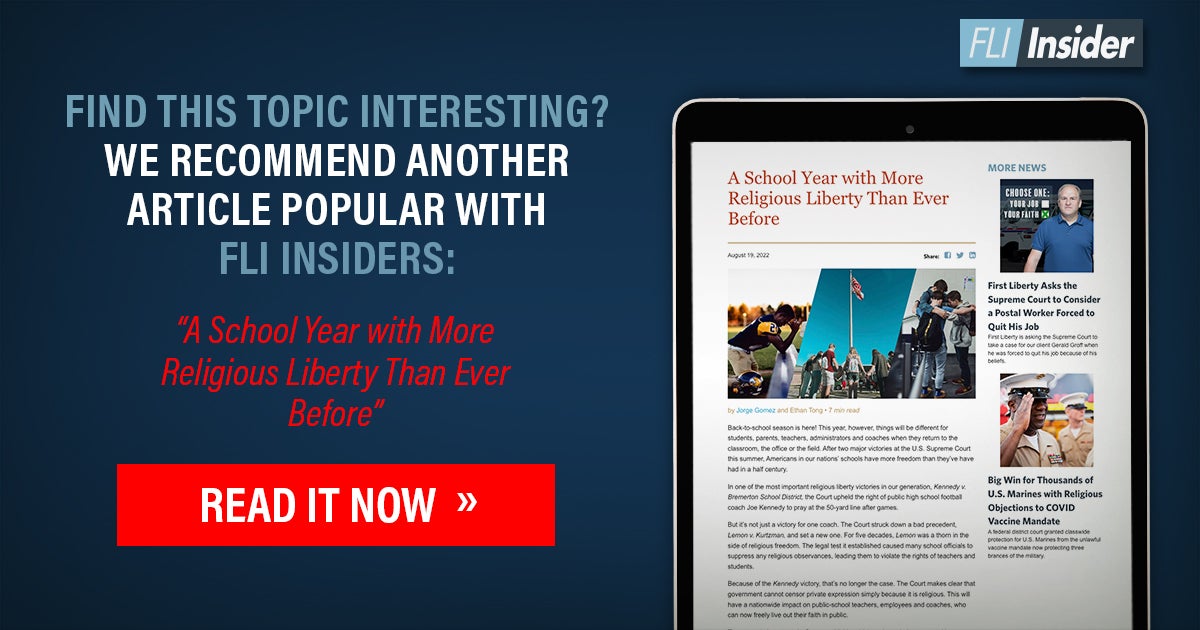 In First Liberty's major victory for Coach Joe Kennedy, the Supreme Court held that private speech, even if occurring on government property, is doubly protected by the Free Exercise and Free Speech clauses of the First Amendment. This restored Coach Kennedy's right to pray, but it wasn't just a win for one coach. The Court held that government cannot censor private religious expression. The decision correctly points out "the Constitution neither mandates nor tolerates that kind of discrimination." The ruling made it clear: coaches, teachers, students and employees in public schools nationwide are free to live out and express their faith.
In addition to Kennedy, we point to multiple Supreme Court decisions in recent years, such as Carson v. Makin, Shurtleff v. City of Boston, Fulton v. City of Philadelphia, Masterpiece Cakeshop v. Colorado Civil Rights Commission, and Trinity Lutheran v. Comer. These rulings have emphatically affirmed that the government may not discriminate against religious practice and speech.
With so much positive momentum at the Supreme Court, Americans are kicking off this school year with more religious freedom than ever before. Even with these favorable rulings in hand, however, the fight to restore and protect religious liberty in our nation's schools is far from over. There is still a lot of work ahead to ensure school districts, courts and officials throughout the country follow the Supreme Court's direction.
The Florida Department of Education's support for our clients is significant and it comes at a critical time. But they're only one key player. Just as in football, legal victories of great significance are rarely won by one player or in a single play. It takes hard work, a great game plan and a team coming together to make that victory a reality.
We need YOUR SUPPORT to move the chains toward victory for Cambridge Christian. Join the fight today and help us secure a win that will affirm it's perfectly legal for two private, religious schools to open their football games with a prayer.