Oh, how times have changed.
Over the course of a few decades, we've seen religious expression – which was once common in stadiums and crowded arenas – quarantined to broom closets. Today, people of faith are continually being alienated and vilified for the religious views they hold – and at times outright punished for practicing and living according to their faith.
In a recent editorial, Jeremy Dys, Deputy General Counsel at First Liberty Institute, delved deeper into the possible consequences of this transformation:
"Given the changes in the legal landscape over the past half-century, and the hostility with which public expressions of religious faith are now treated, the real question is whether America can see another Billy Graham."
Click here to read Jeremy Dy's full editorial as published on The Hill.
In other words, without a robust commitment to religious liberty, future national influencers like Billy Graham could be prevented from emerging in America.
We must ask ourselves: What went wrong in such a brief span of time?
FROM STADIUM SPEAKERS TO SILENCED PRAYERS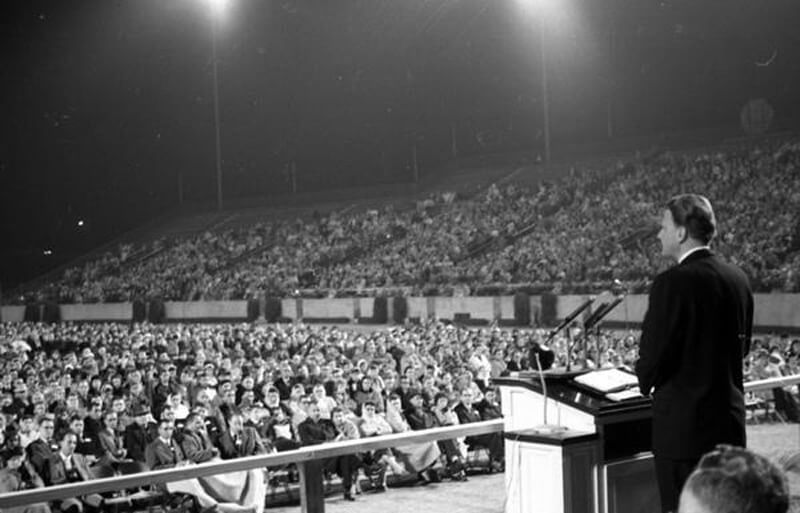 In 1969 and 1983, Billy Graham's world-famous evangelism crusade made its way to the Citrus Bowl in Orlando, Florida. The Citrus Bowl, now called Camping World Stadium, was then – and still is – owned by the City of Orlando.
Preaching at publicly-owned venues was not out of the norm for Graham, as he'd delivered religious messages throughout dozens of other similar, historic locations, including the Akron Rubber Bowl, Rose Bowl, and Will Rogers Coliseum.
Dys notes that "Billy Graham freely exercised his religion and his public message found a warm reception in the open air of America's government-owned coliseums and stadiums."
But in 2015 a completely different story unfolded at the Citrus Bowl. The football teams from two Christian schools in Florida that competed for a state championship were prohibited from using the city-owned microphone to offer a pre-kickoff prayer – in the very same stadium where Graham twice shared his Gospel message with thousands in attendance.
First Liberty represents Cambridge Christian School (CCS) against the Florida High School Athletic Association (FHSAA), which denied the school from using a loudspeaker to deliver the pre-game prayer. According to the FHSAA, prayer might be viewed as an endorsement of religion since the students would be praying on government property.
Dys poses a challenging question:
"If the First Amendment does not protect the right of two Christian schools to pray for 30 seconds over a city-owned loudspeaker in 2015, can it protect the next Billy Graham who wants to use the same public address system in the same stadium?"
Today, the First Amendment serves as a protective shield, guaranteeing that individuals and organizations are able to freely exercise and express their religious beliefs. But radical groups are incessantly trying to undermine the rights and freedoms granted by the First Amendment.
So much can change in such a relatively short window of time. What will religious liberty look like a generation from today?
COULD AMERICA HAVE ANOTHER BILLY GRAHAM?
Tolerance and diversity of belief are foundational components of America's heritage, which made public religious expression a central tenet of our country's identity.
But hostile trends in the last few years have severely undercut those values. We need to stop extremist groups and reverse their attacks. Otherwise, people of faith and religious leaders could soon be entirely excluded from expressing their beliefs in public – even when their beliefs have a positive effect on the country as a whole.
Billy Graham and CCS students are only two examples. History clearly shows how Dr. Martin Luther King, Jr. infused his civil rights speeches with overt and precise religious language, delivering remarks in the most public of venues – lest we forget his iconic "I Have A Dream" speech in 1963 at the National Mall in Washington, DC.
Ask yourself: Would America today welcome, encourage, or even tolerate a national figure who so openly expressed his or her faith?
VICTORIES TODAY ENSURE RELIGIOUS FREEDOM CAN THRIVE
Hostility to free religious expression is a direct affront to the core values that have underpinned America throughout its history. Pluralism, tolerance, and diversity are in danger of being replaced by tyranny and censorship.
That transformation can – and did – happen in just one generation. And that's the reason why First Liberty will continue to be first in the fight for religious freedom.
News and Commentary is brought to you by First Liberty's team of writers and legal experts.