By Kelly Shackelford, President and CEO

This week we had the opportunity to educate potentially millions of Americans about critical religious freedom issues.
Over 1,000 Christian leaders and guests gathered in New York on Tuesday for a closed-door meeting with presumptive Republican nominee Donald Trump. Most of the attendees previously supported other presidential candidates in this election cycle, had never met Mr. Trump, and wanted to ask him some direct questions. Because of First Liberty Institute's expertise on religious freedom and the impending appointment of Justices to the U.S. Supreme Court, I was asked to be on the steering committee for the event. I was also one of six people permitted to ask questions to Mr. Trump during the forum before over 1,000 leaders and guests.
Let me be clear—First Liberty does not endorse political candidates. We endorse religious freedom. We were honored to serve as the experts on the courts and on religious freedom, and for the opportunity to discuss this issue with a major presidential candidate. We will always do everything we can to educate and influence any candidate or public official to be more protective of religious freedom—the most important right we Americans possess.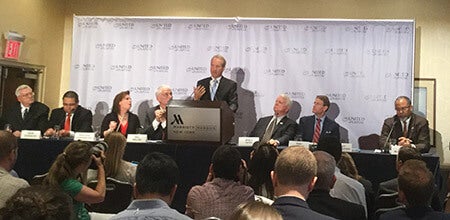 Surrounding the meeting, we had the opportunity to educate the public about religious freedom in interviews with TIME Magazine, the Washington Post, the Wall Street Journal, The Hill, The Associated Press, USA Today, Religion News Service, The Federalist, Breitbart, Todd Starnes, and several others, in addition to appearing on Fox News Business Channel with Charles Payne on religious freedom and my questions to Mr. Trump. It was an open door to educate potentially millions of Americans about religious liberty and the threats we face.
Over 50,000 questions were submitted to be asked of Mr. Trump during the meeting. Guess what was – far and away – the number one issue? Religious freedom. People are beginning to understand that we are in the midst of a huge cultural battle that will shape the future of religious freedom in America.
In the meeting with Mr. Trump, five different religious liberty cases were brought up by national leaders during the forum. All five of them were First Liberty cases, including our new case announced this week, where Oscar Rodriguez, a 33-year veteran, was kicked off an Air Force base because he planned to give a speech that mentioned God. It just brought home to me again the importance of our work. Even Mr. Trump brought up the case of Coach Kennedy, "the coach who was fired for praying," saying such hostility was not what America was about and that it "must be stopped."
When I asked Mr. Trump about the upcoming presidential appointments of Supreme Court Justices and hundreds of federal court judges, he said he would be relying on the Federalist Society and Heritage Foundation to make sure he was nominating only conservative justices and judges. He mentioned the list of 11 judges he has already released, who have been seen nationally as conservative judges, indicating the list was evidence of the types of judges he would nominate. Mr. Trump also said he will release a list of four or five more justices soon, which I look forward to seeing.
Most of all, I was struck that such a huge group of faith leaders came together for this unique gathering, something I have never seen that many leaders do before. I believe this happened because of a palpable concern leaders now have about the cultural attacks on religious freedom. I was gratified that a major presidential candidate was willing to meet and address questions about this important issue. Hillary Clinton will be invited to participate in such a forum as well. If she agrees, we will be happy to ask her the same questions regarding religious freedom in America, and hopefully educate even more Americans about their most foundational right.
Kelly Shackelford, Esq. is the President, CEO and Chief Counsel of First Liberty Institute.