by Jorge Gomez • 5 min read
Last week, the U.S. Navy kicked out the first sailors who declined the COVID-19 vaccine. The group included 20 who had just entered active service and were removed via entry-level separations, causing them to be booted from the military within their first 180 days.
Since the Biden administration and the Department of Defense (DoD) imposed the vaccine mandate, it's been argued that the mandate is necessary to ensure our troops are ready for battle.
In fact, according to documents made public in recent weeks, it appears DoD officials are issuing generic, nearly identical letters vaguely citing "military readiness" in denying service members' requests for religious accommodation.
Some continue to claim the mandate is helping our men and women in uniform. But it's increasingly clear that forcing service members to violate their beliefs or conscience is actually hurting our armed forces.
Even more shocking, the Navy took this action only a few days after First Liberty won a first major victory in federal court for 35 U.S. Navy SEAL clients, who requested religious accommodations to the mandate.
District Court Judge Reed O'Connor granted a preliminary injunction that stopped the DoD from punishing our clients while the case moves forward. In his order, he wrote:
"The Navy provides a religious accommodation process, but by all accounts, it is theater. The Navy has not granted a religious exemption to any vaccine in recent memory. It merely rubber stamps each denial."
Federal law requires military branches to individually review each religious accommodation request. However, the court found the Navy has failed to give service members the due process and proper legal consideration that they deserve.
Judge O'Connor also noted the constitutional problems with the current DoD policy, writing:
 "The Navy servicemembers in this case seek to vindicate the very freedoms they have sacrificed so much to protect. The COVID-19 pandemic provides the government no license to abrogate those freedoms. There is no COVID-19 exception to the First Amendment. There is no military exclusion from our Constitution."
This federal court ruling only applies to our 35 clients. But it is an important and very direct statement from a federal judge affirming the constitutional rights of military service members.
And yet, Navy commanders still decided to purge the ranks.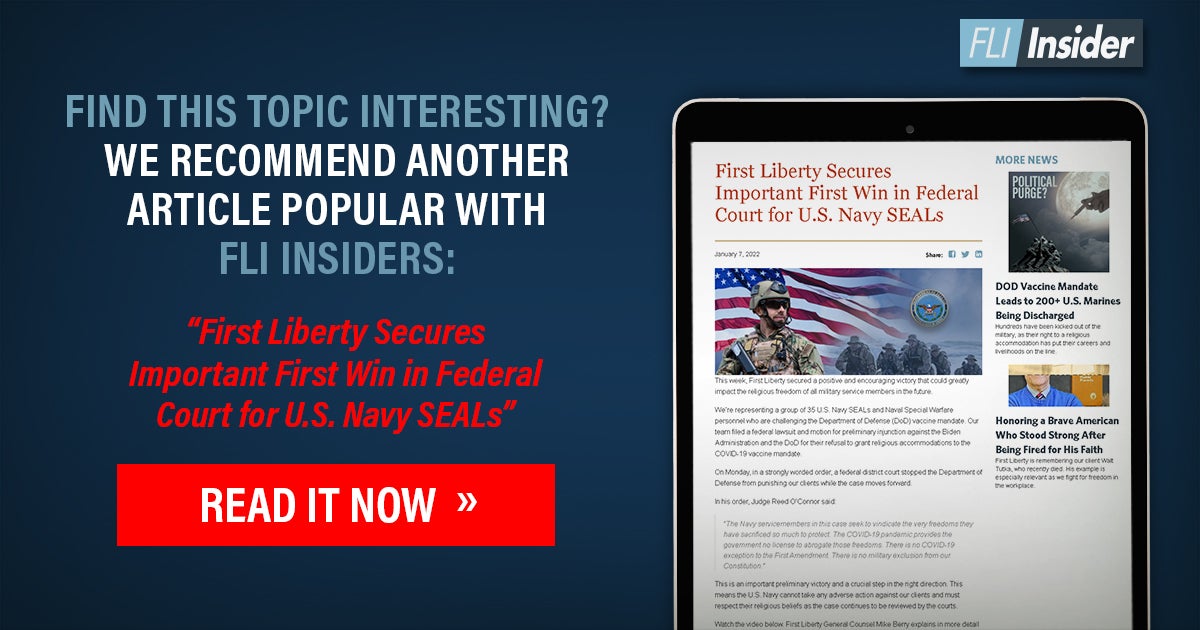 Consider how devastating this could be in recruiting efforts and to the morale of those already serving. Here's a group of freshly trained Navy service members who courageously volunteered to serve our country and were willing to sacrifice greatly to safeguard our freedoms. But under the DoD's punitive approach, they were effectively forced to choose: vaccination—or separation.
What message does that send to those who aspire to serve in the Navy or other branches?
For millions of Americans, their religious convictions are what compel them to serve. Did you know that around 73% of service members profess religious faith? Among military veterans, over 90% identify as religious. For many of these men and women, faith was one of—if not the main—motivator in volunteering for military service.
But if the Biden administration keeps threatening, punishing and destroying the careers of those who request religious accommodations, then its message is clear: People of faith are not welcome in the military.
Of course, a mandate that forces service members to choose between their faith or serving their country isn't only vindictive and outrageous. It's illegal.
Service members do not give up their religious liberty when they join the military. Both federal and military law protect their right to seek a religious accommodation from any requirement—including vaccines—that burdens their sincerely held religious beliefs.
The Commander in Chief and military leaders should be more concerned with 100% Constitution compliance, not 100% vaccine compliance
Instead of doubling down on this destructive approach, they should respect the constitutional rights of our nation's warriors. Forcing them to choose between their faith and serving their nation dishonors the sacrifices they make to keep us free.