by Jorge Gomez • 4 min read
Last week, as part of the recent $2 trillion stimulus package (CARES Act), the Small Business Administration (SBA) launched the $350 billion Paycheck Protection Program (PPP) to aid small businesses, nonprofits and houses of worship.
With the roll-out of the PPP, many people of faith, religious leaders and institutions in America were asking: How do the SBA's normal requirements for its loans apply to faith-based nonprofits and houses of worship? Will we be excluded from the program because of our religious identity? Do we have to violate our religious beliefs in order to apply for funding?
Thankfully, First Liberty had an opportunity to provide expertise and analysis to the current administration on how to ensure the use of CARES Act stimulus would be consistent with the Constitution, in a way that would respect the religious liberty of faith-based groups.
As a result, the SBA recently adopted an interim rule that ensures houses of worship and religious nonprofits are eligible to participate in the CARES Act's programs just like secular organizations.
In this edition, our team of experts have developed a quick guide to help clarify how churches, religious ministries and nonprofits can partake in the PPP without sacrificing their religious convictions.
---
Has your house of worship been affected by COVID-19 and recent government orders?
First Liberty has resources and critical information available to support you.
---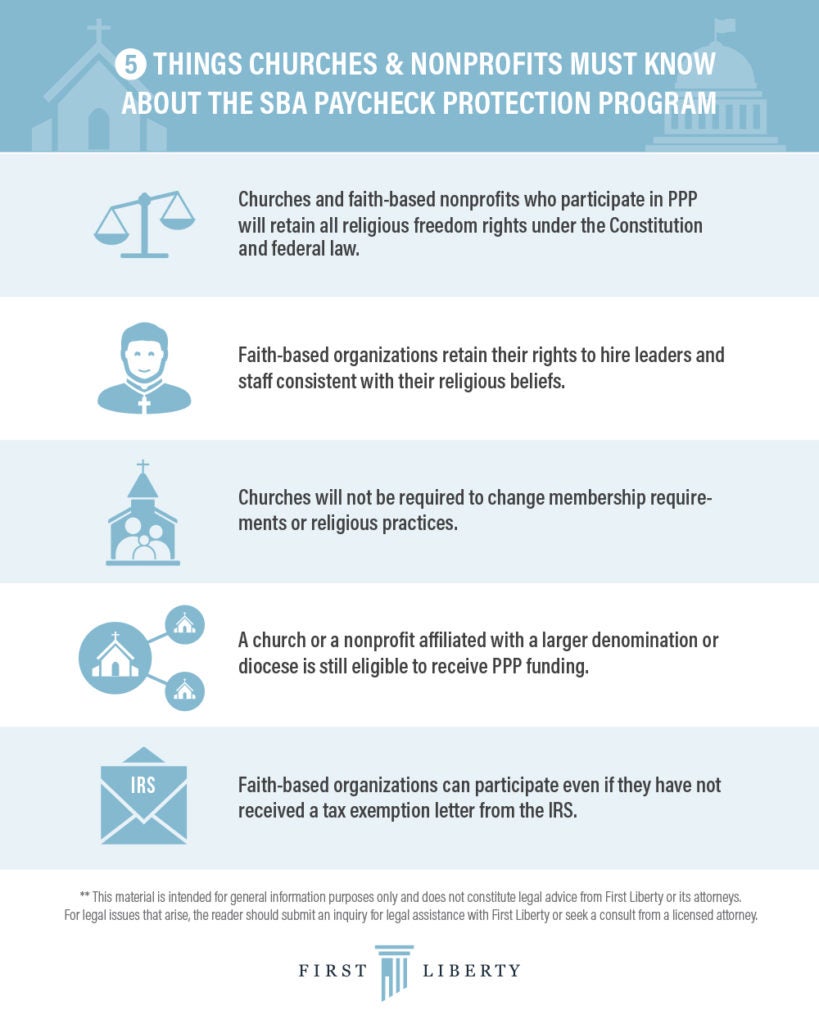 Helpful Resources and Links for Churches, Nonprofits and Religious Schools
Do you still have questions or need more information about the SBA's Paycheck Protection Program?
First Liberty has put together several links and helpful resources below. These are a starting point for religious leaders, churches and institutions who want to better understand their religious liberty rights when applying for PPP funding:
Please remember, First Liberty is here as a resource to support you during this critical time.
Join First Liberty attorneys for a weekly Q&A teleforum, where they address questions about COVID-19, religious liberty and how the CARES Act stimulus package can affect churches and ministries:
---
Join the call every Friday at Noon (EST), 11 a.m. (CST)
by dialing: (877) 743-5428
We encourage you to submit your questions in advance or during Friday's live show by emailing us at: AskFLI@FirstLiberty.org
Visit our Teleforum page to browse and listen to all First Response calls on demand.