by Jorge Gomez • 2 min read + video
Yesterday, in the case of Fulton v. Philadelphia, the U.S. Supreme Court ruled 9-0 that religious organizations cannot be disqualified from serving children and families through government programs simply because of their religious beliefs.
Watch the video below. In it, our expert legal team gives a first-hand response and a more thorough breakdown of the Court's Fulton opinion:
While this is a positive victory for religious liberty, it is a narrow decision and does not answer several key questions regarding the Employment Division v. Smith decision, a precedent that's caused great damage to the Free Exercise protections for all Americans for over thirty (30) years.
However, with First Liberty's ongoing litigation on behalf of Coach Joe Kennedy, the Supreme Court has already indicated that it is open to reviewing the Smith case and possibly provide a broader ruling that will protect religious liberty for millions of Americans.
Read the article below to learn more about how Coach Kennedy's case could be the one to reclaim the Free Exercise Clause of the First Amendment:
---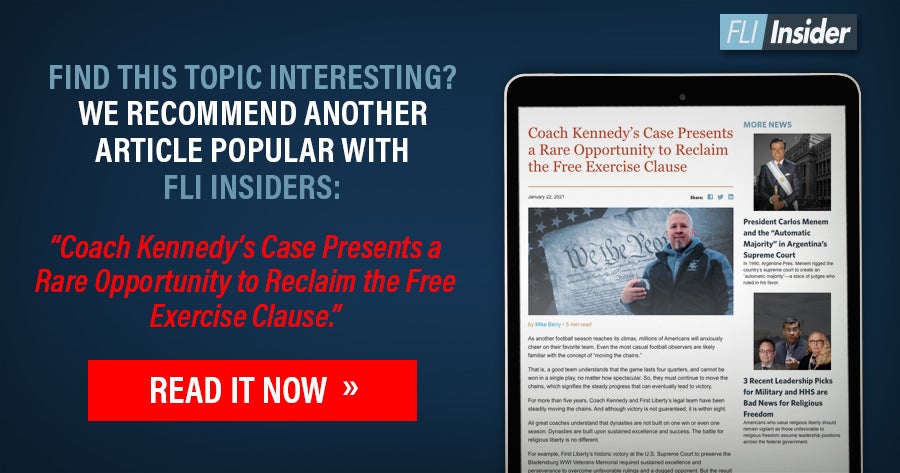 ---
Punishing religious organizations for acting consistently with their sincerely held religious beliefs is wrong. With the Fulton decision, the Court ensured that religious adoption providers don't have to check their faith at the door when they work with government to care for the most vulnerable among us.
The Fulton decision offers hope and optimism, we must continue working like never before to fully reclaim the rights and freedoms under the Free Exercise Clause.
With your financial support, First liberty will not only continue fighting, but also WINNING, like never before. Will you consider making a timely gift to our Fiscal Year End campaign today?
---