by Parker Brown and Jorge Gomez • 6 min read
This week, the U.S. Senate returned after a brief recess and quickly went to work on judicial nominations.
Three district court nominees were confirmed this week. This brings President Biden's total confirmations closer to 140, outpacing his predecessors going back to President Clinton. According to a White House statement, the total now includes more than 100 lower district court confirmations, putting him about 20 confirmations ahead of President Trump.
It appears the President and his party plan to continue fast tracking nominations. In a recent statement, Senate Majority Leader Chuck Schumer said, "We must do everything we can to keep the historic pace of confirming President Biden's judicial nominees." Approximately 30 nominees are in the pipeline going through the confirmation process.
The Senate Judiciary Committee also voted and advanced Loren AliKhan to the full floor. She was nominated for a district court seat in Washington, D.C.
Our legal experts recently explained that AliKhan's nomination is concerning. Her record on religious liberty is alarming, and she is now one step closer to becoming a federal judge for life.
AliKhan argued against religious freedom in First Liberty's case involving Capitol Hill Baptist Church during the pandemic. Alikhan argued that religious services and religious people pose a "greater risk" of infection than people gathered for mass protests. As Solicitor General of the District of Columbia, AliKhan defended D.C. Mayor Muriel Bowser's lockdown orders that did not allow churches to meet or hold services, including those held outdoors. Senator Josh Hawley grilled her during her confirmation hearing for making this radical argument against religious freedom.
First Liberty and multiple organizations sent a letter to the Judiciary Committee opposing her nomination. This coalition of pro-family and pro-religious liberty groups includes Concerned Women for America Legislative Action Committee, National Religious Broadcasters, the Heritage Foundation, Family Research Council, among others.
"As a litigator, Loren AliKhan repeatedly took extreme positions in opposition to the First Amendment's protects for religious organizations, houses of worships, and citizens," said Hiram Sasser, Executive General Counsel for First Liberty. "She poses a grave threat to the religious liberty rights of all Americans. The Senate should reject her nomination."
Our letter points out several anti-religious liberty arguments AliKhan made, including:
In a landmark Supreme Court religious freedom case, Hosanna-Tabor v. Equal Employment Opportunity Commission, AliKhan asked the Court to strike down the ministerial exemption, which ensures that houses of worship are free to run their internal affairs and select their own ministers without government interference. She argued that "Nothing…in any right under the Religion Clauses – grants religious organizations such a sweeping exception." The Supreme Court unanimously called her position "untenable" and "hard to square with the text of the First Amendment, which gives special solicitude to the rights of religious organizations."
AliKhan submitted an amicus brief supporting a nationwide injunction asking HHS to block regulations allowing religious and moral exemptions to the contraceptive mandate. The 9th Circuit found it would be an "abuse of discretion" and "overbroad" to apply the court order nationwide because D.C. and its fellow amici had not shown a "nationwide impact or sufficient similarity" to states like California that filed the lawsuit.
AliKhan defended the D.C. Office of Tax and Revenue's denial of a property tax exemption for a Sikh temple, but the D.C. Court of Appeals rejected her arguments as violating the First Amendment. She argued that the trust did not qualify for the property tax exemption for houses of worship because the Trust must be the same legal entity under the U.S. tax code as the congregation. The D.C. Court of Appeals rejected AliKhan's arguments as violating the First Amendment's prohibition on the federal government's interference in the internal governance of religious organizations – such as whether they were registered as a house of worship or a 501(c)(3) charity. The Court also rejected AliKhan's argument because it would result in a house of worship losing its tax exemption if it engages in outside charitable work.
AliKhan is not the only controversial pick. Many others have an alarming record and some have such a bad track record that even members of Biden's own party withdrew support. In a speech, Senate Minority Leader Mitch McConnell pointed out that "the President's picks have been so far outside the mainstream that this chamber's Democrat majority hasn't even been willing to confirm them."
For example, one federal appeals court nominee was removed from consideration because of the way he handled a school sexual assault case, in which he pushed to publicly name an underage female victim. Shortly after, another nominee for a district court seat in Kansas also withdrew from consideration.
Just how controversial are these judicial picks? The Heritage Foundation's Judicial Appointment Tracker also notes that Biden's nominees have the highest percentage (39%) of "NO" votes since Reagan.
As the Senate resumes its work, Biden could face a tough road on judicial confirmations. Reuters explains:
"The remainder of Biden's term is likely to be more difficult for him and Senate Democrats…More than 80% of judicial vacancies without a current nominee are in states with two Republican senators, including 31 out of 36 pending district court slots."
Biden's impact on the federal bench could also be limited because he has fewer vacancies available than his predecessors. Even if he filled the nearly 70 empty slots available right now, he would still fall short of President Trump's 230+ confirmations.
Federal judges have tremendous influence. Their rulings impact Americans' rights and liberties, which is why anyone with a record hostile to religious freedom should not become a federal judge. Nonetheless, President Biden's judicial nominations continue to offer very little to inspire confidence that he is committed to upholding the Constitution and the rule of law.
First Liberty is keeping a close eye on who is selected to sit on America's courts. Our experts will continue providing the facts if any of President Biden's nominees have a radical or unacceptable record.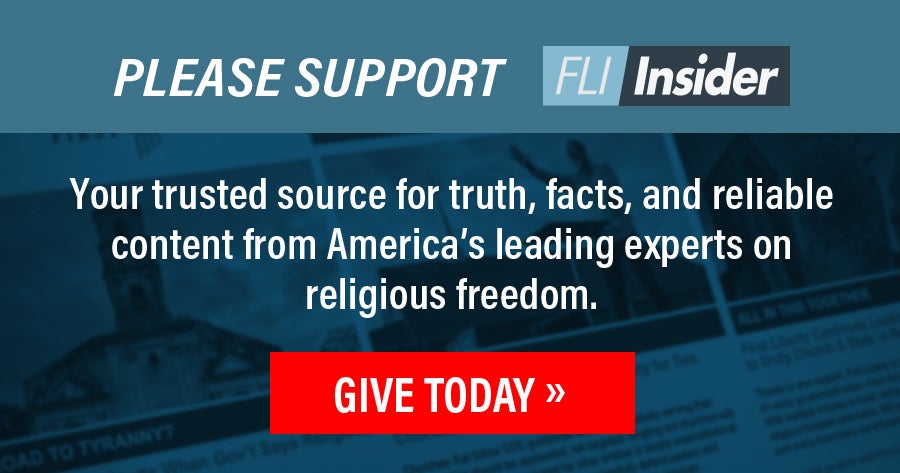 ---
RELATED NEWS
Reuters: Biden faces tougher road on judicial appointments after progressive picks
Politico: The Congressional Black Caucus says they'll oppose the Senate Judiciary Committee's consideration of two judges unless the "blue slip" process is changed.
Axios: Schumer plans busy July as Senate returns from recess
Bloomberg Law: Senate Confirms One of Judiciary's Youngest Trial Court Judges