by Jorge Gomez and Liberty McArtor • 7 min read
Religious freedom in the U.S. Military is under attack—but in Congress, there are some who still have our heroes' backs.
Last week, forty-seven (47) U.S. Senators and Representatives submitted an amicus brief in support of First Liberty's Navy SEAL clients, thirty-five (35) of our nation's elite warriors who requested religious accommodations for the Department of Defense's (DoD) COVID-19 vaccine mandate but were denied.
You'll recall that our legal team filed a federal lawsuit challenging the DoD's refusal to grant religious accommodations.
"Americans live in freedom because warriors like Navy SEALs fight on our behalf," said Kelly Shackelford, First Liberty's President, CEO and Chief Counsel. "Now it's our turn to fight for them. We are grateful to every member of Congress who has joined in the fight to defend our clients against the military's actions that violate federal law and their Constitutional rights."
Signers of the Congressional amicus brief include Sen. Ted Cruz of Texas, Sen. Rick Scott of Florida, Sen. Mike Lee of Utah and Sen. James Lankford of Oklahoma.
At First Liberty Institute we have observed—and are fighting—an increasing level of hostility against people of faith in the military and beyond. This same trend is acknowledged by the dozens of members of Congress in their amicus brief.
"Religious freedom is fundamental to every American's liberty, but we have seen in recent years increasing hostility among elected and appointed government officials towards those who seek to exercise that freedom," the brief states.
The members of Congress point out the Navy SEALs' religious freedom and the government's interest in protecting service members' health "need not be in conflict," especially since our clients are willing to take other measures to help prevent the spread of COVID-19.
By imposing this mandate on our service members, the government is telling our clients to "choose between following their sincerely held religious convictions and effectively being discharged, losing their calling, and destroying their financial well-being," members of Congress write.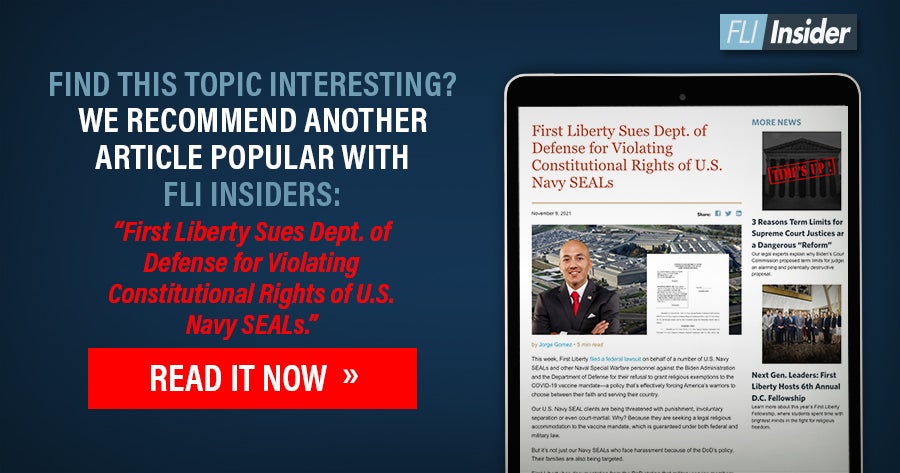 Service Members Receiving Generic Letter Denying Their Rights?
One of the most shocking aspects about this case isn't just that the Biden administration is violating the rights of these elite service members, but also threatening to punish them for asking to serve in accordance with their religious beliefs.
Many of the service members who've sought a religious accommodation have been told they could face involuntary separation or even court-martial. In the end, this could mean the end of years of training, dedicated service and the destruction of decorated careers…not to mention taking away their livelihood.
This isn't just vindictive—it's also illegal and unconstitutional.
Service members do not give up their First Amendment right to religious freedom when they join the military. Additionally, it's legal for service members to serve consistently with their religious faith. Federal law and DoD regulations protect the right of service members to seek a religious accommodation from any duty or requirement—including vaccines—that substantially burdens their sincerely held religious beliefs.
What's more, the law also requires the DoD to consider, read and deliberate on each individual religious accommodation request before issuing a final decision. However, our Navy SEAL clients' requests have not been given the proper consideration and review required by federal law. On the contrary, they have received what appears to be a generic "form letter" denying their accommodation request and depriving them of their rights.
Our men and women in uniform make incredible sacrifices, putting themselves in grave danger when they choose to serve our country. America's military heroes should not be denied their religious freedom while they are fighting for our liberties. Bottom line, they deserve far better than to be stripped of their rights or to simply receive a blanket denial.
A Threat to Freedom—And National Security
It defies logic that the Commander in Chief and military leaders would be so willing to purge our fighting force of its elite warriors. Instead of making us safer, threatening America's Navy SEALs is detrimental to our national security.
By refusing to grant religious accommodation requests, the Biden administration is essentially sending the message people faith are not welcome in the military. This could have devastating effects not only on the morale of service members, but for national security.
Did you know that around seventy-three percent (73%) of service members profess religious faith? Among military veterans, over ninety percent (90%) identify as religious. For many of these men and women, faith was one of—if not the main—motivator in volunteering to serve. Imagine what would happen if people of faith were suddenly cut off from our military.
That's why it is vital that we stand together to defend the religious liberty and constitutional rights of our Navy SEALs—and all who serve in uniform.
We are thankful to the members of Congress who are speaking up for our clients. Now, we need YOU to join us in this important effort.
As our legal team continues to fight this case in federal court, will you join us in the fight for our Navy SEALs? They cannot speak up in public and they need your ongoing support to reclaim their constitutional rights.