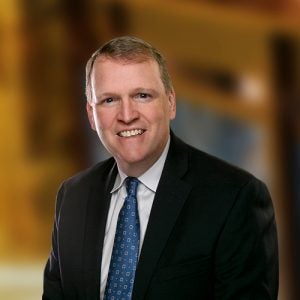 Back to
Jeff Mateer is the Chief Legal Officer of First Liberty Institute, where he serves as a member of the executive leadership team and oversees and directs First Liberty's legal operations, including its litigation, media/communications, and external affairs teams.
Jeff rejoined First Liberty Institute in October 2020 after serving as First Assistant Attorney General of Texas. As First Assistant Attorney General from March 2016 through October 2020, Jeff oversaw all operations of the Texas Attorney's General Office, which included over 30,000 active cases, almost 800 attorneys and 4,200 employees, and a bi-annual budget of over $1.1 billion.
Prior to joining the Texas Attorney General's office, Jeff served as General Counsel of First Liberty Institute from February 2010 to March 2016. Jeff was in private litigation practice from 1990 to 2010 at a large Dallas law firm and litigation boutique firms.
During his thirty-year legal career, Jeff has represented clients ranging from large international organizations to local businesses, schools, ministries, churches and individuals in complex federal and state court actions involving religious liberty, civil rights, employment, intellectual property and business matters. In private practice, his clients included the National Collegiate Athletic Association (NCAA), Citigroup, CNA, ConAgra Foods, former officers and directors of EDS, Ford Motor Company, Pilgrim's Pride and PNC Bank. He has tried numerous jury and bench trials in both federal and state courts, and has successfully argued before the 5th U.S. Circuit Court of Appeals and Texas appellate courts.
In addition to having received an A-V rating by Martindale-Hubbell, Jeff has been honored as a Texas Rising Star and Texas Super Lawyer. He received his undergraduate education at Dickinson College, where he graduated with honors in 1987, and his legal education at Southern Methodist University, where he graduated with honors in 1990. While in law school, he served as an editor of the law review. He is licensed to practice law by the state of Texas and is admitted to practice before all Texas State and Federal District Courts, the 2nd, 4th, 5th, 7th, 9th and 11th U.S. Circuit Court of Appeals, and the United States Supreme Court.
Download High Resolution Photo
Publications
News
Representative Matters
Request Jeff to Speak
Thank you! Our team will evaluate your request.
First in the fight for your religious liberty.
Religious liberty is our first liberty as Americans. At First Liberty Institute, we know that it can be confusing when you face a challenge to your religious liberty. No one should have to face it alone.
That's where First Liberty can help. We have decades of experience making sure people just like you get the help they deserve. We are a nationwide, religious liberty law firm with an unmatched record of defending religious liberty—in our schools, for our houses of worship, in the military, and throughout the public arena.
If you believe your religious liberty has been threatened or violated, please fill out the form below so we can evaluate your case.
Our legal intake team personally evaluates each request for legal help and may follow up with you over the phone for more information about your specific situation. We cannot guarantee that we will be able to take every case, but if we do, our legal services are provided at no charge to you (pro bono).
Thank you! Our legal team will evaluate your request.