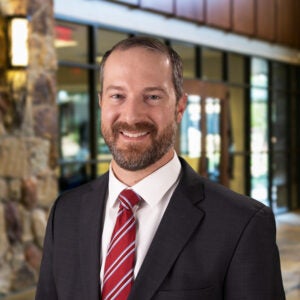 Back to
David Hacker is Vice President of Litigation & Senior Counsel at First Liberty where he oversees all of First Liberty's litigation from state and federal trial courts to the U.S. Supreme Court.
Prior to joining First Liberty, David served in various appointed positions in the Executive Administration of the Office of the Texas Attorney General, including as Associate Deputy Attorney General for Civil Litigation, managing over 600 lawyers and staff in twelve practice groups working on more than 35,000 cases. He also served as Special Counsel to the Attorney General and First Assistant Attorney General. In those roles he advised the Executive Administration on a wide variety of legal and policy issues. As Special Counsel for Civil Litigation, he handled the State's highest profile cases and multistate litigation on topics as diverse as federal administrative law, separation of powers, Indian law, immigration law, nuclear waste policy, property rights, collective bargaining, education law, corporate governance, and healthcare regulation.
Prior to joining the Office of the Texas Attorney General, David spent over a decade at a national nonprofit organization litigating civil rights cases across the country, including matters on First Amendment, due process, equal protection, and Title IX issues in higher education. He began his career in the litigation department of a major Chicago law firm.
Outside his litigation practice, David teaches continuing legal education courses and speaks on religious freedom and free speech topics at universities, law schools, and academic conferences. Numerous media outlets have featured his cases and clients, including the New York Times, the Washington Post, the San Francisco Chronicle, the Los Angeles Times, the Dallas Morning News, the Chronicle of Higher Education, the journal Science, and Drudge Report.
David graduated from Northwestern University and Washington University School of Law.
Download High Resolution Photo
Publications
News
Representative Matters
Request David to Speak
Thank you! Our team will evaluate your request.
First in the fight for your religious liberty.
Religious liberty is our first liberty as Americans. At First Liberty Institute, we know that it can be confusing when you face a challenge to your religious liberty. No one should have to face it alone.
That's where First Liberty can help. We have decades of experience making sure people just like you get the help they deserve. We are a nationwide, religious liberty law firm with an unmatched record of defending religious liberty—in our schools, for our houses of worship, in the military, and throughout the public arena.
If you believe your religious liberty has been threatened or violated, please fill out the form below so we can evaluate your case.
Our legal intake team personally evaluates each request for legal help and may follow up with you over the phone for more information about your specific situation. We cannot guarantee that we will be able to take every case, but if we do, our legal services are provided at no charge to you (pro bono).
Thank you! Our legal team will evaluate your request.