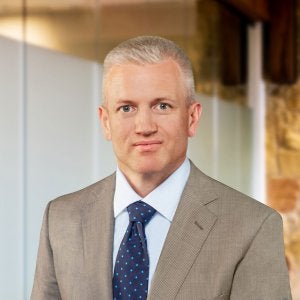 Back to
Hiram Sasser is Executive General Counsel for First Liberty Institute, where he oversees First Liberty's litigation and media efforts. Sasser's practice focuses on First Amendment and other constitutional and civil rights issues relating to religious liberty.
Sasser served as co-counsel in eight victories before the United States Supreme Court, including Groff v. DeJoy (landmark case overturning the "de minimis cost" test for Title VII in place almost 50 years), Kennedy v. Bremerton (landmark case overturning 50 years of Establishment Clause precedent), Carson v. Makin (overturning 40 years of Maine's discrimination against parents choosing faith-based schools), Roman Catholic Archdiocese of San Juan v. Acevedo Feliciano (summary reversal finding a jurisdictional defect in church autonomy dispute), American Legion v. American Humanist Association (landmark case ending Establishment Clause attacks on veterans' memorials with religious imagery), Klein v. Oregon Bureau of Labor and Industries (granted, vacated, and remanded (twice) in religious wedding service case), and Sause v. Bauer (summary reversal revoking qualified immunity for police who ordered a citizen not to pray in her own home).
In addition to his legal duties, Sasser develops, coordinates, and implements successful media strategies on behalf of his clients. This includes numerous appearances on ABC, NBC, CBS, Fox News, CNN, and the BBC as well as being heard on various radio stations throughout the United States, Asia, Africa, and Europe.
In 2016, Sasser took a leave of absence to serve a temporary assignment as the Chief of Staff for the Attorney General of Texas.
He currently serves as an Adjunct Professor of Law at both The University of Texas at Austin School of Law (teaching Religious Liberty) and Oklahoma City University School of Law (teaching Civil Rights Procedure).
Download High Resolution Photo.
Publications
News
Representative Matters
Request Hiram to Speak
Thank you! Our team will evaluate your request.
First in the fight for your religious liberty.
Religious liberty is our first liberty as Americans. At First Liberty Institute, we know that it can be confusing when you face a challenge to your religious liberty. No one should have to face it alone.
That's where First Liberty can help. We have decades of experience making sure people just like you get the help they deserve. We are a nationwide, religious liberty law firm with an unmatched record of defending religious liberty—in our schools, for our houses of worship, in the military, and throughout the public arena.
If you believe your religious liberty has been threatened or violated, please fill out the form below so we can evaluate your case.
Our legal intake team personally evaluates each request for legal help and may follow up with you over the phone for more information about your specific situation. We cannot guarantee that we will be able to take every case, but if we do, our legal services are provided at no charge to you (pro bono).
Thank you! Our legal team will evaluate your request.