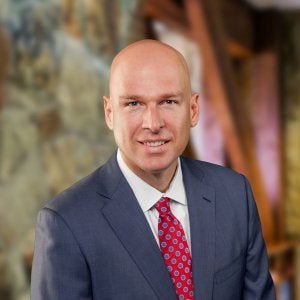 Back to
Jeremy Dys, Esq., is Special Counsel for Litigation and Communications for First Liberty and host of the First Liberty Briefing.
Dys earned his law degree from West Virginia University College of Law in 2005. After law school, Dys clerked for the Hon. Russell M. Clawges, Jr., chief judge of the Circuit Court of Monongalia County in Morgantown, West Virginia. For six years prior to joining First Liberty Institute, Dys led a public policy organization where he led research and advocacy efforts on matters of life, marriage, and religious freedom.
Dys graduated from Taylor University in 2001 with a Bachelor of Arts, cum laude, degree in Communication Studies, with minors in U.S. History and Philosophy. During his undergraduate career, Dys studied at the American Studies Program in Washington, D.C., where he interned with the late David Orgon Coolidge as part of the Marriage Law Project of the Ethics and Public Policy Center.
In support of his clients, Dys has made numerous appearances in local, state, and national television, print, and radio outlets. His written commentaries have been featured at the Wall Street Journal, FoxNews.com, New York Daily News, TheHill.com, Des Moines Register, Dallas Morning News, DailySignal.com, Washington Examiner, Indianapolis Star, Charleston Gazette-Mail, Outcomes Magazine, TheFederalist.com, and others.
Download High Resolution Photo
Publications
News
Representative Matters
Request Jeremy Dys to Speak
Thank you! Our team will evaluate your request.
First in the fight for your religious liberty.
Religious liberty is our first liberty as Americans. At First Liberty Institute, we know that it can be confusing when you face a challenge to your religious liberty. No one should have to face it alone.
That's where First Liberty can help. We have decades of experience making sure people just like you get the help they deserve. We are a nationwide, religious liberty law firm with an unmatched record of defending religious liberty—in our schools, for our houses of worship, in the military, and throughout the public arena.
If you believe your religious liberty has been threatened or violated, please fill out the form below so we can evaluate your case.
Our legal intake team personally evaluates each request for legal help and may follow up with you over the phone for more information about your specific situation. We cannot guarantee that we will be able to take every case, but if we do, our legal services are provided at no charge to you (pro bono).
Thank you! Our legal team will evaluate your request.