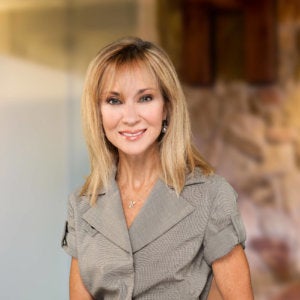 Back to
Lisa Holmes is the Head of Client Outreach. In this role, she maintains close relationships with clients by offering them pastoral care and guidance. She acts as a liaison between our legal team and client families without offering legal advice.
Lisa joined First Liberty in 2017. She was a Phi Beta Kappa and magna cum laude graduate of Southern Methodist University (SMU) with a degree in English literature. She also holds an MBA in Real Estate from the Cox School of Business at SMU and is a candidate for the PhD in Pastoral Care and Counseling at Liberty University. In her professional career, she worked at prominent commercial real estate firms Krupp and Trammel Crow in Boston and San Antonio respectively in property acquisitions and lease management. She was also the West Coast partner at a Dallas -based commercial real estate venture, while located in Scottsdale, Arizona.
Lisa lived in Japan for four years accompanying her husband on diplomatic assignment to the US Embassy- Tokyo and lived in New York City with her family for a number of years.
She has also written and led women's Bible studies for over 30 years in both large church and smaller group settings. A native Texan, she lives in Plano, Texas with her husband and they have two grown, married daughters and two grandchildren.
Publications
News
Representative Matters
Request Lisa to Speak
Thank you! Our team will evaluate your request.
First in the fight for your religious liberty.
Religious liberty is our first liberty as Americans. At First Liberty Institute, we know that it can be confusing when you face a challenge to your religious liberty. No one should have to face it alone.
That's where First Liberty can help. We have decades of experience making sure people just like you get the help they deserve. We are a nationwide, religious liberty law firm with an unmatched record of defending religious liberty—in our schools, for our houses of worship, in the military, and throughout the public arena.
If you believe your religious liberty has been threatened or violated, please fill out the form below so we can evaluate your case.
Our legal intake team personally evaluates each request for legal help and may follow up with you over the phone for more information about your specific situation. We cannot guarantee that we will be able to take every case, but if we do, our legal services are provided at no charge to you (pro bono).
Thank you! Our legal team will evaluate your request.