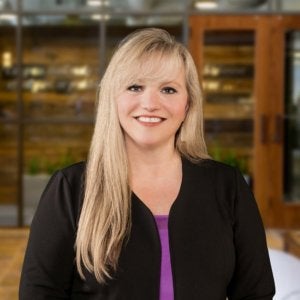 Back to
Lori Ross is Senior Director of Human Resources for First Liberty Institute with more than 26 years in the human resource and staffing fields. She performs all aspects of human resources including benefits, recruiting, onboarding, employee relations, counseling and employee wellness and safety for First Liberty's multi-state employees.
Prior to working for First Liberty, she managed 300 contractors with Corestaff Services, on-site at Ericsson. She also ran her own HR Consulting and Recruiting firm while also receiving her insurance license, which allowed her to be a full service, one-stop shop for small businesses. She served as HR Director for KMA Direct Communications with 132 employees in 3 companies. She spent years prior to that in the staffing industry in both sales and operations positions placing candidates throughout the DFW market in Accounting/Finance, Legal, Logistics, IT, Administrative, Customer Service and Industrial positions.
A background in working for different companies, owning her own consulting firm and having sold insurance to individuals, makes her benefit experience unique in that she has worked with fully funded, self-funded, hybrid self-funded, supplemental and individual plans. This gives her a perspective working with brokers and staff and their families unlike most of her peers in the HR world.
Lori attended and played basketball for Dallas Bible College.
Publications
News
Representative Matters
Request Lori to Speak
Thank you! Our team will evaluate your request.
First in the fight for your religious liberty.
Religious liberty is our first liberty as Americans. At First Liberty Institute, we know that it can be confusing when you face a challenge to your religious liberty. No one should have to face it alone.
That's where First Liberty can help. We have decades of experience making sure people just like you get the help they deserve. We are a nationwide, religious liberty law firm with an unmatched record of defending religious liberty—in our schools, for our houses of worship, in the military, and throughout the public arena.
If you believe your religious liberty has been threatened or violated, please fill out the form below so we can evaluate your case.
Our legal intake team personally evaluates each request for legal help and may follow up with you over the phone for more information about your specific situation. We cannot guarantee that we will be able to take every case, but if we do, our legal services are provided at no charge to you (pro bono).
Thank you! Our legal team will evaluate your request.