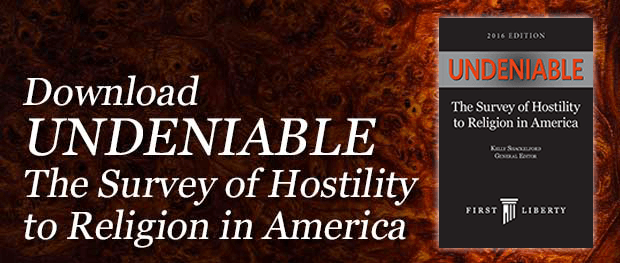 Your most basic rights are being gravely threatened. This threat is embodied in the rising tide of institutional hostility to free exercise of religion in America—despite religion's essential role in America's well-being, and America's Founders' belief that religious liberty was the ground for all other freedoms.
UNDENIABLE: The Survey of Hostility to Religion in America, 2016 Edition, is a limited but alarmingly long list of formal attacks on religious practices that have undergirded America for centuries. It offers irrefutable evidence of the growing crisis in four key areas:
The Public Arena (government, public places, and the workplace)
Education
Religious Institutions
The U.S. Military (active and retired)
Skillful legal strategy can save religious liberty. But more Americans must awaken to the crisis. That is the challenge of UNDENIABLE.
UNDENIABLE, 2016 Edition is published by First Liberty Institute (formerly Liberty Institute) the nation's largest legal organization dedicated solely to protecting religious liberty for all in America.