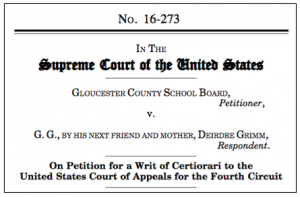 Read the brief here
Washington, DC – First Liberty Institute filed an amicus brief with the U.S. Supreme Court on Tuesday on behalf of religious educational institutions and educators, asking the Court to review the case of Gloucester County School Board v. G.G. Religious educators believe the outcome of this case will determine the future of religious freedom for faith-based schools and colleges nationwide.
On Jan. 7, 2015, a mid-level official at the U.S. Department of Education sent an informal, private letter to a transgender high school student in the Gloucester County School District. The letter said that because Title IX requires schools to offer equal-quality facilities to both sexes, schools must allow students to use the bathrooms and locker rooms of whichever sex they identify with, or else the school could lose its federal education dollars.
The issue was brought before the U.S. Court of Appeals for the Fourth Circuit where a sharply divided panel voted 2-1 that the unpublished letter has the force of law and should be applied to all schools in the nation.
"No one has the authority to say that a letter written by an unelected government agent is now the law of the land," Kelly Shackelford, President and CEO of First Liberty Institute, says. "Federal law says that at the very least, agencies must go through a process of public notice and comment to allow concerned citizens to weigh in."
As a result of the court ruling, faith-based schools could be stripped of their Title IX federal funding unless they adopt the new policies, even if the policies violate their religious beliefs.
Shackelford continues, "The First Amendment clearly protects the right of faith-based schools and educators to voice their concerns before the government strips away their benefits, and even then penalizing them for their faith would still be against the law."
The signatories on the brief include:
•    The Cardinal Newman Society
•    John Paul the Great Catholic University
•    Thomas Aquinas College
•    The Thomas More College of Liberal Arts
•    Wyoming Catholic College
•    Ignatius Angelicum Liberal Studies Program
•    Dr. Byron R. Johnson, Institute for Studies of Religion (ISR), Baylor University
•    National Catholic Bioethics Center
"This yet another example of our government circumventing the Constitution, violating federal law, and stifling religious freedom," Shackelford says. "We hope the Supreme Court will uphold the rights of these educators to participate in public debate regarding this sensitive issue."
Read the full brief at https://firstliberty.org/wp-content/uploads/2016/09/16-273-Gloucester-Cnty-Sch-Bd-v-GG-Amici-Brief-First-Liberty.pdf
About First Liberty Institute
First Liberty Institute is the largest legal organization in the nation dedicated exclusively to defending religious freedom for all Americans.
To arrange an interview, contact Kassie Dulin, Director of Legal Communications for First Liberty Institute. Email: kdulin@firstliberty.org, Direct: 972-941-9575, Cell: 214-542-4334.
# # #