by Liberty McArtor • 5 min read
The First Amendment is clear that government must not prevent Americans from freely living out their faith. But in the Village of Airmont, NY, local officials have persisted in a long history of restricting religious free exercise for its local Orthodox Jewish community, forcing them to worship in hiding.
Today, however, we want to report an important victory in the legal battle to restore the rights of Airmont's Jewish community.
Last week, the U.S. Department of Justice (DOJ) forced Airmont officials to stop their discriminatory behavior, announcing the entry of a Consent Order of Preliminary Injunction. In non-legal terms, this means that while the DOJ and the Village battle it out in court, the Village cannot enforce its newly enacted discriminatory zoning laws that prevented its Orthodox Jewish residents from worshiping inside their own homes.
While this is certainly a positive sign, it's not a final victory. First Liberty sued Airmont for its discriminatory zoning laws in 2018. First Liberty's suit triggered the DOJ to investigate the Village which resulted in the DOJ suing the Village in December 2020. Both cases will move forward.
"First Liberty is grateful that the U.S. Department of Justice joined the fight in Airmont to stop invidious government discrimination," said Keisha Russell, Counsel at First Liberty Institute. "While this temporary consent decree is a great step, there is still major work to be done to ensure Airmont respects the rights of its Orthodox Jewish residents. We will continue to fight to put an end to Airmont's practice of religious discrimination once and for all."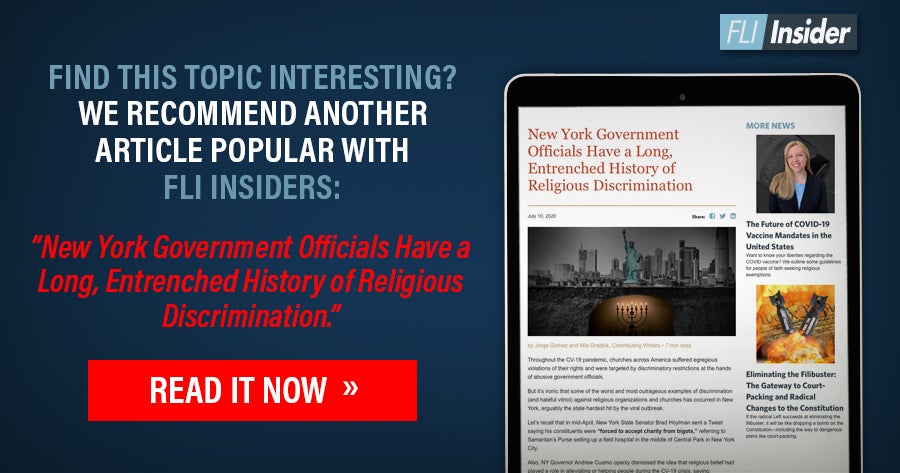 Here Are the Changes the Village of Airmont is Required to Make
For over 30 years, Airmont's Orthodox Jewish community has faced overt discrimination by government officials who have essentially driven them to live out their faith underground. Here are a few of the outrageous requirements that the Village has imposed on Orthodox Jewish Airmont residents:
Lengthy application processes required to hold in-home worship services
Tens of thousands of dollars in fees in attempts to keep up with Village demands
Threats of jailtime for hosting religious services in private homes
In its preliminary injunction announced last week, the DOJ is requiring Airmont to do the following:
Restore the right of Village residents to hold worship services in their homes by making Residential Places of Worship (RPWs) a recognized land use category
Restore zoning provisions that protect residents' right to worship in their homes (The DOJ told the Village to implement these provisions in the 1990s, but the Village had since removed them in order to continue targeting the Orthodox Jewish community)
Streamline the application process for residents wishing to hold in-home worship services
Protecting Religious Minorities: An American Legacy Worth Defending
First Liberty has been fighting to vindicate the constitutional rights and religious freedom of the Orthodox Jewish community in Airmont since 2018, alongside our volunteer attorneys at Norton Rose Fulbright.
And while a three-year legal battle may seem lengthy, the fact is that the Village has been discriminating against its Orthodox Jewish residents for three decades. What's more, this isn't the first time they've been held to account by the DOJ for their blatant bigotry.
In 1992, the DOJ filed a lawsuit against the Village of Airmont, stating:
"The manipulation of zoning laws to keep Orthodox Jews out of a community strikes at the very heart of what this country stands for."
As Audrey Strauss, U.S. Attorney for the Southern District of New York says, "The right to Free Exercise of religion is central to the First Amendment, and our multicultural society is only as strong as our willingness to stand up for the rights of religious minorities."
America was built on the promise of religious liberty, as a safe haven for people persecuted because of their faith. Our nation's Founders and the framers of the Constitution included the First Amendment in the Bill of Rights precisely to prevent government from telling religious minorities—or any American of any faith—what to believe, or how to live out their beliefs.
And that's why First Liberty will continue to be First in the Fight to defend our clients in the Orthodox Jewish community of the Village of Airmont, as well as upholding the vision cast by the Founders—a vision of religious liberty for all Americans.