by Jorge Gomez • 5 min read
Big change could soon be happening in another federal appeals court – and with that comes the opportunity for America's judiciary to have more excellent judges committed to the original text and intent of the Constitution.
A couple of weeks ago, Judge Stanley Marcus – who currently serves in the U.S. Court of Appeals for the 11th Circuit – announced that he will be taking senior status. This created a second vacancy in that federal appeals court, which is evenly split 6 to 6 between liberal and conservative-appointed judges.
And just last week, the president announced two excellent judicial nominees to fill the vacancies on the 11th Circuit.
Confirming judges to fill the empty spots would mean the 11th Circuit is flipped to a 7-5 majority of conservative-appointed judges. At the beginning of the Trump administration, this appellate court had an 8-3 majority of liberal-appointed judges, and one vacancy.
Three judges have already been appointed to fill prior 11th Circuit vacancies created since the president took office. The possible confirmation of two more nominees would mean there are more judges appointed by him – a total of 5 – than by any other president. That's nearly half of all 11th Circuit judges!
Here's a brief look at the two latest nominees for the 11th Circuit:
Barbara Lagoa
Barbara Lagoa currently serves as a justice on the Supreme Court of Florida, a position she has held since January 2019. She is the first Hispanic woman and the first Cuban American woman appointed to the Florida Supreme Court, a distinction she also held when she was appointed to the Florida 3rd District Court of Appeal.
After 11 years in private practice, Lagoa entered government service in 2003, when she became an Assistant U.S. Attorney for the Southern District of Florida. In 2006, she was appointed to Florida's 3rd District Court of Appeal, a position to which she was twice retained by the electorate, in 2008 and 2014. Her colleagues on that court elected her Chief Judge in 2017. During her tenure, she presided over approximately 11,500 cases, and published over 500 written opinions.
"…I am particularly mindful of the fact that under our constitutional system, it is for the legislature and not for the courts to make the law. It is the role of judges to apply, not to alter, the work of the people's representatives. And it is the role of judges to interpret our Constitution and statutes as they are written."  – Justice Lagoa
Robert J. Luck
Robert J. Luck serves as a justice on the Supreme Court of Florida, a position that he has held since being appointed in January 2019.
He has been a member of the Federalist Society since law school and has received numerous awards for outstanding prosecution and legal skills, as well as accolades for his community involvement throughout his career.
After graduating from law school, Luck was a clerk on the U.S. Court of Appeals for the 11th Circuit. In 2008, he entered public service as Assistant U.S. Attorney for the Southern District of Florida. His judicial career began in 2013, when he was appointed to Florida's 11th Judicial Circuit Court. In 2017, Governor Scott appointed Luck to the 3rd District Court of Appeal, where Luck presided over 500 appeals and published 80 written opinions.
Known for his work ethic, Luck said the following after being appointed to serve in Florida's highest court:
"For as long as I can remember, all I wanted to do was give back to the state that had given so much to my family and to the millions of others that had come here looking for a better life. I wanted to serve with the only tools that I had—my law degree and my bar license—to make sure the rule of law prevailed in this state for all, so our children would have the same opportunities our grandparents and parents had."
Composition of the 11th Circuit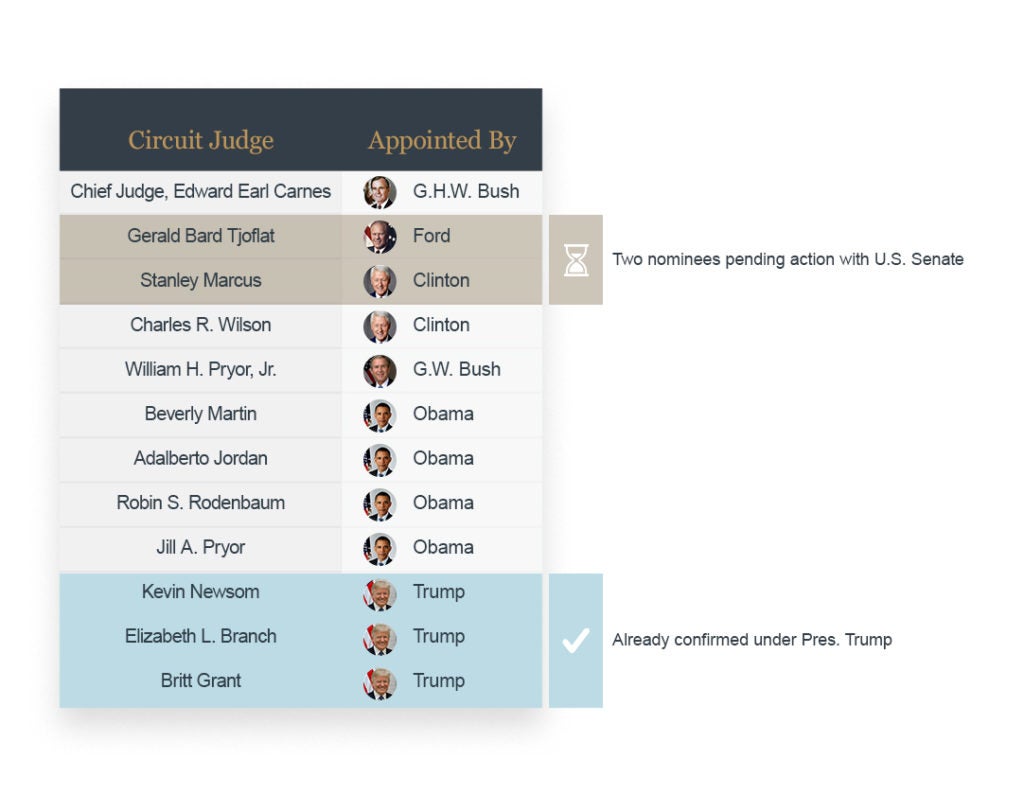 The list of judges who make up the 11th Circuit is especially important for religious freedom because right now First Liberty is fighting a case at this appellate court to defend the constitutional rights of students and teachers at Cambridge Christian School.
You may recall that Cambridge's football team was denied the right of praying over the loudspeaker before a state championship game, a tradition carried out in nearly every game since the program's inception. Officials with the Florida High School Athletic Association prohibited the students from praying because they thought it would be an endorsement of religion, claiming it wasn't legal for a Christian school to deliver a prayer on government property.
Our legal team presented oral argument in this case last year defending the students, and we are waiting on the court's ruling. The decision will either affirm – or undermine – the constitutional right of students to pray, either individually or as a group, at school athletic competitions, student-led groups, or other extracurricular activities.
Because appellate courts sit one level below the U.S. Supreme Court, the opinions and decisions issued by circuit judges carry a lot of weight. And since the High Court only hears a fraction of appellate cases each year, circuit judges sometimes have the final say in critical religious freedom cases such as Cambridge.
With the stakes for students' constitutional rights being so high, it's imperative for the 11th Circuit – as well as other appellate court vacancies around the country – to be staffed with originalist judges whose credentials, prior decisions and judicial philosophy clearly reflect a deep respect for religious freedom as originally described in the First Amendment.
---
Join First Liberty's efforts to get more conservative judges confirmed who will protect religious freedom as written in the Constitution.