Religious freedom for America's military men and women is at stake, and could be strengthened or further restricted depending on whether the Supreme Court decides to hear United States v. Sterling.  
First Liberty Institute filed a petition Friday, December 23 for the United States Supreme Court to make a decision in the case of LCpl Monifa Sterling, a Marine convicted at a court martial in 2013 for refusing an order to remove Bible verses from her personal workspace.
Sterling's religious exercise of posting Bible verses in her personal work area has repeatedly been denied protection by lower military courts, including the Court of Appeals for the Armed Forces (CAAF) — the highest U.S. military court — which ruled against her in August.
First Liberty attorneys argue that Sterling's right to post Bible verses is protected under the Religious Freedom Restoration Act (RFRA) of 1993, a federal law that should apply to all American citizens.
But so far, every court to hear Sterling's case has claimed that RFRA doesn't protect Sterling's right to display a Bible verse.
"Ms. Sterling posted the Bible verse as an expression of her faith — an expression which should have been protected under RFRA," said Mike Berry, Director of Military Affairs for First Liberty. "We hope that the U.S. Supreme Court will take her case and uphold her right to religious freedom, setting a clear precedent for all service members and their future expressions of faith within our military."
First Liberty's team includes prestigious volunteer attorney Paul Clement, former Solicitor General of the United States, who has argued more than 85 cases before the high court.
CONVICTED OVER A BIBLE VERSE: "I DON'T LIKE THE TONE"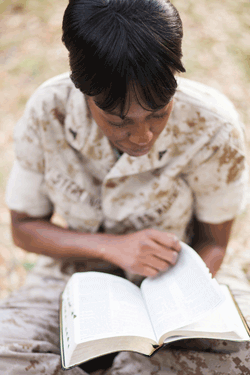 Sterling's story began at Camp Lejeune, where she was stationed in 2013. Noticing that other service members placed various personal items in their workspace, Sterling, a devout Christian, decided to do the same.
She printed a personalized version of Isaiah 54:17, "No weapons formed against me shall prosper," and taped it in three different places around her workspace.
But Sterling's supervisor later ordered her to remove the verses.
When Sterling asked why, her supervisor said, "I don't like the tone." Sterling explained that her faith motivated her to display the Bible verses and declined to remove them. No other person in the unit ever complained about them.
The next day, Sterling discovered that her supervisor removed the Bible verses and threw them in the trash. Sterling reprinted the verses and re-posted them around her workspace. The U.S. Government then charged Sterling with the crime of failing to obey a direct order, something she was not required to do if she was protected under RFRA.
When Sterling invoked RFRA at her court-martial, a trial judge denied it. On appeal, the Navy-Marine Corps Court of Criminal Appeals upheld Sterling's conviction, going so far as to claim RFRA does not apply because it did not believe that displaying a Bible verse is a religious exercise. On appeal before the CAAF—the military's highest court—Sterling's religious exercise was once again denied protection under RFRA.
"If a service member has a right to display a secular poster, put an atheist bumper sticker on their car, or wear a Star of David," Berry explained, "then LCpl Sterling has the right to display a small Bible verse at her desk."
Now, it will be up to the Supreme Court to decide whether to hear Sterling's case, and validate — or once again deny — protection under RFRA.
JUSTICE FOR STERLING. PRECEDENT FOR ALL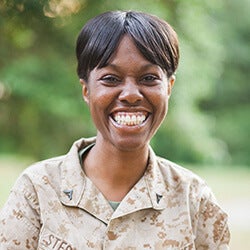 The two focus points in Sterling's case, Berry says, are justice and precedent. Justice for Sterling, who was denied the religious freedom and federal protection of that freedom that should apply to all citizens — and precedent for all other military members, no matter their faith.
"Our service members give up many freedoms when serving, but religious freedom is never one of them," Berry said. "The First Amendment, RFRA, and military code all protect the right of service members to express their faith freely."
But if the Supreme Court joins the lower courts in denying RFRA protection to Sterling, it will severely restrict free religious exercise for military men and women going forward, says First Liberty President and CEO Kelly Shackelford.
According to Shackelford, the Supreme Court's ruling — should the court choose to hear the case — could even affect the strength of RFRA protection for non-military citizens.
"The importance of this case cannot be overstated," Shackelford said Friday. "We are seeking not only justice for Ms. Sterling, but affirmation that RFRA exists to protect the religious liberty rights of all Americans, including those who serve in our military. We hope the Supreme Court does the right thing and decides to hear this case. Multiple millions of lives will be affected."
To read more about LCpl Sterling's case and stay up-to-date on the legal proceedings, visit SterlingFacts.com.