by Jorge Gomez • 5 min read
The Biden administration continues to punish and threaten service members who have religious objections to the vaccine mandate. But while some government officials persist on a punitive approach, many of our national leaders still have our heroes' backs.
22 states recently filed a brief at the Fifth Circuit Court of Appeals supporting First Liberty's Navy SEAL clients who requested religious accommodations but were denied. Signatories include state attorneys general from Alabama, Alaska, Arizona, Arkansas, Florida, Indiana, Kansas, Kentucky, Louisiana, Mississippi, Missouri, Montana, Nebraska, New Hampshire, Oklahoma, South Carolina, Tennessee, Texas, Utah, Virginia, West Virginia and Wyoming.
The brief asks the court to recognize the right of these Navy service members to serve in a manner that's consistent with their religious beliefs. Attorney General Lynn Fitch stated:
"These brave men and women risk their lives to defend our freedom and they should not be required to check their own freedom at the door because they serve in our military – especially where the Administration has demonstrated that its demand here is due to blind adherence to a political agenda."
Virginia Attorney General Jason Miyares echoed similar sentiments, saying the Biden administration "has continually disrespected boundaries throughout the COVID-19 pandemic."
"Navy SEALs are some of our best and brightest, willing to sacrifice their lives to protect our freedoms," he said. "Those who have filed religious exemptions for the COVID-19 vaccine deserve to be heard and taken seriously."
The Biden administration has argued that military officials must be given extraordinary deference to direct compliance with the mandate. The brief points to various examples showing the administration's repeated misuse of this deference to trample on service members' fundamental freedoms. The brief notes:
"Even when government interests are compelling, religious exercise demands respect too… Respect for policymakers' judgments should not be permitted to mask abuse of religious freedom."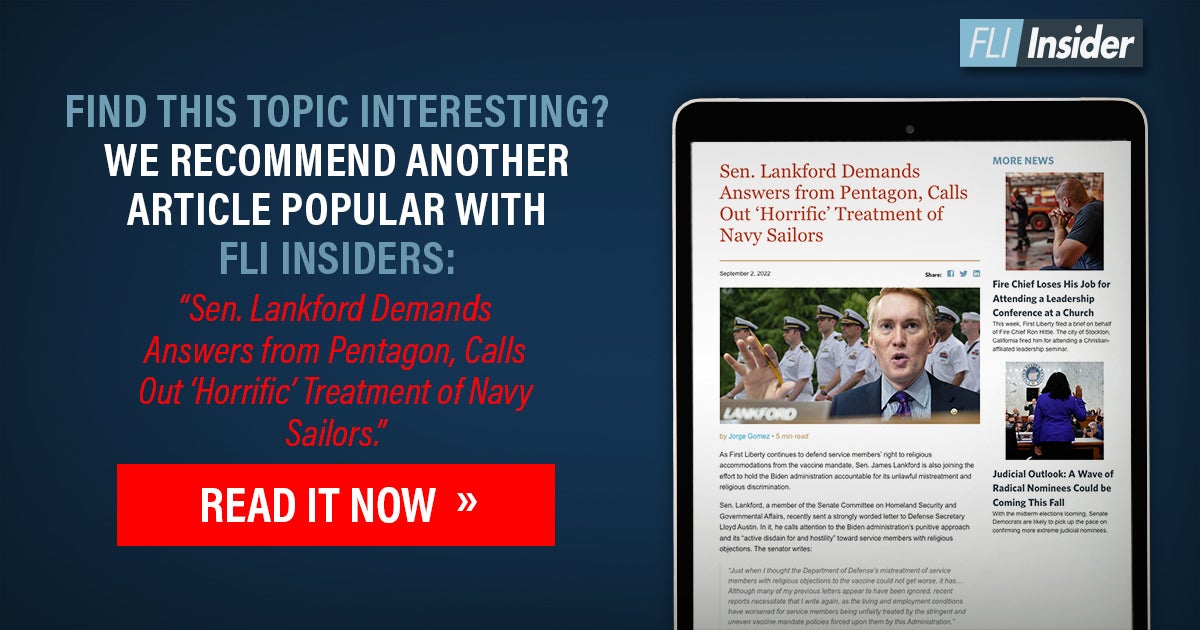 State attorneys general are not the only top-ranking leaders who've come together to defend the rights of America's elite warriors. 27 U.S. Senators and Representatives submitted their own brief in support of our Navy SEAL clients. Signers include Sens. Ted Cruz of Texas, Mike Braun of Indiana, Mike Lee of Utah and James Lankford of Oklahoma. They argue:
"Religious freedom is fundamental to every American's liberty, but in recent years there has been increasing hostility among elected and appointed government officials toward those who seek to exercise that freedom."
By imposing this mandate, the government is telling our clients and thousands of service members to "choose between following their sincerely held religious convictions and effectively being discharged, losing their calling, and destroying their financial well-being," members of Congress wrote.
American war hero and former Army Special Forces commander Lt. Gen. (Ret.) Jerry Boykin also joined the effort. He writes in his own brief that instead of making us safer, threatening America's Navy SEALs is detrimental to our national security. It defies logic for the Commander in Chief and military leaders to purge our fighting force of its elite warriors:
"Subjecting the SEALS to discipline or discharge for their religious objections to the vaccines will leave our military less ready to combat the threats posed by America's enemies around the world…Religious accommodations are not detrimental to the good order and discipline of an effective military fighting force. In fact, the maintenance and support of the warrior spirit of our combatants can be a more powerful vaccine than those administered by shots in the arm."
We are thankful to all of the national and state leaders who are speaking up for our military heroes. Now, we need YOU to join us in this critical effort. As our legal team continues to litigate this case in federal appeals court, will you join us in the fight for our Navy SEALs?
Our clients and their families urgently need your support right now. Together, we can put a stop to the spiteful actions of the Biden administration and protect our Navy SEALs and thousands of service members from further injustice. Winning this case could have a major impact for religious freedom in the military. Please donate to First Liberty today.