YES he is! On January 4, former First Liberty Institute volunteer network attorney James C. Ho was sworn in to the U.S. Court of Appeals for the Fifth Circuit by Supreme Court Justice Clarence Thomas.
"It is a great pleasure to see Jim Ho sworn into one of the nation's most important judicial posts. Prior to becoming a judge, Jim was a distinguished advocate and protector of religious freedom," said Kelly Shackelford, President and CEO of First Liberty.
In a recent editorial, Shackelford described Ho's path to becoming a Fifth Circuit judge. He offers more details about Ho's legal career and his work on religious liberty. Read the editorial here.
Among his notable achievements, Ho previously worked as a judicial clerk for Justice Thomas from 2005 through 2006. From 2008 to 2010, Ho also served in the Office of the Attorney General of Texas as the Solicitor General. Since 2010, Ho has been a partner at the influential Dallas litigation firm, Gibson, Dunn & Crutcher.
COMMITTED TO THE CONSTITUTION
During his confirmation hearing before the U.S. Senate Judiciary Committee, Ho unapologetically stated his commitment to the Constitution. As an "originalist," Ho believes in the plain meaning and original intent of the First Amendment.
Ho's extensive work in religious freedom litigation showed he was a strong advocate of the principles and rights guaranteed by the First Amendment.
"Simply put, Jim is one of the strongest allies of religious liberty, conservatism and the Constitution in the country." ~ Kelly Shackelford, First Liberty CEO and President
For people of faith, it is crucial that more judges like Ho are appointed and confirmed to the federal bench, given that judicial decisions considerably impact the way that Americans exercise their religious and expressive rights. Consequently, it is all the more imperative that court vacancies are filled with qualified candidates who demonstrate a strong adherence to religious freedom.
A TREASURED FREEDOM IN JUDICIAL HANDS
Federal judicial nominees bring years of experience to their positions. Their records and careers give insight into areas of expertise and the way they interpret the law. Combined, all these elements shape their view of the Constitution and the First Amendment. And that has profound implications for religious liberty.
In many cases, federal judges hear cases that answer fundamental questions about the Constitution – including religious freedom. As the nomination and confirmation process continues throughout 2018, Americans should realize that federal judges have considerable influence in how the First Amendment is applied, which affects people throughout the country.
THE IMPACT OF FEDERAL JUDGES ON RELIGIOUS LIBERTY
Sitting on the U.S. Court of Appeals for the Fifth Circuit (one step below the U.S. Supreme Court), Jim Ho is one of 17 judges who will hear cases for the nearly 36 million people in Texas, Louisiana, and Mississippi.
The Supreme Court hears between 70 to 80 cases every year, a small number when compared to the vast amount of litigation pending throughout the country. In contrast, federal judges – including those in both district and circuit courts – handle approximately 35,000 cases annually!
In fact, these judges hear 99% of all federal appeals cases.
The legal precedents set by their decisions affect not only the parties involved in each case, but extend beyond the boundaries of the courtroom and touch the lives of millions of Americans.
First Liberty attorneys anticipate that the fight for religious liberty will intensify in the near future, making it even more necessary that judges committed to the Constitution are seated on federal benches. Opponents – like the American Civil Liberties Union and the Freedom From Religious Foundation – took notice when the new administration confirmed a record number of appellate judges in 2017. Belligerent groups have previously mounted all-out offensives to stop the nomination and confirmation of judges.
Last year, President Trump made historic progress in federal judicial confirmations. First Liberty will monitor the Administration as it continues to fulfill its commitment to seat principled constitutionalists in America's federal courts.
---
Federal courts are responsible for a majority of the federal appeals cases, including religious freedom litigation that affects Americans today and for the coming generation.
Stay up to date with First Liberty's exclusive judicial nominee site, where you can search vacancies, nominees and recent confirmations in your state: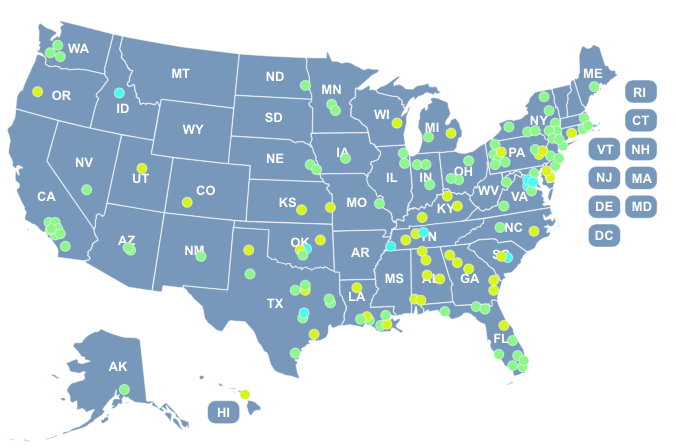 ---
News and Commentary is brought to you by First Liberty's team of writers and legal experts.