by Jorge Gomez • 8 min read
With the reopening of businesses and commercial activity well under way in many parts of America, it's become increasingly clear there's a double standard being applied to faith communities.
In many states, governors and local officials continue to discriminate by applying uneven restrictions against people of faith and houses of worship. Retail stores and other secular businesses are being allowed to resume operations, yet thousands of religious institutions remain closed. Hundreds of them are having to take their battle into the courtroom in order to reclaim their constitutional right to host in-person gatherings consistent with public health guidelines.
But even as government officials are attempting to keep the church doors chained up, people of faith across America are breaking free of harsh and unconstitutional lockdown orders.
Below, First Liberty's team of legal experts has compiled a recent list of religious communities who are seeking to reclaim their constitutional rights, and who aren't going to let government use this "new normal" to permanently rob them of their First Freedom. **
California
In response to California's restrictions on church services, the U.S. Department of Justice (DOJ) recently sent a letter warning the Governor that his restrictions place an "unfair burden" on houses of worship that violate civil rights protections through unequal treatment of faith communities.
More than 1,200 pastors in the Golden State plan on resuming in-person religious services on May 31. Governor Gavin Newsom's most recent announcement notes that under his reopening plan, houses of worship will have to limit attendance to 100 people or 25 percent of the building's capacity, whichever is lower.
Illinois
Churches across the state of Illinois began resuming in-person services a few weeks ago, even as Governor J.B. Pritzker at one point announced he would enforce restrictions on religious gatherings until a vaccine or treatment for the virus was developed.
Several houses of worship in Chicago who were fined $500 each by police for recently hosting in-person services. Churches in the Windy City have stated that Mayor Lori Lightfoot is using a double standard, such as allowing people to go get a haircut, but then using government force to block church parking lots and fine congregations.
First Liberty is fighting right now on behalf of Northwest Bible Baptist Church (NWBBC) in Elgin, Illinois. The church informed Governor Pritzker that they would resume in-person church services. Along with NWBBC, countless other churches in Illinois are likewise seeking to reclaim their right to safely assemble.
Maryland
Last week, a Baltimore pastor tore up a cease-and-desist letter while delivering his sermon during a mid-week service. The document from local officials threatened him and his congregation with a $5,000 fine for holding in-person gatherings.
Several churches hosted their first services on the Sunday during Memorial Day weekend, and the Archdiocese of Baltimore said its nearly 150 churches will begin holding services on May 30.
Minnesota
Prominent leaders of the Catholic and Lutheran denominations in Minnesota announced their plan to reopen their doors for in-person services beginning this week, and many began to resume in-person services for the first time since March. A group of churches has claimed that it's unfair and illegal for the governor to continue showing extreme prejudice against faith communities, while at the same time allowing the opening of businesses and even the Mall of America!
Mississippi
First Pentecostal Church in Holly Springs, Mississippi was in the process of shifting back to in-person services. The church was in the midst of a legal fight against the city over its lockdown order restricting in-person worship services. The lawsuit deals with alleged police disruption of a Bible study and Easter service.
Sadly, this church burned down last week in what appeared to be an arson fire. Amidst the ruins, investigators found a spray-painted graffiti message: "I bet you stay home now, you hypocrites." Evidence also shows an atomic symbol with an "A" in the center near the graffiti, commonly used as a logo for atheist groups.
Even though the state has not required churches to close, congregations have had to confront local officials who've instituted policies that violated their constitutional rights.
If you recall, First Liberty intervened and recently gained a critical victory in Greenville, Mississippi on behalf of King James Bible Baptist Church. Mayor Errick Simmons rescinded an unconstitutional lockdown order and allowed drive-in church services to operate free of government interference.
New Jersey
Pastors in New Jersey have announced that they will reopen their doors and resume in-person services while taking extra precautionary safety and social distancing measures. During Memorial Day weekend, a number of churches carried out in-person services while adhering to public health guidelines. Some New Jersey churches previously demanded the Democratic governor change the status of churches in the Garden State to essential, given the First Amendment.
New York
A New York church with 40 members held a drive-in service a few weeks ago. Initially, the congregation held smaller services with about 20 people. In response, police issued a cease-and-desist order to the church claiming they were violating Gov. Andrew Cuomo's stay-at-home order amid the coronavirus pandemic.
The Archdiocese of New York also publicized its plan to resume in-person services, as the state recently eased some restrictions on religious gatherings.
Right now, First Liberty is fighting on behalf of three local New York churches: His Tabernacle, Journey Church, and Pine Creek Christian Center. Chemung, New York County Executive Christopher Moss instituted a policy that targets churches offering drive-in services during the COVID-19 pandemic. These churches are looking to soon shift back to in-person gatherings.
No Pandemic Exception to Religious Liberty
From the very start of this pandemic, First Liberty has been on the frontlines, reclaiming and defending the right of places of worship to continue living out their faith, while also showing love for their neighbors through compliance with public health measures.
But even before the start of this unprecedented crisis, we understood that houses of worship and religious organizations have been essential to the flourishing of our country.
With your support, First Liberty will always defend your right to live out your faith. And in a volatile time where enemies of religious liberty are using these circumstances as an excuse to attack and undermine this sacred freedom, we are counting on your support now more than ever as we go All In to fight back.
Will you go All In with us…right now?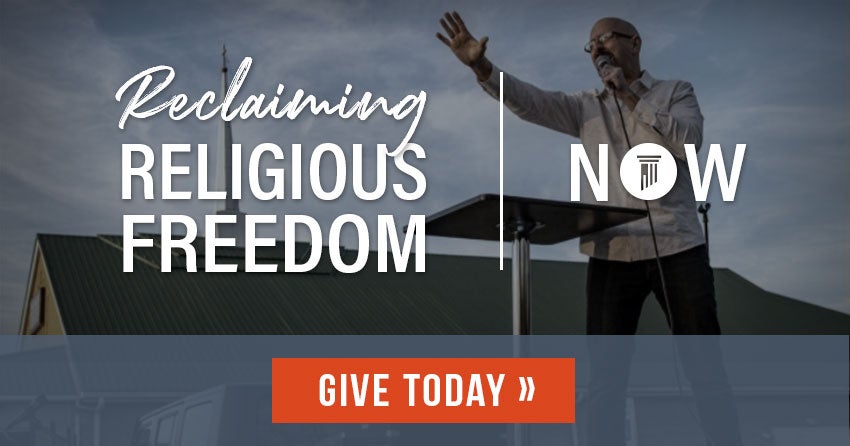 ** Policies, executive orders and specific situations in individual states are changing rapidly. The information contained in this article is current as of the date of publishing. It is written and intended to provide the reader with a broad understanding of religious freedom developments during the COVID-19 crisis.