by Jorge Gomez • 4 min read
This week, Justice Stephen Breyer announced he will retire from the U.S. Supreme Court. He will be stepping down at the end of the current term sometime this summer.
Breyer was appointed by former President Bill Clinton. His retirement gives President Biden the first opportunity to fill a vacancy on the nation's highest court.
The President said during a press conference that he plans to nominate a replacement before the end of February. The President's nominee would need to be confirmed by the Senate, which is currently split 50-50 between Democrats and Republicans, with Democrats technically holding the majority with Vice President Harris as the tie-breaking vote.
Many people of faith are wondering how a vacancy could affect religious liberty. Because Justice Breyer is stepping down after the current term ends, it would not affect multiple, high-stake cases pending before the Supreme Court. It would not impact several major cases First Liberty is litigating right now, such as: (1) Our upcoming oral argument for Coach Joe Kennedy after the Court agreed to hear his case and; (2) The Court's pending decision in our Treat Children Fairly case, which we argued recently. Decisions for these cases would be published by the time Justice Breyer leaves the bench.
Additionally, the overall balance of the Supreme Court would not change drastically. The Court is comprised of three liberal and six conservative justices, and Justice Breyer's retirement would not swing the Court to a liberal majority. President Biden will likely choose a nominee with a liberal judicial philosophy as a replacement, which means it'd be a straight-forward swap: one liberal justice for another.
But there could be an impact for the future, as a single Supreme Court justice wields incredible power. Their vote on cases—and the dissents or concurrences they write—can have massive ramifications. A justice's philosophy and their interpretation of the law could be the difference between a victory that upholds religious freedom and our constitutional rights—or a loss that strips away our liberties.
This means religious Americans cannot let their guard down. They will need to be vigilant and pay close attention to who President Biden nominates.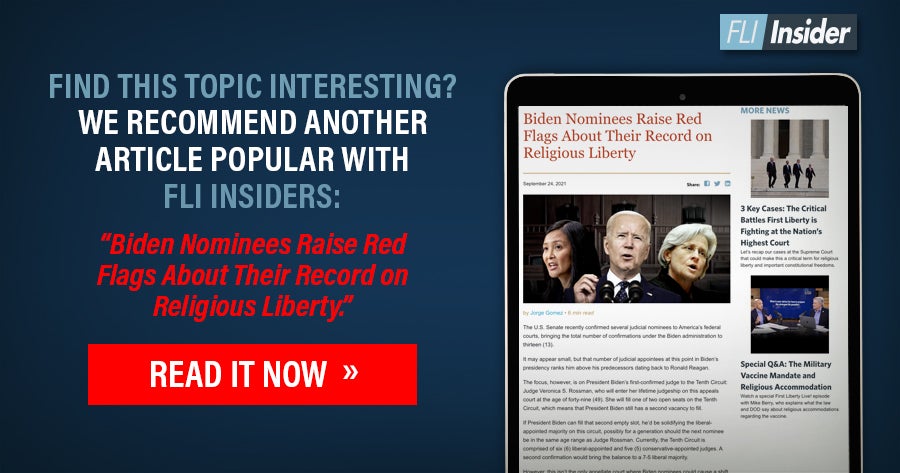 President Biden's record on federal court nominations so far doesn't inspire much confidence. Many of his appointed judges have raised serious red flags on religious liberty.
First Liberty reviewed the record and background of several nominees to important vacancies on appellate courts, just one level below the Supreme Court. We uncovered that while in private practice, many of these judicial picks—who are now sitting on the federal bench for life—have expressly worked against Americans' First Freedom.
What's more, Biden keeps selecting nominees who come from radical, Left-wing activist organizations, which suggests they could operate as activists, instead of being impartial judges committed to the rule of law and the Constitution. (Stay tuned, as our legal experts discuss this in more detail in an upcoming article).
Will President Biden put forth an ultra-liberal nominee? Will he cave to the far Left, who's constantly pressured and pushed for an extremist, activist justice on the Supreme Court?
Regardless of who Biden selects, First Liberty will thoroughly examine their record and provide the facts if he or she has a radical or unacceptable position on religious freedom.