by Jorge Gomez • 6 min read
According to a White House statement, President Biden so far has appointed more federal judges than any president since John F. Kennedy.
Last year, Biden surpassed the most judicial confirmations in the last 40 years. A recent wave of confirmations means he's appointed the most judges at this point in a president's second year in office—the highest in nearly 60 years. To date, the Senate has confirmed nearly 70 Biden appointees to the federal bench.
For people of faith worried about religious freedom, they should not only pay attention to how many, but also the ideology of the judges being confirmed. They must know this: President Biden's record on judges is alarming. The nominees he's put forward have raised serious red flags when it comes to religious liberty.
First on the list is Judge Ketanji Brown Jackson, who will replace Justice Stephen Breyer on the Supreme Court at the end of the current term. First Liberty thoroughly reviewed Jackson's record and our analysis revealed significant concerns about her judicial philosophy. Multiple red flags in the record suggest she could be hostile to religious liberty.
For example, Jackson was one of the most frequently reversed judges on the D.C. federal district court. The high rate at which appellate courts have overturned her decisions signals that Jackson frequently engages in judicial activism—intervening where she should not—and gets the law wrong on constitutional matters. Jackson has been endorsed by virtually every liberal activist group in America, receiving praise from Planned Parenthood, Center for Reproductive Rights, American Civil Liberties Union, American Atheists, Human Rights Campaign, Demand Justice, and other radical organizations.
But the Supreme Court is not the only place where Biden has put forth a radical nominee.
We cannot ignore those picked for the federal district and circuit courts. Remember, these courts have immense influence in protecting our freedoms—including religious liberty. The Supreme Court only takes about 65 cases each year, which means lower court judges decide a vast majority of cases.
Of the 66 Biden nominees confirmed so far, 16 have been confirmed to appeals courts, just one level below the Supreme Court. Biden is surpassing many of his recent predecessors. Only President Trump appointed more circuit court judges at this point in his presidency: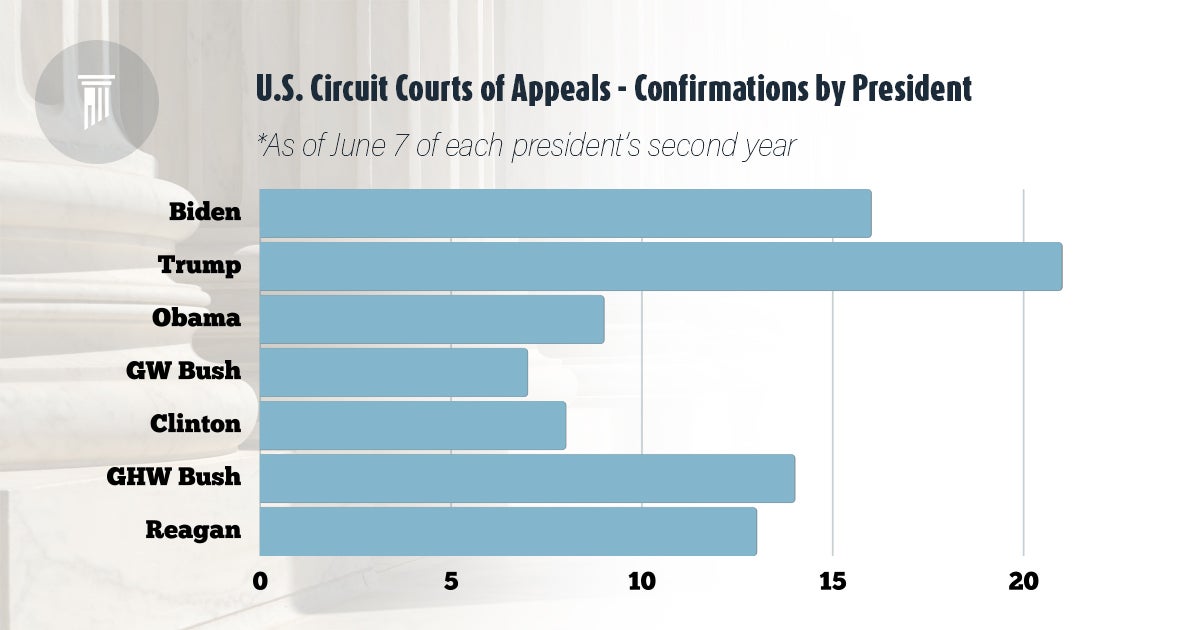 First Liberty reviewed the record and background of several Biden nominees to important vacancies on appellate courts. We uncovered that while in private practice, many of these judicial picks—who are now sitting on the federal bench for life—have expressly worked against Americans' First Freedom.
Similar to Judge Jackson, Biden has selected nominees whose resumés show they've worked for radical activist organizations, including the American Civil Liberties Union and the discredited Southern Poverty Law Center, the latter being infamous for labeling political opponents as "hate groups" or "extremists."
It does not appear Biden's momentum is slowing down any time soon. More nominees could be confirmed in the coming weeks and months. Just this week, two appellate court nominees advanced to the full Senate for a final vote. About 20 total are waiting for a Senate vote. Slightly more than a dozen are pending a Senate Judiciary Committee hearing or vote.
In the most recent wave of nominations, President Biden announced three picks for appellate court judgeships on the Sixth Circuit, Seventh Circuit and the influential D.C. Circuit—often referred to as the "second highest" court in country. Approximately 50 district and appellate court vacancies still do not have a nominee.
Religious Americans alarmed about the judges being confirmed need to look at the bigger picture, however. Biden has been able to effectuate some change. But it does not mean he's completely overhauled the composition of the judiciary.
Biden judges currently comprise less than 10% of the judiciary. If he filled every vacancy right now, there would be 140 total Biden judges. That's still only about 16% of all district and appellate courts. If we compare this to his predecessors, Biden would be the president with the lowest total number of confirmations dating back to Gerald Ford.
Because federal judges make critical legal decisions about your religious liberty, First Liberty's team of experts continues to keep a close eye on judicial vacancies and remains committed to our work of analyzing and evaluating the records of the nominees to America's federal courts.
If our legal experts uncover any nominees who have a radical or unacceptable record on religious freedom, we will provide the facts and information to prevent those nominees from being on the federal bench for life.