by Kassie Dulin • 6 min read
Last month, President Biden nominated Judge Ketanji Brown Jackson to replace U.S. Supreme Court Justice Stephen Breyer. The Senate will begin confirmation hearings on Monday, March 21. As Jackson enters the spotlight, many are wondering about her record and what judicial philosophy she holds.
To answer these questions, First Liberty thoroughly reviewed Jackson's record, including her prior Senate Judiciary Committee hearings and supporting documentation, along with hundreds of her cases and thousands of pages of her public statements and writing. Here's what you need to know as the hearings get underway.
Who is Judge Jackson?
Jackson received a bachelor's degree from Harvard University in 1992 and a law degree from Harvard Law in 1996. She clerked for Justice Breyer from 1999-2000.
After a short stint in private practice, Jackson served as an assistant federal public defender, then as vice-chair of the U.S. Sentencing Commission. In 2013, President Obama appointed her to the federal D.C. District Court, where she served for eight years.
In 2021, President Biden nominated Jackson to the U.S. Court of Appeals for the D.C. Circuit. The Senate confirmed her by a vote of 53-44 in June 2021. She has served on the D.C. Circuit for eight months and issued a total of two opinions on that court.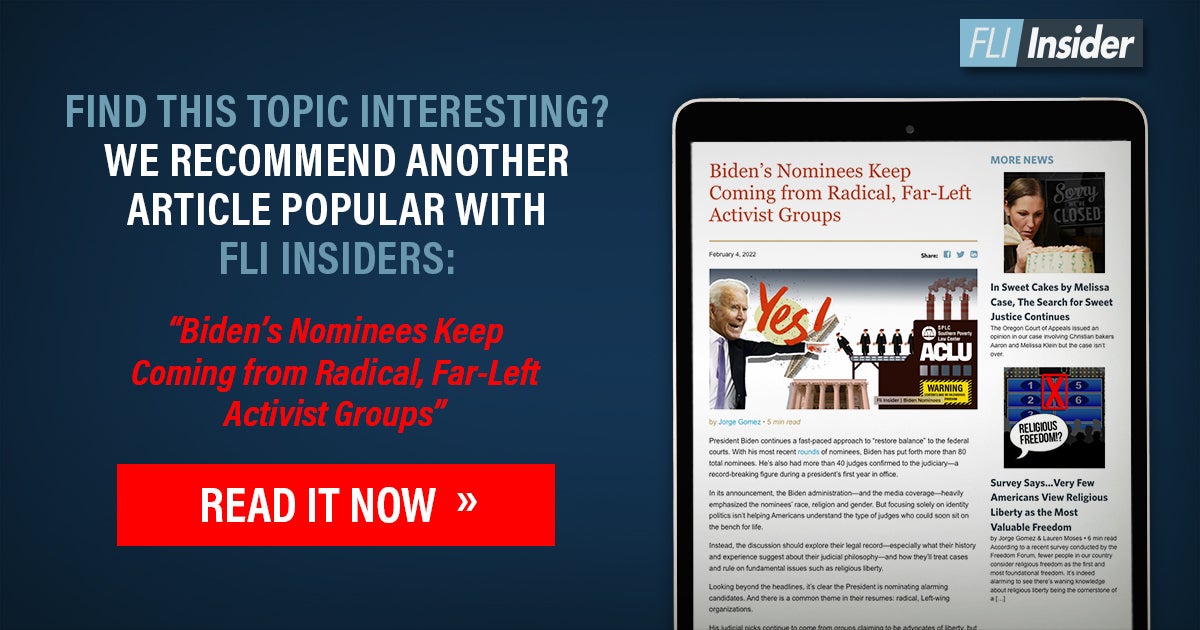 Red Flags in Jackson's Record
The record reveals multiple red flags about Jackson's judicial philosophy. These are apparent in her 1) private practice, 2) Senate Judiciary Committee statements, 3) judicial activism, and 4) support from radical, far-Left groups.
Red Flag 1: Private Practice. In the earliest days of her private practice, Jackson co-authored a brief on behalf of several pro-abortion groups. In the brief, Jackson supported the creation of discriminatory free speech "buffer zones" outside abortion clinics, where abortion clinic workers could speak to pregnant women, but pro-life advocates could not. The brief disparaged pro-life advocates (often religiously motivated mothers and grandmothers seeking to support pregnant women) as a "hostile, noisy crowd of 'in-your-face' protestors." Jackson's stance in this brief raises concerns about how she could rule on free speech and religious freedom issues.
Red Flag 2: Senate Judiciary Committee Statements. As a D.C. trial judge, Jackson did not hear many First Amendment cases. However, her statements during previous confirmation hearings raise serious concerns about how she views the First Amendment.
In her 2021 committee statements, Jackson implied that she does not believe the church autonomy doctrine provides clear, settled protection for religious organizations. She also suggested that schools that receive federal funding may discriminate against students and teachers for their religious, ideological, or political speech.
In 2012, a senator asked Jackson if she believed the Constitution was a "living" document (believing that the Constitution must be updated to fit modern values). Jackson said "No." However, in 2021, when Sen. Cruz again asked her if she believed in a "living Constitution," she refused to say, citing her lack of experience interpreting constitutional texts. She also stated that she "do[es] not have a theory of constitutional interpretation," suggesting she is not likely to interpret the Constitution according to its original meaning.
Red Flag 3: Judicial Activism. Our analysis shows that Jackson was one of the most frequently reversed judges on the D.C federal district court. Even liberal judges frequently ruled against her and found that she intervened in cases where she did not have jurisdiction and engaged in judicial "abuse of discretion." The high rate at which appellate courts have overturned her decisions signals that Jackson frequently engages in judicial activism—intervening where she should not—and gets the law wrong on constitutional matters.
Red Flag 4: Support from Radical, far-Left Groups. You can tell a lot about a person by who their friends are. Jackson has been endorsed by virtually every liberal activist group in America. She's been praised by Planned Parenthood, Center for Reproductive Rights, American Civil Liberties Union, American Atheists, Southern Poverty Law Center, Human Rights Campaign, Demand Justice, and other radical organizations. The fact that these groups want Jackson on the Supreme Court indicates they think she will be favorable to their pet causes and, conversely, hostile to our constitutional rights and freedoms.
Legal writing experts say Jackson's writing style is similar to that of Justice Sonia Sotomayor, the Court's most left-wing justice. Add that to the red flags in Jackson's record, and it suggests she could be a Justice Sotomayor 2.0 in both her writing style and judicial philosophy.
---
President Biden's record on federal judges is alarming. His nominees have not inspired confidence on religious freedom. Many of them have worked against this fundamental liberty and other core constitutional rights.
Judge Jackson is no different. Her record raises many red flags about how she would treat our constitutional rights if confirmed to the Supreme Court.