by Ethan Tong & Jorge Gomez • 5 min read
The U.S. Equal Employment Opportunity Commission (EEOC) recently filed a lawsuit against Del Frisco's of Georgia. The EEOC alleges the restaurant chain fired a server in early 2020 because of her religious beliefs, in violation of federal law.
According to the suit, the server asked to not work Sundays and Tuesdays so she could attend church services and a weekly prayer meeting. The restaurant agreed––but promptly scheduled her to work on a Tuesday anyway. She reminded them that she had weekly prayer services and could not come in. When she didn't show up, Del Frisco promptly fired her.
Title VII of the Civil Rights Act of 1964 prohibits discrimination against religion in the workplace. The law states that businesses cannot discharge employees on the basis of their religious convictions. Employers must accommodate the sincerely held religious beliefs of their employees when it does not impose an undue hardship on the employer.
Marcus G. Keegan, regional attorney for the EEOC Atlanta District Office, said:
"Del Frisco's could have easily continued to accommodate its employee's religious accommodation of not working on Tuesdays for one evening, but chose to schedule her anyway, and this harsh inflexibility caused her to lose her livelihood."
This case is more evidence of a corporate culture that's increasingly trying to force Americans to choose between their faith and their jobs. No one should be put in that untenable position. That's why, right now, First Liberty is fighting on this critical battlefront to ensure religious Americans are not discriminated against because of their beliefs.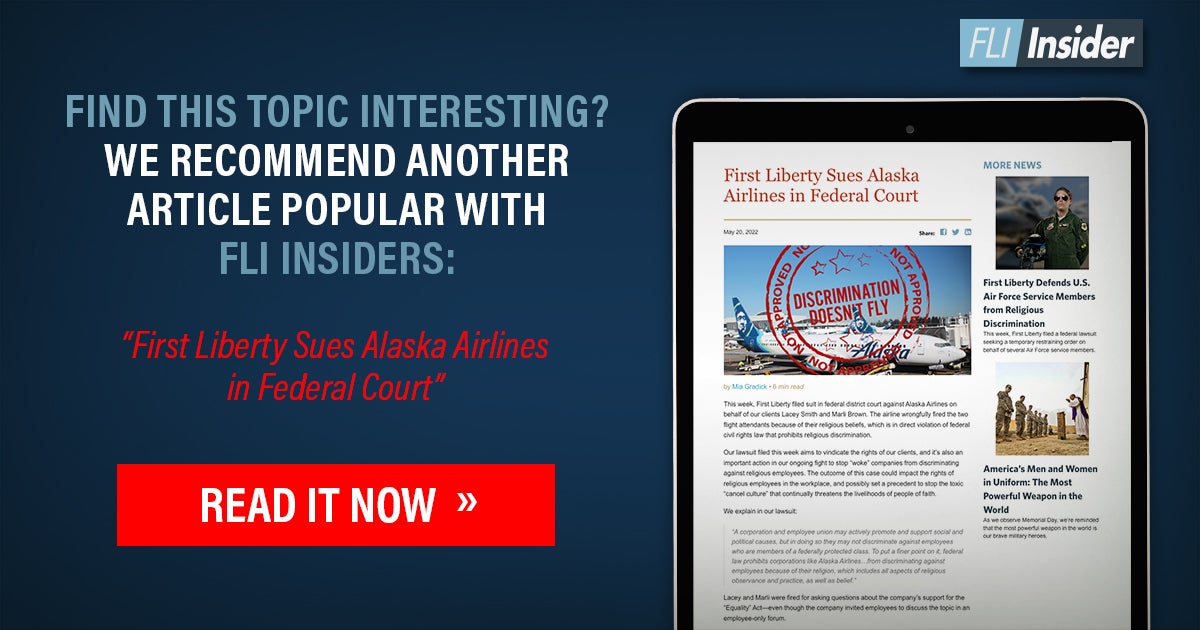 Our client, Gerald Groff, worked for the U.S. Postal Service. He believes he must honor the Christian Sabbath and requested a religious accommodation when the postal service began delivering packages on Sundays. As required under federal law, his supervisor granted the request and Gerald agreed to work extra shifts during the week to make up for Sundays. But in 2016, the USPS changed its position and required Gerald to work on Sundays. He ended up losing his job and sued the USPS for trampling on his religious liberty rights and violating federal law.
Earlier this year, First Liberty attorneys—along with Aaron Streett of Baker Botts, Alan Reinach of the Church State Council, Randall Wenger of the Independence Law Center, and David Crossett of Cornerstone Law Firm—represented Gerald at a federal appeals court. A win for him would be a substantial victory for all employees of faith in America.
First Liberty is also representing Lacey Smith and Marli Brown, two Christian flight attendants who were fired for their religious beliefs.
Acting on their religious beliefs, Lacey and Marli politely asked about the company's political support for the "Equality" Act, after the airline invited employees to discuss the topic in an employee-only forum. Both of them were concerned about the impact the bill could have on their freedoms—concerns shared by millions of Americans. First Liberty filed suit in federal district court against Alaska Airlines, arguing that their termination violated federal law.
Similarly, we're defending Robyn Strader—a highly-credentialed nurse practitioner—who was fired from CVS Pharmacy after the company had previously accommodated her religious beliefs without issue for six and a half years. Why? Because CVS wants to force its employees to prescribe abortifacients, even when it violates the employee's religious beliefs.
First Liberty filed a charge of discrimination at the EEOC, making it clear that Robyn should not be forced to choose between her faith and her livelihood.
The good news is that when First Liberty answers the call to defend American workers, we regularly succeed. Our record of victories includes important wins for clients such as:
Eric Walsh, a medical expert with decades of experience and multiple advanced degrees, who was fired from his job as a public health administrator because of the sermons he gave as a lay minister.
Bob Eschliman, who received nearly 70 awards as a journalist, but was fired from his job as newspaper editor, because he expressed his religious beliefs in a personal blog post.
Thomas Banks, a former contractor with the Ford Motor Company, who was fired after respectfully expressing his religious beliefs in an online, intra-company forum.
Toni Richardson, an educational technician for children with special needs, who was threatened with termination, because she privately told a coworker she would pray for him.
A huge reason we were able to provide the best legal defense for our clients—and win for them—is because of Americans like YOU who value religious freedom and generously give to First Liberty.
Will you continue to lend us your support? A timely donation today impacts not just our clients, but all Americans of faith in the workplace as we fight together to defend their rights.