by Jorge Gomez • 5 min read
This week, the Biden administration took an alarming action in our U.S. Navy SEALs case.
It filed a petition asking the U.S. Supreme Court to lift a lower court order that protects First Liberty's Navy SEAL clients. In essence, it is asking the nation's highest court for permission to continue punishing our nation's elite warriors. This is dangerous and could cause great harm to our clients and their families.
As you're aware, we represent dozens of Navy SEALs and other Naval Special Warfare personnel who are suing the Biden administration and the Department of Defense (DoD) for their refusal to grant religious accommodations to the vaccine mandate.
America's men and women in uniform don't give up their religious liberty when they join the military. In fact, they have a legal right to request religious accommodations. However, our clients' requests have been denied without being given the proper consideration required by law. What's more, some military officials continue engaging in discriminatory actions that threaten the careers and livelihood of our clients.
Since the mandate was put in place last year, the administration has shown a particular disdain for the constitutionally protected, sincerely held religious beliefs of our service members. And it appears their harassment is not going to stop anytime soon.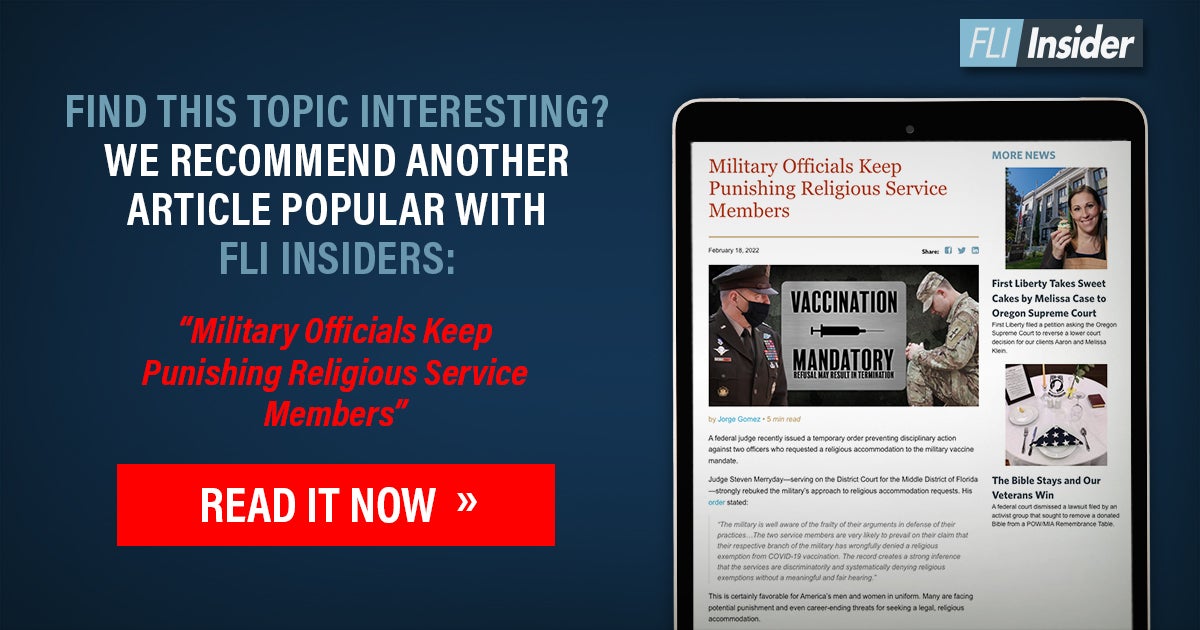 Their recent petition comes after First Liberty's clients received a favorable ruling from a federal appeals court. Last week, the U.S. Court of Appeals for the Fifth Circuit denied a motion to lift the lower court injunction stopping the DoD from punishing military service members who have religious objections to the mandate. The U.S. Navy had asked the Fifth Circuit to stay the injunction, but a three-judge panel rejected that petition.
In that opinion, the judges wrote:
"The Navy has not accommodated any religious request to abstain from any vaccination in seven years, and to date it has denied all religiously based claims for exemption from COVID-19… But evidence…suggests that the Navy has effectively stacked the deck against even those exemptions supported by Plaintiffs' immediate commanding officers and military chaplains."
In response to the Biden administration's petition, Mike Berry—First Liberty's Vice President of External Affairs and Director of Military Affairs—explained:
"The Fifth Circuit got it right; there is no Covid exception to our Constitution. But the Biden administration appears to be more interested in promoting its harmful agenda than in defending the Constitution. The U.S. Supreme Court should reject this latest attempt to punish our clients and make clear, once and for all, that our service members do not forfeit their religious freedom because they are in the military."
Watch the video below. In it, Mike provides an in-depth look at the Navy SEALs case, including First Liberty's ongoing lawsuit which seeks to protect our clients as well as thousands of Navy personnel:
The Biden administration's vindictive approach toward religious service members is outrageous. Forcing our brave military heroes into a corner and making them choose between their faith and serving their country dishonors the sacrifices they make to keep us free.
What's more, these punitive actions are illegal. All service members are protected by federal law and military regulations, so they can serve our country without having to violate their faith. This religious discrimination must stop. Both the court of appeals and the district court have agreed with us.
Just as America's Navy SEALs never give up on their country, First Liberty will never give up on our service members.
Our clients and their families urgently need your support right now. Together, we can put a stop to the spiteful actions of the Biden administration and protect our Navy SEALs from further injustice. Please donate to First Liberty today.