by Jorge Gomez • 6 min read
The U.S. Supreme Court recently declined to hear an important religious liberty case involving the right of faith-based organizations to hire likeminded employees.
The case, Seattle's Union Gospel Mission v. Woods—brought by our friends at Alliance Defending Freedom—involves a faith-based non-profit ministry that serves the homeless by providing food, shelter, addiction recovery, job placement and legal services. Because of its religious character, the Mission's policy is that every staff member must share and live out the organization's religious beliefs.
Matthew Woods applied for a lawyer position with the Mission's legal-aid clinic. In addition to offering legal advice, the position requires the person to talk with clients about their faith, pray and attend worship services. Woods sued the ministry after it declined to hire him, because he's not a Christian.
The Supreme Court has previously held that government should not interfere in the internal affairs of religious organizations. Also, appeals courts throughout the country have affirmed the autonomy of religious organizations to make employment decisions consistent with their religious beliefs.
Remarkably, the Washington State Supreme Court ruled against the Mission, concluding that it is required by law to hire someone who doesn't share or live according to the ministry's beliefs. Under this opinion, the state can actually require houses of worship and religious non-profits to hire people expressly opposed to their mission.
First Liberty filed a friend of the court brief urging the Supreme Court to take up the case. Our attorneys emphasized that employment decisions by religious organizations are protected by the First Amendment. We further argued that it's improper and unconstitutional for a court to conclude a religious organization should be forced to hire people who openly oppose its beliefs. Religious organizations should never be forced by the government to abandon their beliefs to fulfill their mission to love and serve others.
Although the Supreme Court will not hear this case, the denial appears to be only a temporary setback. Two of the Court's conservative justices attached a statement offering hope for similar, future cases.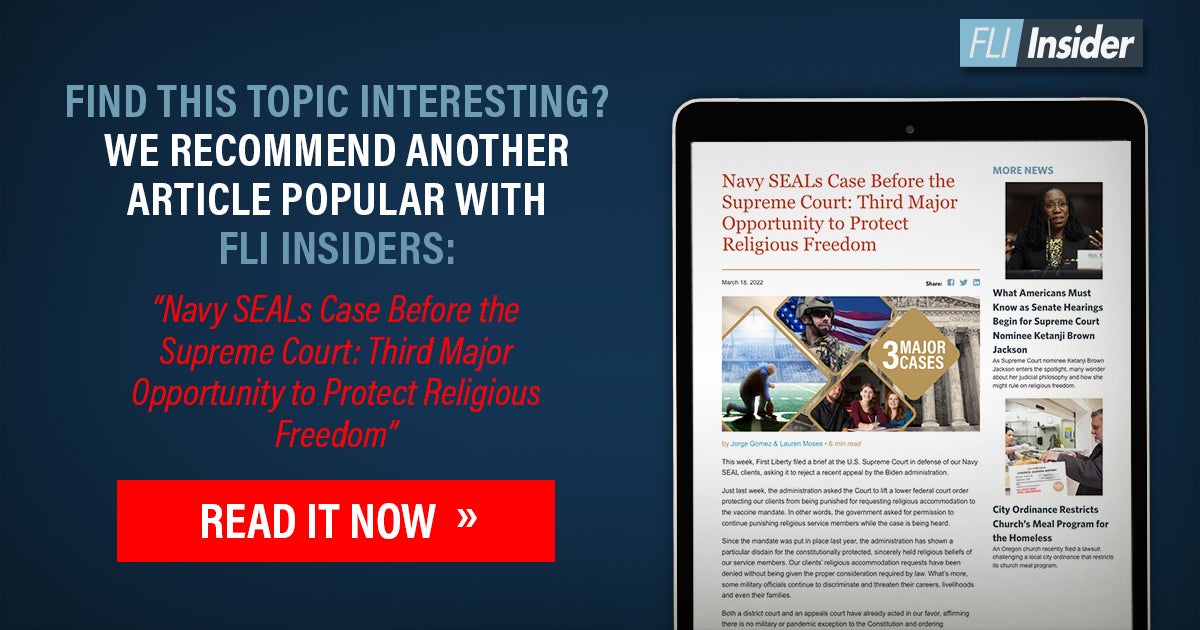 Justice Samuel Alito, joined by Justice Clarence Thomas, wrote:
"…The confrontation may be inevitable…The day may soon come when we must decide whether the autonomy guaranteed by the First Amendment protects religious organizations' freedom to hire co-religionists without state or judicial interference…The Washington Supreme Court's decision may warrant review in the future."
Indeed, the day when the Supreme Court grapples with this vital issue could come sooner than later. Government officials are increasingly interfering and meddling in the affairs of countless ministries across the country. There is no shortage of examples—as our experts detailed in a recent article—of houses of worship and ministries being harassed and discriminated against simply because they operate in accordance with their beliefs.
In fact, this is not the first time the Supreme Court has been presented with an opportunity to protect church autonomy. First Liberty brought a similar case involving religious schools in Puerto Rico.
A few years ago, the highest court in that U.S. territory issued a troubling ruling that essentially restructured Catholic-affiliated entities, a clear violation of the First Amendment and the church autonomy doctrine. The U.S. Supreme Court reversed the Puerto Rico court's decision in 2020 and sent it back for further review.
In 2020, the Supreme Court ruled in favor of religious freedom in Our Lady of Guadalupe v. Morrissey-Berru. The Court sided with two Catholic schools defending themselves against employment discrimination claims by their former teachers. That ruling further defined and secured the "ministerial exception," a legal doctrine protecting religious organizations' right to choose their leaders, ministers and teachers.
First Liberty also filed an amicus brief in that case on behalf of the schools. We argued that protecting the right of churches and religious organizations to choose who teaches the faith is one of the core principles of the First Amendment.
Another part of the statement gives hope for religious organizations mired in legal battles for their constitutional rights:
"…Precedents suggest that the guarantee of church autonomy is not so narrowly confined…The religious organizations protected include churches, religious schools, and religious organizations engaged in charitable practices, like operating homeless shelters, hospitals, soup kitchens, and religious legal-aid clinics similar to the Mission's—among many others."
To be clear, this statement is not binding Supreme Court precedent. But it's still a significant and positive sign for the future of religious liberty under the current Court.
It shows there are justices who understand government should not interfere in the affairs of religious organizations and houses of worship. What's more, it suggests that if presented with the right case, the nation's highest court could review and possibly decide this issue. This not so much an outright "No!" from the Supreme Court, but instead a "Not Yet"—and people of faith should view it with optimism.