Americans have a reason to be hopeful and expectant as 2018 approaches. Over the past year, First Liberty has been on the front lines, making significant strides in the fight to protect religious freedom.
In 2017, First Liberty's victories inside – and outside – the courtroom impacted the lives of millions of Americans, restoring their cherished First Amendment rights. First Liberty attorneys handled a growing caseload of over 400 legal matters, with a record number being argued and decided before the federal courts of appeals, including a handful that could potentially reach the U.S. Supreme Court.
The map below shows a list of First Liberty cases pending at the federal level.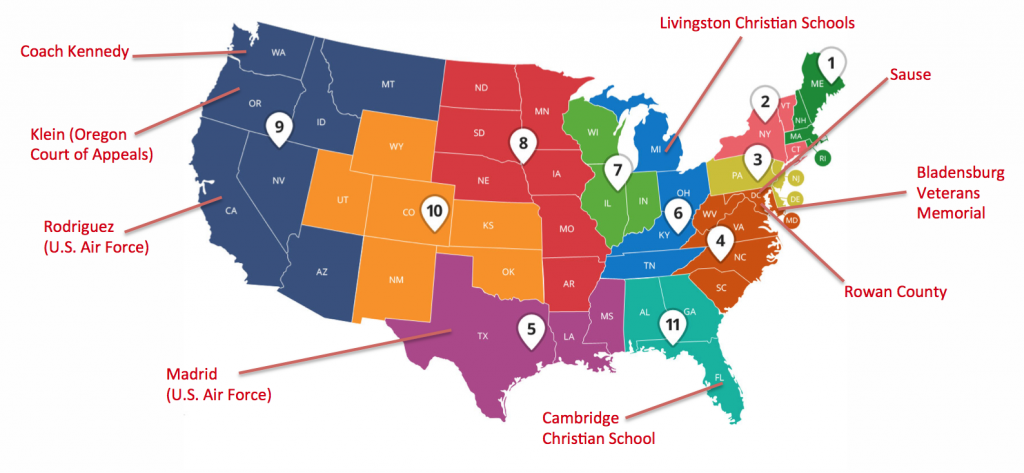 2017 was a year of unique circumstances – a new presidential administration, over one hundred judicial vacancies, streams of religious freedom litigation, surmounting opposition, and new incidents continually surfacing. Through the complexity, First Liberty's attorneys and legal team had remarkable success.
Looking back on 2017, the following victories deserve notable distinction:
1. PRESERVING THE TRADITION OF INVOCATIONS BEFORE PUBLIC MEETINGS
First Liberty represented the Board of Commissioners in Jackson County, Michigan at a federal court hearing. A local activist sued the commissioners over a legislative invocation given before meetings, arguing that it violated the Establishment Clause of the First Amendment. In September, the U.S. Court of Appeals for the Sixth Circuit ruled in favor of the commissioners. The decision solidifies what the U.S. Supreme Court has now twice said: Invocations before government meetings are constitutional and an important part of America's history and heritage.
2. VICTORY FOR DOCTOR AND LAY MINISTER FIRED FOR SERMONS
Dr. Eric Walsh is a medical doctor, public health expert, and lay minister. In 2014, The Georgia State Department of Public Health – Walsh's employer – fired him after discovering he was a minister and reviewing the content of his sermons. In February, the State of Georgia paid $225,000 to settle Dr. Walsh's religious discrimination lawsuit after an intense media and legal campaign mounted by First Liberty.
3. RESTORING RIGHTS OF NON-PROFIT MINISTRIES TO ABSTAIN FROM OBAMACARE CONTRACEPTIVE MANDATE
For years, First Liberty represented Pastor Chuck Swindoll's ministry, Insight for Living Ministries and members of the Christian and Missionary Alliance in a lawsuit challenging the constitutionality of the Abortion Pill Mandate of the Department of Health and Human Services. In October, the Trump administration recognized the burden the mandate placed on religious beliefs and moral convictions, announcing a new rule that would exempt IFLM, CMA, and other religious nonprofit organizations. Shortly thereafter, First Liberty settled the case of IFLM and CMA with the U.S. Department of Justice, ending three years of litigation.
4. PROTECTING RIGHTS OF AN ORTHODOX JEWISH SYNAGOGUE TO OBSERVE RELIGIOUS CEREMONIES
First Liberty defended the Chabad of Irvine – a small Orthodox Jewish synagogue in California – that was sued by animal rights activists in federal and state courts. Because of First Liberty's legal action, judges in both matters ruled in favor of the synagogue, denying the activists' attempt to stop a 1,000-year old religious ceremony in accordance with the Chabad's beliefs. This victory set a precedent affirming the religious rights of other synagogues and similar houses of worship, including churches.
5. RESTORING AN EDUCATIONAL TECHNICIAN'S RIGHT TO TELL HER COLLEAGUE AT WORK "I'M PRAYING FOR YOU"
First Liberty restored the right of Toni Richardson to express her religious beliefs in the workplace. Toni is an educational technician in Augusta, Maine who was threatened with disciplinary action and possible termination for privately telling a coworker she was praying for him. In less than six months, the school district withdrew its threats and acknowledged Toni's First Amendment right "to express religious beliefs or use faith-based language at school." This case reaffirmed that school employees do not lose their religious freedom rights simply by stepping on school property.
6. PROTECTING A SCHOOL TEACHER FIRED UNLAWFULLY FOR GIVING AWAY A BIBLE WHEN REQUESTED
First Liberty resolved Walt Tutka's claim of religious discrimination against the Phillipsburg School District after he was terminated for providing a Bible to a student who requested it. In May, after almost five years of litigation and negotiation, Tutka was reinstated as a substitute teacher. This case garnered extensive media coverage and sent a clear message to school officials about protecting religious freedom rights.
7. VINDICATING THE RELIGIOUS RIGHTS OF AN EMPLOYEE FIRED FOR HER FAITH
First Liberty represented Alexia Palma, a young Catholic woman who worked at Legacy Community Health, an inner-city health clinic in Houston. Legacy forced Palma after management refused a religious accommodation and demanded that she "put aside" her "personal beliefs" and teach a class on birth control (less than 2% of her job). After filing a complaint with the EEOC, First Liberty reached an amicable settlement with Palma's employer.
8. PREVENTED A CITY FROM ZONING CHURCH OUT OF EXISTENCE
First Liberty represented Cornerstone Church by the Bay in a lawsuit against the Town of Bayview, Texas for enacting an illegal zoning ordinance prohibiting the church and its religious school from operating on its own property. In June, the three-year legal battle ended favorably for the church when the town issued the church a special use permit for its property.
9. RESTORING A GRANDFATHER'S RIGHT TO READ THE BIBLE IN PUBLIC
City officials in Sweetwater, Tennessee used an outdated city ordinance to prohibit Paul Johnson from peacefully reading the Bible aloud on a public sidewalk. In November, in response to a letter from First Liberty, the City of Sweetwater noted the defects in their ordinance and agreed to make necessary revisions to comply with the First Amendment and relevant case law.
10. HIGH SCHOOL STUDENT'S FIGHT FOR RELIGIOUS FREEDOM SECURES VICTORY FOR FUTURE STUDENTS
Less than six months after sending a demand letter, First Liberty secured a resounding victory for Moriah Bridges, the high school senior whose graduation remarks were censored by school officials because they contained faith-based comments. The Beaver Area School District in Pennsylvania enacted a new policy stating that students and private speakers at future graduation ceremonies "shall not be restricted because of religious, anti-religious, or non-religious content."
WHAT THESE VICTORIES MEAN FOR YOU
This year's important victories should not give friends of freedom even an ounce of complacency. Evidence and research demonstrate that violations of religious freedom have increased in an unprecedented manner in the last five years. Despite this year's impressive legal victories for religious freedom, the trend of hostility is likely to continue into the near future.
The stakes have never been higher for religious freedom in America. Remember, First Liberty has huge cases which are pending and will be decided this year – from the Coach Kennedy case to the Bladensburg Veterans Memorial case, the Rowan County prayer case and many, many more. Consequently, as 2018 nears, First Liberty is taking every measure to expand our impact and continue to win even more cases. Winning today in the legal arena is the key to preserving religious freedom tomorrow. The religious liberty of future generations depends on nothing less than victories like these – and more of them.
News and Commentary is brought to you by First Liberty's team of writers and legal experts.