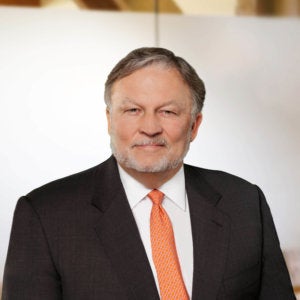 Back to Management Team
David Holmes is Chief Operating Officer for First Liberty Institute, where he oversees all program operations regarding finance, personnel, legal, and development.
Prior to joining First Liberty Institute, Holmes was a management consultant specializing in advising high net worth investors, providing strategic consulting for corporations, and writing and lecturing. He served as Managing Director and Southwest Regional Director at Credit Suisse, Managing Director with the Bank of New York in New York City, and Managing Director and founder of Bessemer Trust's Southwest wealth management office in Dallas. He was also a Managing Director at JPMorgan, and head of its Private Bank of the Northwest and Head of Business Development in San Francisco and New York respectively.
Holmes is a graduate of The University of Texas at Austin. He holds a MPA in Economics from the University of Oklahoma, an MBA in Finance from Southern Methodist University, and a postgraduate fellowship in National Security and International Finance from Harvard University. Holmes also completed the EPBA in International Business at Columbia University and held the NASD Series 7, 63, 65, 8, and 9 securities licenses.
Holmes is a Chartered Financial Analyst and a graduate of the Certified Financial Planning program at Northwestern University.
A former fighter pilot and special duty officer, Holmes served in the United States Air Force from 1974 to 1995, leaving after his selection to full colonel. He served in Europe, Asia and the Middle East with his last post at the US Embassy in Tokyo, Japan. He is a graduate of the Defense Language Institute in Japanese.
Publications
News
Representative Matters
Request David to Speak
Thank you! Our team will evaluate your request.
First in the fight for your religious liberty.
Religious liberty is our first liberty as Americans. At First Liberty Institute, we know that it can be confusing when you face a challenge to your religious liberty. No one should have to face it alone.
That's where First Liberty can help. We have decades of experience making sure people just like you get the help they deserve. We are a nationwide, religious liberty law firm with an unmatched record of defending religious liberty—in our schools, for our houses of worship, in the military, and throughout the public arena.
If you believe your religious liberty has been threatened or violated, please fill out the form below so we can evaluate your case.
Our legal intake team personally evaluates each request for legal help and may follow up with you over the phone for more information about your specific situation. We cannot guarantee that we will be able to take every case, but if we do, our legal services are provided at no charge to you (pro bono).
Thank you! Our legal team will evaluate your request.